The St. Louis Blues are a good hockey team, with strong, fast and rugged players up and down the lineup. The skilled men are battle hardened and the youngsters are sprinkled lightly through the batting order. There's a lesson there.
THE ATHLETIC!
The Athletic Edmonton features a fabulous cluster of stories (some linked below, some on the site). Great perspective from a ridiculous group of writers and analysts. Proud to be part of The Athletic, less than two coffees a month offer here.
OILERS AFTER 37 GAMES
Oilers in 2015: 15-19-3, 33 points; goal differential -18
Oilers in 2016: 19-12-6, 44 points; goal differential +6
Oilers in 2017: 17-18-2, 36 points; goal differential -6
Oilers in 2018: 18-16-3, 39 points; goal differential -3
Oilers in 2019: 19-14-4, 42 points; goal differential -2
This year's team is second best among the McDavid seasons, and are struggling through the toughest stretch of the season. It may seem empty, but getting that win in Dallas is a big deal for Edmonton. Less of a burden for the new year. The Oilers are in third spot in the Pacific, two points ahead of the Calgary Flames, who have a game in hand.
OILERS IN DECEMBER
Oilers in December 2015: 6-3-0, 12 points; goal differential -3
Oilers in December 2016: 4-2-3, 11 points; goal differential 0
Oilers in December 2017: 6-3-0, 12 points; goal differential +8
Oilers in December 2018: 6-2-1, 13 points; goal differential +8
Oilers in December 2019: 3-5-1, 7 points; goal differential -8
It isn't pretty that's for sure, but there are games like last night where you have to give the other man his due. The Blues live on the better side of the Delmar Divide.
WHAT TO EXPECT FROM DECEMBER
On the road to: VAN (Expected 1-0-0) (Actual 1-0-0)
At home to: OTT, LAK, BUF, CAR (Expected 2-1-1) (Actual 1-2-1)
On the road to: MIN (Expected 1-0-0) (Actual 0-1-0)
At home to: TOR (Expected 0-1-0) (Actual 0-1-0)
On the road to: DAL, STL (Expected 0-2-0) (Actual 1-1-0)
At home to: PIT, MTL (Expected 1-1-0)
On the road to: VAN (Expected 0-0-1)
At home to: CAL, NYR (Expected 1-1-0)
Overall expected result: 6-6-2, 14 points in 14 games
Current results: 3-5-1, 7 points in 9 games
The point-per-game prediction is in a small amount of trouble, but no one is suggesting impending doom or even headed for Grandpa's special medicine. This is a tough stretch, but the three wins and the Bettman have Edmonton hanging around.
OILERS 2019-20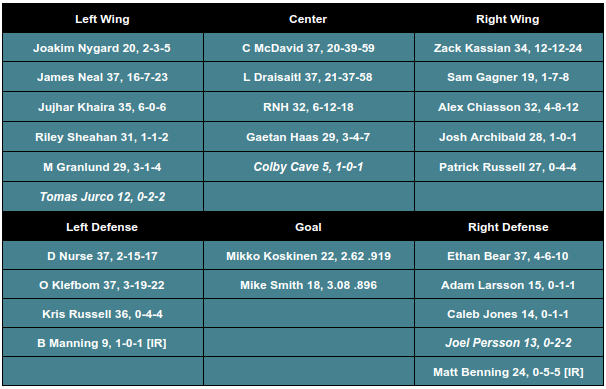 No line spent more than seven minutes together so I'm just going to link to NST and you can browse. Mikko Koskinen was outstanding, he's quality right now.
WHOSE FAULT WAS IT?
On the first goal against, Gagner and Neal get over the line and muddle possession, while Bear hesitates. He finally changes, but the two wingers turn the puck over and then it's jailbreak. I don't blame the defenseman in this case, he's watching two NHL forwards cross the line with possession. The odds of two trained men with good motor skills keeping that play going is high. That's on Gagner and Neal. Your opinion of that play may differ and that's fine.
On the second goal, McDavid tries to receive a Draisiatl pass but it lands with Zack Kassian along the wall, right side, just inside the St. Louis blue line. Kassian sends it toward McDavid (now deep in the St. Louis zone) but it never gets there. At the moment the puck is turned over, Kassian and Draisaitl are the closest to Edmonton's end, with Leon the first to enter the slot era where the goal will be scored seconds from now.
Back at the puck, Ryan O'Reilly leaves it for Perron along the left wall as he enters Edmonton's zone. Bear is matched with O'Reilly, they are headed behind the net. Nurse comes over to contest Perron, who gets the puck deeper as Nurse hits him. Draisaitl is cruising through the slot at this time, if he hangs there he'll be very useful. Instead he gains speed anticipating a pass around the boards to the right point. It's a pass that never arrives. Edmonton is still in reasonable position, as Kassian arrives at the slot era, just as O'Reilly performs a spin-o-rama and shakes Bear. Kassian can't impact the play, as O'Reilly sends a nifty pass to MacEachern, who cashes on fine execution by all three Blues' forwards. McDavid used an extra gear to get back, but couldn't make a difference. Everyone blames McDavid on that play, watch it again. He worked like a bugger to make it back, and couldn't get there in time after O'Reilly's impressive move behind the net that also left Ethan Bear out of the play. That's a quality goal by St. Louis.
ABOUT LAST NIGHT
Edmonton doesn't have the horses against a team like the Blues when they are healthy and playing well. St. Louis is 7-1-2 against the Pacific, the loss in regulation to Anaheim and John Gibson stood on his head. Blues are good, Oilers played well.
AUSTIN CZARNIK
I've always liked him (wrote about him here) and he has speed, forechecking ability and can PK. Nice range of skills. I'd love to see the Oilers grab him off waivers. I don't believe they will.
TYLER BENSON WATCH
Dillon Dube and Tyler Benson have similar numbers and came through the WHL at the same time, but Dube has played 39 NHL games and Benson zero NHL games. Oilers at this point have an NHL-ready winger who might move the needle more offensively than some of the current roster players who are playing every night. Club just lost a 2-1 game and could use a roster freshening. Benson is ready. If not Benson, then try Yamamoto. Time to use the farm and recall some help.
LOWDOWN WITH LOWETIDE
A busy, fun morning today TSN1260. We'll begin at 10:20 with Eric Fawcett from North Pole Hoops and NBA Canada. We'll also chat with Geoff Ulrich from Draft Kings about top fantasy teams of the decade and NFL weekend. 10-1260 text, @Lowetide on twitter. See you on the radio!