The St. Louis Blues were a brand new team when I came in, and I collected stories about their early stars. Frank St. Marseille sent resumes to teams, Glenn Hall told the management he was going to retire and paint his barn and St. Louis was invaded by Plagers in the early days of NHL expansion in Missouri.
The Oilers entered the NHL 12 years later, and would win its first Stanley 17 years after the Blues played a game in St. Louis. Edmonton would win another, and then another, and then another and then another. Five Stanley Cups in 11 years of existence.
The mind boggled, especially for Blues fans. What the hell, man? In the early summer of 2019, over 50 years after Hall and the Plagers, the Blues won Stanley. What a story.
THE ATHLETIC!
The Athletic Edmonton features a fabulous cluster of stories (some linked below, some on the site). Great perspective from a ridiculous group of writers and analysts. Proud to be part of The Athletic, less than two coffees a month offer here.
OILERS AFTER 37 GAMES
Oilers in 2015: 15-19-3, 33 points; goal differential -18
Oilers in 2016: 19-12-6, 44 points; goal differential +6
Oilers in 2017: 17-18-2, 36 points; goal differential -6
Oilers in 2018: 18-16-3, 39 points; goal differential -3
Oilers in 2019: 19-13-4, 42 points; goal differential -1
This year's model and the playoff team were the first to 40 points, and the 2019 McDavids can be the first to 20 wins with a victory tonight. It's going to be a tall order.
OILERS IN DECEMBER
Oilers in December 2015: 6-3-0, 12 points; goal differential -3
Oilers in December 2016: 4-2-3, 11 points; goal differential 0
Oilers in December 2017: 6-3-0, 12 points; goal differential +8
Oilers in December 2018: 6-2-1, 13 points; goal differential +8
Oilers in December 2019: 3-4-1, 7 points; goal differential -7
A win tonight and the Oilers 2019 will be within spitting distance of the 2016 team. The chances of this year's December numbers being the poorest in the group is large.
WHAT TO EXPECT IN DECEMBER
On the road to: VAN (Expected 1-0-0) (Actual 1-0-0)
At home to: OTT, LAK, BUF, CAR (Expected 2-1-1) (Actual 1-2-1)
On the road to: MIN (Expected 1-0-0) (Actual 0-1-0)
At home to: TOR (Expected 0-1-0) (Actual 0-1-0)
On the road to: DAL, STL (Expected 0-2-0) (Actual 1-0-0)
At home to: PIT, MTL (Expected 1-1-0)
On the road to: VAN (Expected 0-0-1)
At home to: CAL, NYR (Expected 1-1-0)
Overall expected result: 6-6-2, 14 points in 14 games
Current results: 3-4-1, 7 points in 8 games
As much as this year's team has struggled this month, a win tonight gets them on track with my projected point per game pace. The schedule gets a little easier after tonight. That isn't always a blessing for the Oilers.
OILERS 2019-20
OILERS 50-MAN LIST (UPDATED)
1 G Mikko Koskinen. A 12-5-2 won-loss and a save percentage of .917 has to make Oilers fans and management feel a little better about the $4.5 million times three contract that expires spring 2022. He's the starter.
2 G Mike Smith. He had a wild start, sending pucks all over the place in the early part of the season, but settled in for a time and played well. He is in a long streak of poor performances, as reflected by his .896 save percentage. Bonuses kick in soon, I wonder if the Oilers consider running Koskinen two of three starts for the next couple of months, maybe until the deadline.
3 Shane Starrett. His injuries have made things difficult for the Bakersfield Condors. Starrett's five starts have resulted in three wins and a Bettman point, so if he's healthy the AHL team should roll. He is RFA. I think the Oilers like him but he needs to get some momentum if there's an NHL look in his future this season.
4 Stuart Skinner. His AHL numbers (17, 3.60, .879) tell us Skinner isn't ready for the Condors starting job, but that's not shocking or unusual. He did delivered a string of solid performances.
5 Dylan Wells. He is the No. 3 goalie in Bakersfield (6, 3.36 .890) but it is in no way clear to me that Wells should be slotted behind Skinner. I think the Oilers disagree.
Olivier Rodrigue. He's a slide rule so doesn't count, but is signed and will turn pro in the fall. I wonder if we see one of the current Condors cut loose.
6 LHD Oscar Klefbom. Edmonton's leader in TOI (25:45) in all disciplines, he has delivered offensively (36, 3-19-22) but had some issues in possession (46.34 Corsi five on five) and goal differential (23-33, -10) at five on five.
7 LHD Darnell Nurse. Also playing a ton (22:29) and posting crooked numbers (36, 2-15-17). Nurse's possession numbers (Corsi five on five 50.04; goal differential 34-38) are solid. He is looking for a new contract and talks have begun. It will be a major story until signed and likely has enormous impact on Edmonton's room to wheel during the summer.
8 LHD Kris Russell. Veteran continues to deliver exactly what any reasonable human could expect from him (43.11 Corsi, 11-10 goals) all the while driving math crazy. He is signed for another year at $4 million, doubt he's in Edmonton this time next year.
9 LHD Caleb Jones. Young defender is getting an extended NHL look and appears to be winning a big league job. Listed here but playing on his offside, he is 5-10 in goal differential five on five and has a Corsi of 45.97. Has been in trade rumours, partly because of waiver worry next October.
10 LHD Brandon Manning. He is making $2.25 million in the final season of his deal, has played fewer than 100 minutes this season. Hasn't bitched, hasn't had much of a chance but has kept quiet.
11 LHD William Lagesson. Quality prospect currently the last man standing in the AHL among the Condors blue trio of one year ago. Great numbers and scouting reports, he just needs a call.
12 LHD Keegan Lowe. He is RFA after the season and has struggled with the load this season. That's a tough spot for the minor league veteran who played very well one year ago. He is probably playing his final months in the organization.
13 LHD Dmitri Samorukov. Big, physical defenseman who can skate very well is (imo) just shy of being a blue chip prospect in the fashion of Evan Bouchard and Philip Broberg. He's on track to have a solid NHL career, only question is offense.
LHD Philip Broberg. He is another slide rule contract and having success in the SHL this season. He is slightly ahead of Oscar Klefbom at the same age, Oilers fans are antsy but he is the best skating defenseman on this team since Nurse and maybe before then. He can fly.
14 RHD Ethan Bear. Rookie leads RH blue with 20:56 TOI per night and has delivered solid boxcars (36, 4-6-10). He's bona fide, popped after his second AHL season and hasn't looked back. Corsi five on five is a team best 50.50 and his goal differential in the discipline is 32-40.
15 RHD Adam Larsson. Averaging 18:47 a night, he was injured opening night and has played in just 14 games (0-1-1). Corsi is 45.31, he is 4-11 goal differential five on five. Recent performances have been much improved, Oilers need him badly.
16 Matt Benning. Concussed and then took a shot from a puck and no one will say anything about his ear. Evander Kane, man. 24, 0-5-5, averaging 13:42 a night, Corsi 47.03 and 14-7 goal differential. I'm worried about him.
17 Joel Persson. He has been in the NHL and AHL a couple of times, the speed and reaction has him flummoxed a little. 13, 0-2-2 averaging 15:19, Corsi 47.61 and a 7-8 goal differential at five on five. I think we'll see him again soon.
18 Evan Bouchard. He is producing (25, 3-11-14) in Bakersfield but also has a -11 plus minus. He's quality, and is learning but there's no hurry. I think he might spend the year in California. If he turns a corner in the new year, perhaps he gets a cup of coffee in late March.
19 Logan Day. He's 19, 2-4-6 so far this season, with injuries and Bouchard/Persson impacting his power-play minutes. He is RFA at the end of the season and is vulnerable.
20 Ryan Mantha. He was on season opening LTIR and no one asks about it at this point. Eye injury appears to have ended his hockey career, but we hold out hope for a return.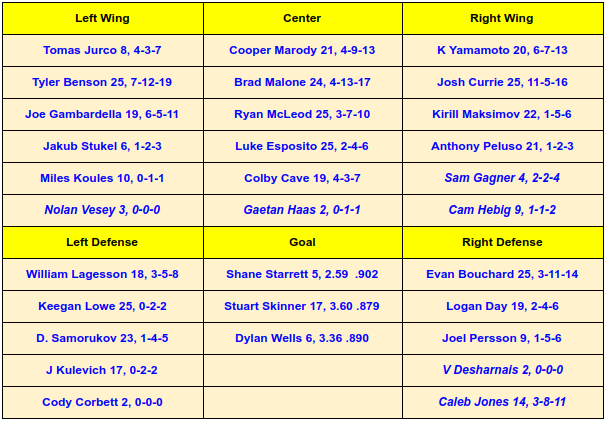 21 LHC Connor McDavid. If he didn't exist they would have had to invent him. His numbers this season (36, 20-39-59) project to 134 points and no one dare bet against him. McDavid keeps changing his outer marker. Incredible.
22 LHC Ryan Nugent-Hopkins. Veteran's offense is off (30, 6-12-18) and he is especially struggling at five on five (1.08) but his on-ice outscoring (12-14) has been impressive considering his linemates. Edmonton needs a big second half.
23 LHC Riley Sheahan. He's 31, 1-1-2 and it's worse than it looks. His five on five on-ice goal differential is 5-16. Sheahan's PK totals (4.14 GA/60) in 72 minutes ranks No. 4 among regular Oilers penalty killers. He's playing too much.
24 RHC Gaetan Haas. He has delivered 28, 3-4-7 so far this season, and I'll tell you he looked like he was halfway to the airport in some of those early games. A find, just don't know if he's a real find. He's 1.2 per 60 at five on five.
25 RHC Kyle Brodziak. On LTIR. He won't return.
26 LHC Colby Cave. He has been on the Bakersfield shuttle and helped out when in Edmonton. Cave can get into good situations offensively but can't cash. A common problem among mortals.
27 RHC Cooper Marody. Surprised he hasn't played in the NHL yet, Marody has had injury issues in the AHL. Only recently has he been able to impact the Condors as he did a year ago. 21, 4-9-13.
28 LHC Ryan McLeod. His speed is a big asset in the AHL and his offense (25, 3-7-10) is more than I anticipated in his first half rookie pro. He's penalty killing, too. Doubt he'll see the NHL this season but you never know.
29 LHC Brad Malone. Veteran is a top center in the AHL but appears to be behind Cave on the recall depth chart. UFA next summer.
30 RHC Cam Hebig. He's been in the ECHL (15, 5-8-13) more than AHL (9, 1-1-2), and that isn't a good sign. Oilers have other options, but he hasn't been able to build on his 11-goal season of one year ago.
31 LW Leon Draisaitl. Big man is following up his 50-goal season (36, 21-36-57) with a goal-scoring pace that projects to 48 goals. He is a major star and key to any success Edmonton will enjoy this year.
32 LW James Neal. A fast start has been followed by a long stretch of no impact. Neal seems healthier and faster of late, and as we approach mid-season, his boxcars (36, 15-7-22) are more than expected.
33 LW Jujhar Khaira. He's 34, 6-0-6 so far, with wide ranging performances that range from player of the game to waivers at midnight. I remain a believer but he's going to get pressure from the minors and men like Tyler Benson soon. Khaira's solid PK work (he ranks No. 2 in GA/60 in the discipline) helps him keep the roster spot.
34 LW Markus Granlund. He had a hot stretch for a time and is now 29, 3-1-4. Now that I see the numbers, hot stretch isn't the right phrase. On the PK, he is No. 6 among regulars in GA/60 (7.8). He's a free agent in the summer, Ken Holland talked about his 12 goals a year ago but Granlund has three coming up to halftime.
35 LW Joakim Nygard. His boxcars (19, 2-3-5) aren't bad, that's 20 points over a full season. His speed is impressive and should get him more starts and scoring chances, but the first 36 games are done and he's played in only half of them.
36 LW Tomas Jurco. I liked him in the NHL (12, 0-2-2) but he didn't touch the puck enough to stay in the lineup. In the AHL (8, 4-3-7) he's a substantial player and my guess is that he remains a recall option.
37 LW Tyler Benson. Benson is once again leading Condors forwards in points (25, 7-12-19) but it's clear that he misses having a healthy Marody. Benson is in the window for recall now.
38 LW Joe Gambardella. He has been injured for parts of this season and isn't scoring at last year's levels (29 goals in 50 games). He is 6-5-11 in 19 games this season.
39 LW Nolan Vesey. He is RFA at the end of this season and along with Mantha very likely to be released after the 2019-20 campaign. Vesey has played in three AHL and four ECHL games.
40 RW Zack Kassian. Career season for the fleet winger, he's playing the best hockey of his career. His numbers (12-11-23 in 33 games) are exceptional compared to his own career totals. Kassian and Edmonton are talking contract, there is danger here.
41 RW Alex Chiasson. Big winger who signed free-agent contract has been shy offensively (31, 4-8-12) but is coming on of late. The season he is having now is in line with his overall career averages. Last season was the outlier.
42 RW Sam Gagner. He is quietly having a solid year. Gagner's boxcars (18, 1-7-8) imply a 30+ point season, but he is playing half the games. A five on five per 60 point total of 1.92 is the fourth best on the team and the best among forwards who don't play regularly with CMD.
43 RW Josh Archibald. Speedy winger who can't score but does PK well (his 2.9 GA/60 on the PK leads the team's regulars). He had 12 goals one year ago, just one goal this year. Can we assume a market correction is on the way?
44 RW Patrick Russell. Russell isn't getting a lot of attention but his ability to be useful goes beyond the boxcars (27, 0-4-4). He PK's but his GA/60 (12.48) is the poorest among regulars.
45 RW Kailer Yamamoto. I am in worry mode since his wrist injury. Yamamoto is the most impressive forward in the AHL, but he isn't cashing enough. That could be a lack of skill centers to feed him, a poor power play, or both. One of the key prospects to watch for Oilers fans between now and April. Will he pop?
46 RW Josh Currie. He can play center or wing in the AHL and was flat out impressive during a recall one year ago. Patrick Russell ate everyone's lunch but Currie leads all Condors in goals (11) and perhaps we see him in Edmonton during the second half of the season.
47 RW Kirill Maksimov. I have been impressed with his season so far. Although the boxcars are slow in arriving (22, 1-5-6) he has been able to stay in the AHL and has shown utility (PK, some PP). He had a four-game stretch in November where he went 1-3-4, but the rest of the first half has been a jumble. Watch for a spike in the second half.
48 RW Ostap Safin. He is scoring well in the ECHL (26, 10-12-22) but more important he is healthy and that's a big damned deal. I expect we'll see him in Bakersfield in the new year.
Rookie scoring in Bakersfield
It's important to keep track of rookie scoring, because it gives us a line in the sand and a chance to compare the coming months to the beginning. Here are last year's rookies and their numbers at this time a year ago:
Cooper Marody 13, 5-11-16 1.23
Cam Hebig 23, 9-7-16 .696
Tyler Benson 23, 3-12-15 .652
Kailer Yamamoto 7, 1-3-4 .571
Logan Day 21, 3-8-11 .523
Tyler Vesel 20, 1-6-7 .350
Benson's numbers were helped by Marody's dominance, as were Hebig's. This year's rookies are led by a defenceman:
Evan Bouchard 25, 3-11-14 .560
Ryan McLeod 25, 3-7-10 .400
Kirill Maksimov 22, 1-5-6 .273
Dmitri Samorukov 23, 1-4-5 .217
The thing to remember here is that Bouchard is the only player who is in a feature offensive role. He is 2-5-7 on the power play, none of the other men listed has more than one point with the man advantage. I'd say "sure NHLers" number just one, but I like the chances of the other three based on early season performance. In fact, despite playing lesser roles as AHL rookies, I think this year's crop has more promise. These kids have enough skill and range to push for NHL employment eventually.
LOWDOWN WITH LOWETIDE
A fun morning today, starts at 10, TSN 1260. Bruce McCurdy from the Cult of Hockey joins us at 10:20, we'll review the Dallas game and preview St. Louis. Joe Osborne from OddsShark will drop in at 11 to talk about Super Bowl picks and nervous Patriots fans, plus how much Taylor Hall moves the needle for the Arizona Coyotes. 10-1260 text, @Lowetide on twitter. See you on the radio!