The Edmonton Oilers won in Dallas last night, that's breaking news in these parts. It wasn't easy, although any game won courtesy two Connor McDavid assists has been touched by God. Mikko Koskinen was brilliant, the team's structure stayed in place for much of the game and the power play paid off once and that's all that was needed. Now let's work on that possession game.
THE ATHLETIC!
The Athletic Edmonton features a fabulous cluster of stories (some linked below, some on the site). Great perspective from a ridiculous group of writers and analysts. Proud to be part of The Athletic, less than two coffees a month offer here.
OILERS AFTER 36 GAMES
Oilers in 2015: 15-18-3, 33 points; goal differential -16
Oilers in 2016: 18-12-6, 42 points; goal differential +5
Oilers in 2017: 17-17-2, 36 points; goal differential -5
Oilers in 2018: 18-15-3, 39 points; goal differential -1
Oilers in 2019: 19-13-4, 42 points; goal differential -1
Huzzah! This edition of the Oilers is still running at the front of the pack and that's a strong first half (well almost first half) of the season. We can talk about the recent past, but last night the team stopped a losing streak of some note. Impressive. Some iron in this team.
OILERS IN DECEMBER
Oilers in December 2015: 6-2-0, 12 points; goal differential +1
Oilers in December 2016: 3-2-3, nine points; goal differential 0
Oilers in December 2017: 5-3-0, 10 points; goal differential +7
Oilers in December 2018: 5-1-1, 11 points; goal differential +6
Oilers in December 2019: 3-4-1, seven points; goal differential -7
A big win over the Stars doesn't get the team back to even for December but it's a start. Ideally, the Oilers blow the doors off one of the teams on the schedule this week. I wonder if Sam Pollock is comfortable.
WHAT TO EXPECT FROM DECEMBER
On the road to: VAN (Expected 1-0-0) (Actual 1-0-0)
At home to: OTT, LAK, BUF, CAR (Expected 2-1-1) (Actual 1-2-1)
On the road to: MIN (Expected 1-0-0) (Actual 0-1-0)
At home to: TOR (Expected 0-1-0) (Actual 0-1-0)
On the road to: DAL, STL (Expected 0-2-0) (Actual 1-0-0)
At home to: PIT, MTL (Expected 1-1-0)
On the road to: VAN (Expected 0-0-1)
At home to: CAL, NYR (Expected 1-1-0)
Overall expected result: 6-6-2, 14 points in 14 games
Current results: 3-4-1, 7 points in 8 games
It's a long month, but this road trip represents one of the toughest stretches. Oilers fans would have been pleased with a split in these two games, but winning the first leg of the trip perhaps changes the expectation.
OILERS 2019-20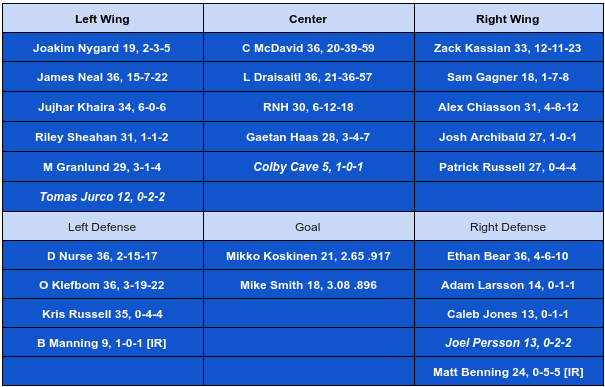 The centers three delivered completely different performances, and coach Dave Tippett ran all four lines out there no matter the results. And there were some interesting results. All numbers five on five unless noted and all numbers via NST.
LINE 1 Joakim Nygard-Connor McDavid-Zack Kassian played 8:58, going 5-10 Corsi, 3-6 shots, 1-0 goals and 1-2 HDSC.
Joakim Nygard battled hard and moved the puck deep a couple of times, used his speed and quickness to get the puck deep on the first goal. Connor McDavid was outstanding, with two takeaways, a breathtaking rush that almost cashed, a fabulous pass to Kassian for a goal and a nifty pass that started the power-play goal. Zack Kassian scored the first goal of the game, drew a penalty and was skating hard all night.
LINE 2 Jujhar Khaira-Nuge-Alex Chiasson played 8:30, going 1-18 Corsi (!!!), 1-8 shots, no goals and 0-3 HDSC. That's a ghastly line, how did they get 8:30? In a tight game?
Jujhar Khaira had a poor game. He had one giveaway and didn't impact the game positively. He was in chase mode all night. I wonder if he's banged up, he couldn't negotiate stick with puck worth a tinker's-dam. Nuge had a shot, a good look on net, drew a penalty and was in a good spot defensively to clear the puck a few times (and specifically late). Alex Chiasson had a terrific assist on the power-play goal, but was quiet at five on five.
LINE 3 Riley Sheahan-Gaetan Haas-Josh Archibald played 7:03, 8-10 Corsi, 7-4 shots, no goals and 0-1 HDSC.
Riley Sheahan had a shot on goal, played 2:07 on the PK (0-3 shots). Gaetan Haas had a shot, a giveaway, takeaway, took five hits and kept on ticking. He's an unusual and enjoyable player. Josh Archibald had two shots and both were impressive chances. Skated miles. He's finding the range now, suspect we'll see some goals in the next 10 games.
LINE 4 James Neal-Leon Draisaitl-Sam Gagner played 4:49, going 9-5 Corsi, 6-3 shots, no goals and 1-2 HDSC.
James Neal had two shots, one HDSC and a takeaway. He is coming on now, back to full health. Leon Draisaitl scored a fine power-play goal and played a solid game. Sam Gagner had three shots on goal and made several fine passes.
PAIRING ONE Oscar Klefbom and Adam Larsson played 12:22, going 11-14 Corsi, 7-7 shots, no goals and 3-2 HDSC.
Oscar Klefbom blocked five shots, moved the puck well and had his head on a swivel. A quality game. His desperate race to glory to save the day on a four-on-one was majestic. Adam Larsson played an effective game too, drawing a penalty and skating the puck out of danger. Physical, kept the porch tidy. He's back. This duo is taking back the top pairing role.
PAIRING TWO Darnell Nurse and Ethan Bear played 9:51, going 11-7 Corsi, 5-6 shots, 1-0 goals and 1-1 HDSC.
Darnell Nurse picked up an assist on a great pass, four shots and skated miles. He blocked a pass on the Dallas goal but could not recover in time to impact the goal. Ethan Bear's passing was outstanding again, he's a pleasure to watch with the puck on his stick. He drew a penalty, won more battles than usual and played a physical game. A strong bounceback from his tough night against Toronto. Knocked Blake Comeau off his feet late in the game, one of the best moments of the contest.
PAIRING THREE Kris Russell and Caleb Jones played 8:30, going 6-17 Corsi, 6-8 shots, no goals and 0-5 HDSC.
Kris Russell had one shot, one giveaway and two blocked shots. He defended well. Caleb Jones had one shot, a penalty and drew a penalty. He's becoming more confident now, the drawn penalty came when Jones stepped up from the blue line and charged toward the net.
GOALIE Mikko Koskinen stopped 33 of 34 shots, .971. He was outstanding, in fact the late save on Corey Perry was probably the most important play of the game (goals aside). He is No. 1 now. No question.
HALL AND 'YOTES
Taylor Hall is off to Arizona, where he'll get some more playoff games and possibly form a frightening line with Phil Kessel. I like this deal for the Coyotes, more than I would have liked a matching deal for Edmonton (2020 first, 2021 third that would possibly move up, Caleb Jones, Cooper Marody, Ostap Safin). Why? Coyotes have more of their roster figured out and are less likely to free fall. Plus Holland could not afford to send away that first-round pick in a deep draft and run the risk of Edmonton's selection landing at No. 8 overall again. As the great Kate Bush sang, Oilers are still runnin' up that hill.
THE 2020 DRAFT
Corey Pronman has 17 high end or better prospects for the 2020 draft (read about it here) and a scout I talked to said the quality is 20 deep. We'll see as time goes by, but I think Ken Holland keeping his powder dry was the right call.
LOWDOWN WITH LOWETIDE
At 10 this morning, we get rolling TSN1260. Jonathan Willis from The Athletic will talk last night's game, the Hall to Arizona deal and the week to come. Luke Lapinski from 98.7 Arizona Sports will join us to talk Hall deal. Andrew Peard and Corey Graham will pop in for the Oil Kings round table at 11. 10-1260 text, @Lowetide on twitter. Talk soon!