The Oilers are in a slump and that means lots of new things to talk about today. The Pacific Division penthouse has a new occupant, the Oilers are hanging on to a playoff spot by a thread and the "in the playoffs at American Thanksgiving" line in the sand seems like both a distant bell and a cruel joke.
One of the things I'd like to discuss is this: When should the Oilers recall one of the prospect forwards from the Bakersfield Condors?
THE ATHLETIC!
The Athletic Edmonton features a fabulous cluster of stories (some linked below, some on the site). Great perspective from a ridiculous group of writers and analysts. Proud to be part of The Athletic, less than two coffees a month offer here.
OILERS AFTER 36 GAMES
Oilers in 2015: 15-18-3, 33 points; goal differential -16
Oilers in 2016: 18-12-6, 42 points; goal differential +5
Oilers in 2017: 17-17-2, 36 points; goal differential -5
Oilers in 2018: 18-15-3, 39 points; goal differential -1
Oilers in 2019: 18-13-4, 40 points; goal differential -2
The 2016 Oilers are going to romp now, this race will get old in a hurry. That said, a win tonight gets Edmonton back to even with the truly good McDavid club. That goal differential needs some help, too.
OILERS IN DECEMBER
Oilers in December 2015: 6-2-0, 12 points; goal differential +1
Oilers in December 2016: 3-2-3, nine points; goal differential 0
Oilers in December 2017: 5-3-0, 10 points; goal differential +7
Oilers in December 2018: 5-1-1, 11 points; goal differential +6
Oilers in December 2019: 2-4-1, five points; goal differential -8
One of these things is not like the other, one of these things just isn't the same! Edmonton needs three 5-1 wins in a row. Stat!
WHAT TO EXPECT IN DECEMBER
On the road to: VAN (Expected 1-0-0) (Actual 1-0-0)
At home to: OTT, LAK, BUF, CAR (Expected 2-1-1) (Actual 1-2-1)
On the road to: MIN (Expected 1-0-0) (Actual 0-1-0)
At home to: TOR (Expected 0-1-0) (Actual 0-1-0)
On the road to: DAL, STL (Expected 0-2-0)
At home to: PIT, MTL (Expected 1-1-0)
On the road to: VAN (Expected 0-0-1)
At home to: CAL, NYR (Expected 1-1-0)
Overall expected result: 6-6-2, 14 points in 14 games
Current results: 2-4-1, 5 points in 7 games
I have the Oilers going 2-4-1 now through the end of the month, meaning the club would finish 4-8-2, 10 points. The record for the year would be 20-17-5, 45 points in 42 games. After the strength of the first two months, that's a disappointing record to contemplate.
OILERS FORWARDS FIVE ON FIVE SCORING
One of the arguments against recalling Kailer Yamamoto, Tyler Benson or other Bakersfield Condors is lack of offense. That's more difficult to argue when the current group is so bad compared to the rest of the NHL. Here, let me show you. There are 375 forwards who have played 180 or more five on five minutes so far this season, that's basically four lines (12 forwards) per team. If you're a first-line forward, you should be among the 93 (31 times C, L, R) offensive scorers at five on five, right? Here are Edmonton's No. 1 line forwards:
No. 6 Leon Draisaitl [3.12]
No. 12 Connor McDavid [3.04]
No. 28 Zack Kassian [2.54]
That's a complete No. 1 line, and contains two of the best offensive forwards in the game, plus a solid complementary forward having a career year. No room at the Inn for any minor leaguer here. Now, let's look at the second line forwards (94-186):
No. 104 Sam Gagner [1.98]
Oops! That's it. Just one player qualifies as an offensive second line forward, and Mr. Gagner is also a complementary type with some defensive issues. Still, he's bona fide and that has value. Now, No. 187-279, the third liners:
No. 272 Gaetan Haas [1.24]
Oh, come ON! You have to be kidding me! Where is everyone? Yes, the Oilers follow up having just one second line player with just one third liner (by average). And that means (you guessed it) a large group who provide fourth line offense (279-372):
No. 294 Ryan Nugent-Hopkins [1.11]
No. 314 Joakim Nygard [1.00]
No. 319 Jujhar Khaira [0.98]
No. 336 Markus Granlund [0.88]
No. 343 Patrick Russell [0.83]
No. 346 James Neal [0.81]
No. 355 Alex Chiasson [0.73]
No. 366 Riley Sheahan [0.41]
No. 373 Josh Archibald [0.23]
Read 'em and weep! THREE LINES of fourth liners!!! OMG. I kid of course, but the point is worth making. If the Oilers are going to keep the kids out, then the older set surely has to deliver something that resembles NHL average. Fair?
I know someone will mention PK, so the top six PK forwards could be Leon Draisaitl, Riley Sheahan, Josh Archibald, Nuge, Jujhar Khaira and Markus Granlund. That means Joakim Nygard, James Neal and Alex Chiasson are voted off the island. But you know, Neal has had injury issues and Chiasson is a veteran, and Nygard has shown flashes. Could we exchange Patrick Russell for Benson? Yamamoto? I think we're getting there. All numbers NST.
TONIGHT
The only game these two teams have played resulted in a 5-4 OT win for Dallas on November 16 at Rogers. Jujhar Khaira scored twice in that game. Last season Edmonton went 1-1-1 against the Stars. Dallas is 5-3-2 in their last 10, the Oilers 3-6-1.
PUCK IQ INNOVATION
The giant brains at Puck IQ have gifted us with another set of items that will rock our world. These are what I will call (from today forward) Sledgehammer: The New Testament. Here are Oilers defensemen using FO/60 (faceoffs per 60 at five on five):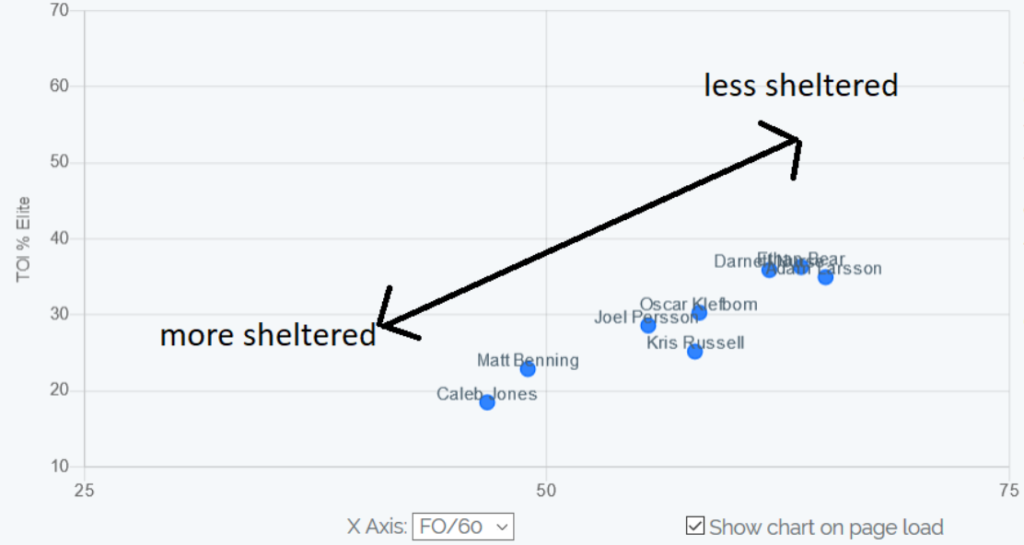 We see Adam Larsson, Ethan Bear and Darnell Nurse getting the most faceoffs per 60 against elites, while Caleb Jones and Matt Benning get fewer. This also tells us that Benning and Jones would be getting more "on the fly" shift starts, they usually occur with the puck heading north. What this tells me is that Dave Tippett is using the defensemen in a logical way, although Oscar Klefbom can (and has been lately) take on more of the load.
LOWDOWN WITH LOWETIDE
At 10 this morning, TSN1260. It's a big show to begin a big week. Sean Shapiro from The Athletic leads things off at 10:20, we'll chat about a fascinating year so far for the Dallas Stars. Jason Gregor from TSN1260's Jason Gregor Show tees up tonight's game at 11, and then Chris Meaney from The Athletic will pop in to talk NFL weekend and the Monday Nighter. 10-1260 text, @Lowetide on twitter. Talk soon!