There's always ongoing conversations about Oilers players who are performing poorly. I'll see posts that say "James Neal can't play on a skill line anymore" and "Adam Larsson is barely hanging on to an NHL job" and it makes me smile. Now, people are on Ethan Bear. He's hit a wall! His decision making is terrible!
It's usually injury, folks. We always forget. Always. I do. Swear to God. If a player who played 20 games at a certain level, then falls off badly, chances are it's injury. Follow the math, find the birth certificate, see if his partner or linemate is hurt and then check on the player himself. I swear to you this is the case so often it'll make your head spin.
So what does that mean? Well, we loved Nurse-Bear for 35 games, and now we're down on them. All hail Klefbom-Larsson. Maybe, maybe they're all good and all are carrying maladies great and small? Maybe.
THE ATHLETIC!
The Athletic Edmonton features a fabulous cluster of stories (some linked below, some on the site). Great perspective from a ridiculous group of writers and analysts. Proud to be part of The Athletic, less than two coffees a month offer here.
OILERS AFTER 35 GAMES
Oilers in 2015: 15-18-2, 32 points; goal differential -15
Oilers in 2016: 18-12-5, 41 points; goal differential +6
Oilers in 2017: 16-17-2, 34 points; goal differential -7
Oilers in 2018: 18-14-3, 39 points; goal differential +1
Oilers in 2019: 18-13-4, 40 points; goal differential -2
The Oilers are now in negative goal differential and have given up the top spot among the McDavid Oilers to the 2016 team. It remains a terrific start for this year's model.
OILERS IN DECEMBER
Oilers in December 2015: 6-1-0, 12 points; goal differential +5
Oilers in December 2016: 3-1-3, nine points; goal differential +2
Oilers in December 2017: 4-3-0, eight points; goal differential +5
Oilers in December 2018: 5-1-1, 11 points; goal differential +6
Oilers in December 2019: 2-4-1, five points; goal differential -8
The Oilers are suffering the gales of November a little late but the results are just as difficult to endure. My goodness this is 50 miles of bad road. Pick a rut and go doesn't seem to be working.
WHAT TO EXPECT IN DECEMBER
On the road to: VAN (Expected 1-0-0) (Actual 1-0-0)
At home to: OTT, LAK, BUF, CAR (Expected 2-1-1) (Actual 1-2-1)
On the road to: MIN (Expected 1-0-0) (Actual 0-1-0)
At home to: TOR (Expected 0-1-0) (Actual 0-1-0)
On the road to: DAL, STL (Expected 0-2-0)
At home to: PIT, MTL (Expected 1-1-0)
On the road to: VAN (Expected 0-0-1)
At home to: CAL, NYR (Expected 1-1-0)
Overall expected result: 6-6-2, 14 points in 14 games
Current results: 2-4-1, 5 points in 7 games
I thought the Oilers played well enough to get a win, or at least a point. It's the second loss in a row where I felt the team was a little shortchanged on the scoreboard. Craig MacTavish used to say a team on a winning streak would win a game or two at the end of it despite playing badly, while a team trying to get out of a slump would lose a game or two at the end of it they deserved to win. I believe the Oilers are at that spot now.
OILERS 2019-20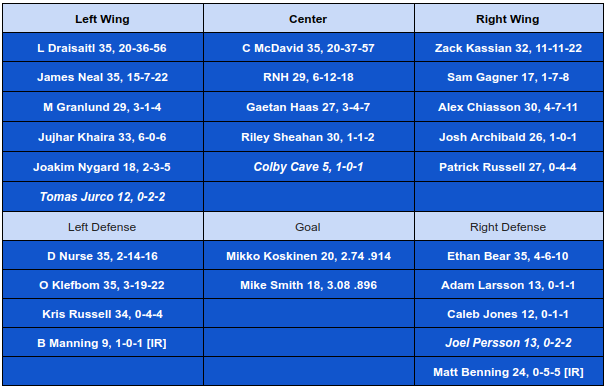 Oilers have four men projected to score 20+ goals, a defenseman on the way to 40+ points and terrific special teams. Five on five? Not so much. All numbers five on five unless noted and via NST.
LINE 1 Leon Draisaitl-Connor McDavid-Zack Kassian played 16:04, going 10-21 Corsi, 6-17 shots, 0-1 goals and 3-6 HDSC. That's a terrible line for the top line, one of the worst this season.
Leon Draisaitl had an assist on the power-play goal by Chiasson, one HDSC and two takeaways. Won six of 12 in the dot. Connor McDavid had one HDSC (how he didn't score is beyond me), two takeaways and drew a penalty. Zack Kassian had two shots, one a good chance, and was physical.
On the second goal against, play begins with McDavid getting the puck out of the zone to Draisaitl in the neutral zone. Leon sends a backhand no look pass to 97 a split second later but it is intercepted. Leafs put the puck in their own end, under control, and then send a true pass under control to center (Engvall the receiver). Engvall sends an outstanding pass (that beats Ethan Bear who gets caught flat footed) to Mikheyev who is free inside the blue line. He drives to the net, gets a point blank shot that Koskinen saves, Darnell Nurse doesn't clear, Kerfoot delivers to Mikheyev and that's a goal.
LINE 2 James Neal-Nuge-Sam Gagner played 14:40, going 17-13 Corsi, 9-5 shots, 0-1 goals and 0-3 HDSC.
James Neal looks faster now, last two games have been better. Four shots, one HDSC, but also two giveaways and a takeaway. Nuge had two shots, three giveaways, one also in photo and a second period shift where he backchecked like Dave Keon and damn near scored. Sam Gagner looked a little slow with the puck, death against Toronto.
The first goal against begins with the puck in the Oilers zone. Kris Russell has just blocked a shot and he doesn't look right. Puck bounces to the nearest Maple Leaf, who sends a gorgeous pass (Toronto are a beautiful passing team) to Morgan Rielly. Rielly sends a goalmouth pass to Engvall, who is stopped by Koskinen. Nuge gets the rebound in the corner and does not help his team when he send a six-inch pass to Mikheyev. The Russian skates up the wall to the Edmonton blue line and sends a pass to the defender (RH shot) who forces Koskinen to make a save. At this point, Koskinen has lost his stick. Engvall has the puck in the corner, pass to Kerfoot and an excellent shot makes it 1-0. Nuge's poor clear the key play for Edmonton, even an icing would have been a brilliant result.
LINE 3 Jujhar Khaira-Riley Sheahan-Josh Archibald played 6:58, going 8-4 Corsi, 7-1 shots, 4-0 HDSC.
Jujhar Khaira had four shots, one HDSC and a great rebound look. Riley Sheahan had two shots, one HDSC and won 8 of 11 in the faceoff circle. Josh Archibald had two shots, one HDSC and a takeaway. If the Oilers won this game, or they had scored, we'd be talking about this line today. Good work.
Markus Granlund-Gaetan Haas-Alex Chiasson played 5:04, going 5-7 Corsi, 3-3 shots, no goals and 1-2 HDSC.
Markus Granlund was mostly quiet, save for a giveaway. Gaetan Haas was active again, two shots, one HDSC. Alex Chiasson scored a great goal on the power play and had another great chance at five on five.
A quick note on the Kerfoot line and defenseman Justin Holl. I don't know how far the Maple Leafs will go this season, but the bets laid down on men like Mikhayev, Engvall and Holl are sublime. Edmonton needs those kinds of additions.
PAIRING ONE Oscar Klefbom and Adam Larsson played 21:55, going 25-19 Corsi and 16-8 shots, no goals and 6-1 HDSC. Played mostly with the Nuge line and against the Hyman-Tavares-Marner line. A fine game by the Swedes.
Oscar Klefbom had three shots, blocked several and helped get the puck going in a good direction. Adam Larsson had a strong game, he's healthy again and up to speed. You'll see people talk about his improved concentration, attention to detail, dedicating himself to the season. Nope. Healthy.
PAIRING TWO Darnell Nurse and Ethan Bear played 17:48, going 19-22 Corsi, 10-17 shots, 0-2 goals and 3-8 HDSC. They played 15:33 with the McDavid unit, this five-man unit underperformed badly.
Darnell Nurse was hammering Maple Leafs during the anthem and beyond, but his hesitation on the clear during the second goal against is what fans will remember. Had a giveaway and a takeaway. Ethan Bear has been caught flat footed a few times recently, I think it's a combination of good scouting by opposition and Bear's playing so many important minutes. He'll be fine. Adjustments take place during the season all the time.
PAIRING THREE Kris Russell and Caleb Jones played 7:40, going 8-8 Corsi, 5-4 shots, 0-1 goals, 1-3 HDSC.
Kris Russell blocked a shot and was down and out for a moment on the first goal against, pretty much a clean slate afterward defensively after that (one giveaway). No offense to report as always. Caleb Jones had a shot on goal and a takeaway, I liked his game.
GOALIE Mikko Koskinen stopped 28 of 31, .903. He was rock solid in net and gave his team a chance to win. Edmonton got a little unlucky because there were few penalties, but did win the possession battle for the second game in a row. A win is coming. Promise.
CONDORS 2019-20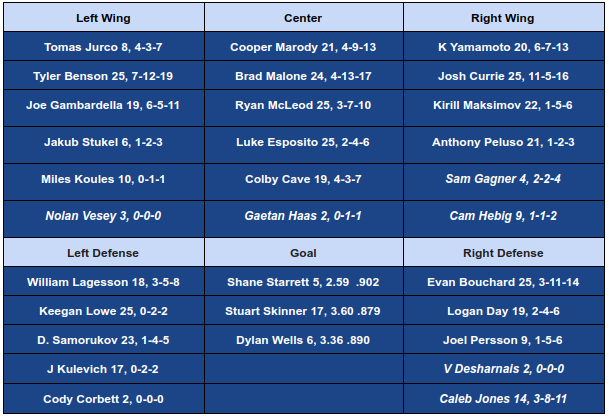 Condors won last night, courtesy some depth scoring, Shane Starrett's fine goaltending and a ton of shots directed at the Griffins' net. I think Jay Woodcroft is finding the range with this team now.