I wish I could drive you to the place where HNIC broadcast into my grandparents living room in the 1960s. It was in Maple Ridge, past Haney, and you turned left at Thornhill School. At the top of the hill, right turn and then one mile plus a little. You'd turn right into the driveway, the sawmill to the left (my bike was probably in the driveway), and pull to a stop right at the front door. There was an old pew you could sit on just outside that door, and if you sat down in that pew and looked straight ahead, you'd get a good view of Tom (Grandpa's horse) from the back end. I loved that horse, used to give him too many apples (one of several things I did that were not in keeping with how things were supposed to go). Apple trees beyond Tom and if you ran past those you could see our house and the big sawdust bins that hung out behind the mill. Back at Grandpa's, Grandma would be baking bread, over at our house Mom was having a cigarette and watching Edge of Night.
That was weekdays. Saturday night was the hockey game and that meant the Maple Leafs. Dave Keon's crew cut, big Frank Mahovlich, Johnny Bower. It was a rare Saturday you'd see a Duane Rupp or a Gary Smith, and the menfolk would speak with great disdain about the breakdown in society if anyone on the ice had long hair. No sir. The Maple Leafs were supposed to have short hair, give modest answers during the intermissions and win the Stanley Cup.
The whole world has changed since those days, the NHL has expanded from six teams to 32. I remember when the first expansion came all the adults saying there were too many players and they couldn't keep track of all the names. That was at 12 teams.
The modern Maple Leafs, 1967 through today, haven't had the success of the original six group, but the current team is one of the better units I've seen. Inconsistent, not fabulous defending and the RH side of the blue needs some help. However, the forwards are a collection of searing talent, who can blow even good teams out of the water just for fun. Tonight's game against Edmonton, on Tabernac Saturday, is fraught with danger for the home side. It's Saturday night, Oilers on the early game against the center of the universe. The possibilities are endless, the outcome unknown. Gird your loins! Fill the beer fridge! Damn the torpedoes, full speed ahead!
THE ATHLETIC!
The Athletic Edmonton features a fabulous cluster of stories (some linked below, some on the site). Great perspective from a ridiculous group of writers and analysts. Proud to be part of The Athletic, less than two coffees a month offer here.
OILERS AFTER 35 GAMES
Oilers in 2015: 15-18-2, 32 points; goal differential -15
Oilers in 2016: 18-12-5, 41 points; goal differential +6
Oilers in 2017: 16-17-2, 34 points; goal differential -7
Oilers in 2018: 18-14-3, 39 points; goal differential +1
Oilers in 2019: 18-12-4, 40 points; goal differential +1
Two inconsistent teams get together at Rogers tonight, and an Oilers loss will mean the 2016-17 club edges just ahead for the season. That's a trend that is likely to continue, but Oilers fans are hoping the town team win grab two points this evening.
OILERS IN DECEMBER
Oilers in December 2015: 6-1-0, 12 points; goal differential +5
Oilers in December 2016: 3-1-3, nine points; goal differential +2
Oilers in December 2017: 4-3-0, eight points; goal differential +5
Oilers in December 2018: 5-1-1, 11 points; goal differential +6
Oilers in December 2019: 2-3-1, five points; goal differential -6
This year's Oilers are out of sync with the McDavid Oilers in all possible ways. The trend isn't good and the schedule suggests the final December 2019 tally will be a major talking point at season's end.
WHAT TO EXPECT IN DECEMBER
On the road to: VAN (Expected 1-0-0) (Actual 1-0-0)
At home to: OTT, LAK, BUF, CAR (Expected 2-1-1) (Actual 1-2-1)
On the road to: MIN (Expected 1-0-0) (Actual 0-1-0)
At home to: TOR (Expected 0-1-0)
On the road to: DAL, STL (Expected 0-2-0)
At home to: PIT, MTL (Expected 1-1-0)
On the road to: VAN (Expected 0-0-1)
At home to: CAL, NYR (Expected 1-1-0)
Overall expected result: 6-6-2, 14 points in 14 games
Current results: 2-3-1, 5 points in 6 games
I predicted 14 points in 14 games, that's a very reasonable number but the first leg of the trip has been poor. Donner party poor. We'll know far more after the game against the Canadiens a week from today. This next seven days is going to be a bother.
OILERS 2019-20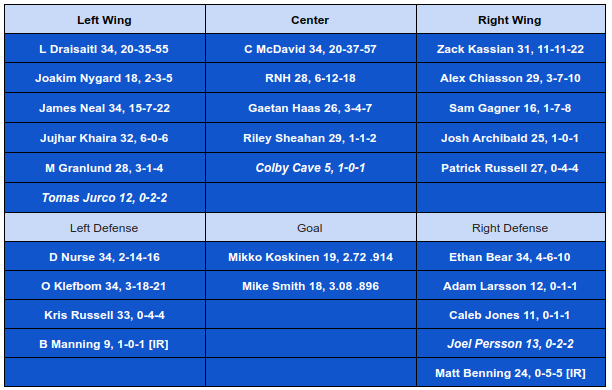 There are some strong seasons being constructed on this list. McDavid, Draisaitl, Kassian, Neal, Nurse, the rookie Ethan Bear. Mikko Koskinen has delivered a solid year, last two outings have hurt his save percentage but the man is 11-4-2 in the win column.
CONDORS 2019-20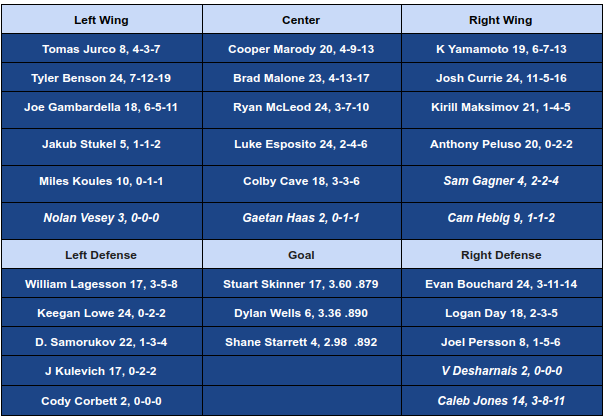 Condors lost last night, Tyler Benson with a couple of goals (Wilde had him playing with Cooper Marody and that duo worked great last year). Shane Starrett returned but the goals against keeps on coming. I think this bunch misses Ethan Bear and Caleb Jones. Bakersfield plays Grand Rapids again tonight.
TAYLOR HALL?
Went to bed last night not quite sure where Taylor Hall was heading. Sounds like Arizona and St. Louis are in it, I heard NY Islanders too at some point. Colorado was the favourite yesterday afternoon, maybe they come over the top with a haymaker. I give Edmonton a reasonable chance to land Hall, although a team like the Avalanche could offer more. If he lands in Edmonton, Jonathan Willis, Daniel Nugent-Bowman and yours truly will all have articles on it as the hours roll by. I have a couple of Hall related items in the lineup at the top of the page.