Ethan Bear made an inspired pass to Connor McDavid on the tying goal last night, but the Edmonton Oilers couldn't hold the lead and have now lost three in a row for the first time all season. It's a test for the upstart Oilers, who said goodbye to first place and could slide more by this time next week. No one said it was going to be easy and this club is once again firmly entrenched in the school of hard knocks. What was the problem last night? How much time do you have?
THE ATHLETIC!
The Athletic Edmonton features a fabulous cluster of stories (some linked below, some on the site). Great perspective from a ridiculous group of writers and analysts. Proud to be part of The Athletic, less than two coffees a month offer here.
AFTER 34 GAMES
Oilers in 2015: 14-18-2, 30 points; goal differential -17
Oilers in 2016: 17-12-5, 39 points; goal differential +5
Oilers in 2017: 15-17-2, 32 points; goal differential -8
Oilers in 2018: 18-13-3, 39 points; goal differential +3
Oilers in 2019: 18-12-4, 40 points; goal differential +1
The Oilers are not yet at the halfway mark of the season and have 40 points. For a team that managed just 78 and 79 points in the two previous seasons (after 82 games), it's a good spot. The current streak is difficult but there's plenty of time to correct. Does this team have enough talent to stay in the Pacific Division race?
OILERS IN DECEMBER
Oilers in December 2015: 6-0-0, 12 points; goal differential +7
Oilers in December 2016: 2-1-3, seven points; goal differential +1
Oilers in December 2017: 3-3-0, six points; goal differential +4
Oilers in December 2018: 5-1-0, 10 points; goal differential +7
Oilers in December 2019: 2-3-1, five points; goal differential -6
The December record continues to be futile and runs out of time with the previous four seasons. Edmonton will need to win a couple they should lose in order to save this month.
WHAT TO EXPECT IN DECEMBER
On the road to: VAN (Expected 1-0-0) (Actual 1-0-0)
At home to: OTT, LAK, BUF, CAR (Expected 2-1-1) (Actual 1-2-1)
On the road to: MIN (Expected 1-0-0) (Actual 0-1-0)
At home to: TOR (Expected 0-1-0)
On the road to: DAL, STL (Expected 0-2-0)
At home to: PIT, MTL (Expected 1-1-0)
On the road to: VAN (Expected 0-0-1)
At home to: CAL, NYR (Expected 1-1-0)
Overall expected result: 6-6-2, 14 points in 14 games
Current results: 2-3-1, 5 points in 6 games
I have the Oilers losing the next four games, and if that happens the December record will be 2-7-1 and the season record will be 18-16-4 as the team arrives at the midway point of the season. It could happen just this way. Oilers fans will be beside themselves with a seven game losing streak but the schedule offers no relief for some time.
WHOSE FAULT WAS IT?
On the first goal against, faceoff is in the Minnesota end, off an icing play. Wild win the faceoff but Kassian semi wins a battle and moves the puck along the wall, left side, and there's a moment where McDavid thinks about engaging Kunin before the youngster calms the play. He sends it behind the net to Soucy, who sends a hope pass to center. Ethan Bear reaches the puck and tries to shoot it in, but there are two Minnesota forwards on him and the puck slides into Edmonton's end. Mike Smith grabs it behind the net, and sends a high hard shot off the glass that lands in a tough spot because no one knows where the hell it will land and when it does it'll be a 50/50 puck. It doesn't reach Kassian at the blue line and lands right in front of Nurse almost as he passes the puck in real time. It bounces past Nurse and now the Oilers are in real trouble. Wild winger has the puck, Bear is in the middle, other winger driving to the net and Nurse is trying to deal with Jordan Greenway who is a load. Pass goes down low and shot goes wide. Puck goes back to the point, shot, Greenway blocks out Nurse but Smith sees the puck and gets a glove on it. The video clearly shows, for me, that Smith should have had it. Chaos starts and ends with Smith. Remember: Oilers lose this game by one goal.
The second goal again begins in the Minnesota end, with Jujhar Khaira trying a pass into the middle along the left wall. It wasn't a brilliant play (he should have eaten the puck) but the Oilers are at worst three on two with Archibald the third man back. Nurse holds his position in the neutral zone and Bear, a rookie, takes a step toward the middle (which in this case is fatal). Two heartbeats later Bear is playing a three on two like a two on two and Eric Staal sends a lovely pass to Jason Zucker who rips it shelf. Rookie defensemen will break your heart, Bear is a quick learner. Postgame had Dave Tippett talking about Khaira but if you look at the play it's nothing dangerous until Bear steps into the middle.
Third goal against starts with Kassian sending a long pass from his own zone to Leon far left side in the neutral zone on the fly. It's a tough pass, Leon grabs it and hits the blueline at the same time as the blur that is Connor McDavid. They gain entry, Leon sends the pass to the far right side just past the Minnesota blue line where Kassian finds the puck, shoots it, and has position after Suter blocks the shot. Kassian does one of those wide Mike Grier turns, dumps it to McDavid along the right side wall and now we're cooking with petrol. McDavid sends a nifty pass into the slot for Darnell Nurse, who has it, and then doesn't have it. He gets a shot off but it's errant, wide left and now we're pretty certain possession will change. Should be no problem because everyone has time to scoot. Wild get the puck out and again send a terrific pass (Rask to Foligno) that catches McDavid and Bear (plus Leon!) in the neutral zone. A nice give and go with Hartman and Foligno drills it home. I think Smith needs to stop that puck, but once again the defensive sorting is poor from 97, 29 and 74. That's a team GA.
Fourth goal against starts with the Oilers in their own end off an icing, puck heads north with McDavid and Kassian. McDavid attempts the Pete Mahovlich split the seam move and Minnesota gets possession. Again the Oilers get caught, this time due to a line change. Darnell jumps off and Adam Larsson jumps on (not sure why it was Larsson) but it's too late, there's a jailbreak. Donato shoots, Smith doesn't stop it and it's 4-2. Smith needs to stop one of these, terrible line change.
Fifth goal is described by poster Bling, from the comments section last night. Here's what he wrote: That 5th Wild goal was interesting. I encourage everyone to watch the replay. Nygard-Nuge-Chiasson Larsson-Klef. Failure to advance the puck past our side of the neutral zone by Nuge. Then Larsson breaks up a play along the right boards, there is another Oiler there (I think Nuge), but somehow the puck doesn't get cleared. From there it goes to the left corner. A 2v2 puck battle is lost by Klef and Nygard. This is when chaos unfolds. Chiasson is covering the RHD (to Smith's left), but he rotates to the other side of the ice to thwart what would have been a one-timer by Zucker. This would have been okay, but Nygard was late on rotating to Staal, who unfurled a wicked one-timer. Amazing play by Zucker to not force what would have been a shot block by Chiasson. Here's the funny thing. I watched this play a few times. How long do you think Staal was open? 3 seconds! It's a hard game. Rare goal where (I think) everyone on the ice is to blame.
Sixth goal against is Mike Smith behind his net. He sends a tough pass to Darnell Nurse, both because there was some heat on it and because there was a Wild forward bearing down. Nurse doesn't get good wood on his pass, and there's a turnover far left side at the goal line. Haas takes the first forward in, Jones is 10 miles from Kunin and that's all she wrote. Smith's decision making behind the net, a forced error on Nurse and a rookie blue in coverage. I'm going to stare at the goalie.
So let's add it all up: Two poor decisions by Smith behind his net and goals (the first for sure, plus either the third or fourth or both, and the sixth doesn't happen without his stickhandling) he should have had full stop. Two poor decisions by a rookie defenseman (Bear) and one by another (Jones). One slow reaction by your two best players (97 and 29). A bad reaction to a line change (I'll say Larsson but who knows?) plus Bling's Nygard-Nuge-Chiasson Larsson-Klef moment. Who you going to blame?
Folks, rookie defensemen have been breaking hearts since Joe Hall had the sniffles. Line change buggery is occupational hazard. But your goalie? He needs to be better than Mike Smith was last night. And your best players? They can't be caught in the neutral zone and have to be checking like demons in a game where losing first place and officially entering the slump region is on the line. Did you hear Connor McDavid take ownership last night, saying he needs to be better? If you take one thing away from last night, make it that McDavid quote. That's what leadership looks like.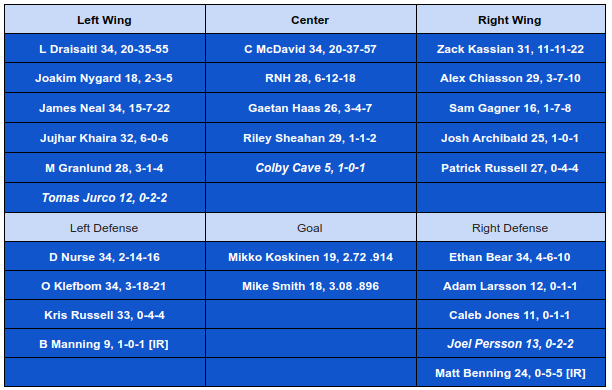 NUMBERS
Natural Stat Trick has the info here, I'm not going to do the usual but it's all in the notes. Of note: Oilers did win the five-on-five Corsi battle (51-50) for the first time in ever. If you're looking for something positive, here's a thing:
Lots of things are true this morning. For instance, it seems every damned chance the other side gets lands in the net. It won't always be this way. Also, very good NHL players aren't cashing like they should in recent days, that too shall pass. What then, do we know for sure?
Well, Edmonton is now 34 games into the season, so we can find out what they are by comparing numbers to the rest of the league (again NST).
Corsi for five on five: 47.80 (No. 26)
Fenwick for five on five: 48.35 (No. 22)
Shots for five on five: 47.77 (No. 26)
Goals for five on five: 45.77 (No. 26)
Expected goals for five on five: 48.66 (No. 22)
Shooting percentage: 8.54 (No. 9)
Save percentage: .9075 (No. 27)
PDO: 993 (No. 21)
I've had several people ask me why this blog is so five on five focused when the special teams have been driving results. The reason I focus on the five on five is because it's the biggest game state. It is fabulous to see Edmonton first in PP goals (32) and sixth (16) in PK goals against, but the heart of the game is at even strength and the main portion is five on five. Edmonton is not good at it, and here's news the goaltending is only part of the issue.
What's the biggest problem for the Oilers? I think it's McDavid on ice (37-29, +8) and McDavid off ice (28-48, -20) for a total (65-77, -12) that is well shy of contention. Same as it ever was. Others have differing opinions but that's my opinion.
WHAT TO DO ABOUT MIKE SMITH
I mentioned on The Oilcan Podcast for The Athletic the other day that at some point the organization might have to move away from Mike Smith. That could involve IR or running with three goalies, but your stopper has to give you a fighting chance in every game. This doesn't look good in a week where Mikko Koskinen is also fighting it, but it's no sin to hedge a bet on an old goaltender. Shane Starrett can't stay healthy and it seems the recent goalie shuffle has everyone in place, but at some point a waiver opportunity or a small trade may come available. I think Ken Holland would be wise to at least contemplate adding some insurance at the position.
LOWDOWN WITH LOWETIDE
At 10 this morning, we have a rocking show and lots to talk about on TSN1260. Steve Lansky from BigMouthSports takes us through last night's game and the weekend tilt against Toronto, plus WJ's. Matthew Iwanyk will talk about the EE grabbing a new coach from the top of the pile and we'll read your text messages to 10-1260. @Lowetide on twitter, let's kickstart this weekend in style!