Zack Kassian is exactly the kind of player who is better in his 30's than his 20's. He had maturity issues, he ran through a couple careers and arrived in YEG as his last chance Texaco. Anyone breathing should wish they took advantage of an opportunity as well as Kassian, who is one of the true feel good stories on this Oilers team. His career high in goals is 15, he has 11 today. Zack Kassian is on his way to 20+ goals. Amazing.
THE ATHLETIC!
The Athletic Edmonton features a fabulous cluster of stories (some linked below, some on the site). Great perspective from a ridiculous group of writers and analysts. Proud to be part of The Athletic, less than two coffees a month offer here.
OILERS AFTER 34 GAMES
Oilers in 2015: 14-18-2, 30 points; goal differential -17
Oilers in 2016: 17-12-5, 39 points; goal differential +5
Oilers in 2017: 15-17-2, 32 points; goal differential -8
Oilers in 2018: 18-13-3, 39 points; goal differential +3
Oilers in 2019: 18-11-4, 40 points; goal differential +2
Edmonton remains in a good spot, as it has been since the opening night of the season. I haven't written about the Donner party, Long Decembers, Nadir's Raiders and haven't written melancholy about Bonnie Raitt, Gordon Lightfoot or told stories about the brilliance of Cindy Walker or Jackie DeShannon. It's been a very good year. So far.
OILERS IN DECEMBER
Oilers in December 2015: 6-0-0, 12 points; goal differential +7
Oilers in December 2016: 2-1-3, seven points; goal differential +1
Oilers in December 2017: 3-3-0, six points; goal differential +4
Oilers in December 2018: 5-1-0, 10 points; goal differential +7
Oilers in December 2019: 2-2-1, five points; goal differential -5
Last year, after the team won to run their December record to 5-1-0, I wrote "Nothing to criticize this December, the record is outstanding. Hitchcock is pulling out all of the stops (he ran with 10 forwards and 5 defensemen last night, that's 1971-style) and still won the two points." Things were going well.
WHAT TO EXPECT IN DECEMBER
On the road to: VAN (Expected 1-0-0) (Actual 1-0-0)
At home to: OTT, LAK, BUF, CAR (Expected 2-1-1) (Actual 1-2-1)
On the road to: MIN (Expected 1-0-0)
At home to: TOR (Expected 0-1-0)
On the road to: DAL, STL (Expected 0-2-0)
At home to: PIT, MTL (Expected 1-1-0)
On the road to: VAN (Expected 0-0-1)
At home to: CAL, NYR (Expected 1-1-0)
Overall expected result: 6-6-2, 14 points in 14 games
Current results: 2-2-1, 5 points in 5 games
I have tonight as a win, although Minnesota has been fire recently and this will be a difficult game for Edmonton. The next several games are tough, Edmonton looks out of time and out of touch. They have looked this way before and found a way to tighten up. Tonight will be a big test.
OILERS 2019-20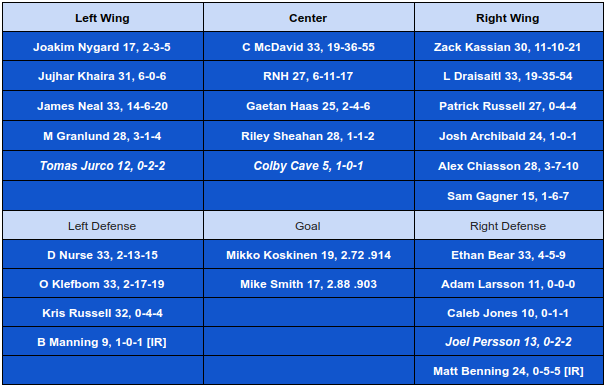 Oscar Klefbom is bleeding five on five since getting hurt and I'm not certain Dave Tippett has the option of resting him. One thing to watch for tonight is usage, and I do think we might be reaching the point where Edmonton dresses seven defensemen in a game.
CONDORS 2019-20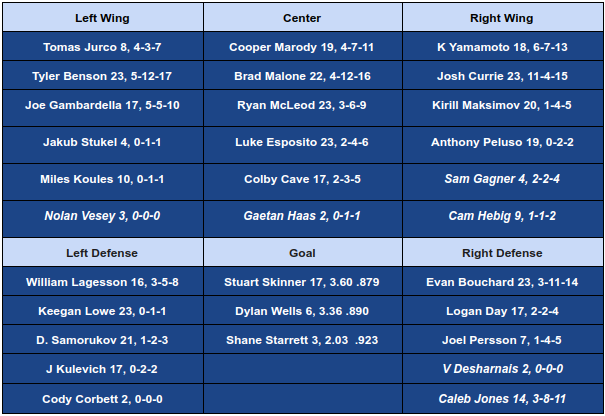 Kailer Yamamoto had a strong game last night, going 1-1-2 and looking dangerous all night long. Wilde's and OP's updates in the comments section of last night's post are most worthwhile.
LOWDOWN WITH LOWETIDE
At 10 this morning, TSN1260, it's a rocking show. At 10:20, Simon Boisvert, our prospect insider, tells us who is NHL-ready among the Bakersfield Condors. We'll also talk 2020 draft. Frank Seravalli from TSN will pop in after 11 with the latest news, heaving on coaching changes and maybe a couple of trade rumors as well. Sarah McLellan from Star Trib in Minneapolis will preview the Wild at 11:25. 10-1260 text, @Lowetide on twitter. Talk soon!