Finding a linemate for Connor McDavid turned out to be fairly easy, what with Leon Draisaitl being drafted in the first round one year before 97. Finding an inexpensive veteran to play on his wing works, but it can get expensive in a hurry (witness Patrick Maroon's rumored ask, and the next Zack Kassian deal). Maybe Joakim Nygard will offer the Oilers a new option: Unknown who succeeds. We're one game into the experiment but there were good signs everywhere.
THE ATHLETIC!
The Athletic Edmonton features a fabulous cluster of stories (some linked below, some on the site). Great perspective from a ridiculous group of writers and analysts. Proud to be part of The Athletic, less than two coffees a month offer here.
OILERS AFTER 33 GAMES
Oilers in 2015: 14-17-2, 30 points; goal differential -13
Oilers in 2016: 16-12-5, 37 points; goal differential +4
Oilers in 2017: 14-17-2, 30 points; goal differential -9
Oilers in 2018: 18-12-3, 39 points; goal differential +4
Oilers in 2019: 18-11-4, 40 points; goal differential +2
The goal differential is gone now, the gap in points also basically erased. Facing a schedule that is best described as difficult for the rest of the week, the Oilers tied the game in the third but couldn't play at level in the third period and lost in regulation. That would have been an important Bettman.
OILERS IN DECEMBER
Oilers in December 2015: 5-0-0, 10 points; goal differential +6
Oilers in December 2016: 2-1-2, six points; goal differential +1
Oilers in December 2017: 3-2-0, six points; goal differential +8
Oilers in December 2018: 4-1-0, eight points; goal differential +5
Oilers in December 2019: 2-2-1, five points; goal differential -5
This is the least successful December to remember during the McDavid era, in fact the goal differential is alarming compared to the previous editions. I know Ken Holland has ice in his veins, but he might want to throw this team a bone in the coming days.
WHAT TO EXPECT IN DECEMBER
On the road to: VAN (Expected 1-0-0) (Actual 1-0-0)
At home to: OTT, LAK, BUF, CAR (Expected 2-1-1) (Actual 1-2-1)
On the road to: MIN (Expected 1-0-0)
At home to: TOR (Expected 0-1-0)
On the road to: DAL, STL (Expected 0-2-0)
At home to: PIT, MTL (Expected 1-1-0)
On the road to: VAN (Expected 0-0-1)
At home to: CAL, NYR (Expected 1-1-0)
Overall expected result: 6-6-2, 14 points in 14 games
Current results: 2-2-1, 5 points in 5 games
Despite all the bad news, the team is exactly one game off my projection. I had them 3-1-1 and the Oilers are 2-2-1. The bad news is I'm projecting a 1-3-0 track over the next four games. The team's record could be 3-5-1 for the month by the end of the St. Louis game.
OILERS 2019-20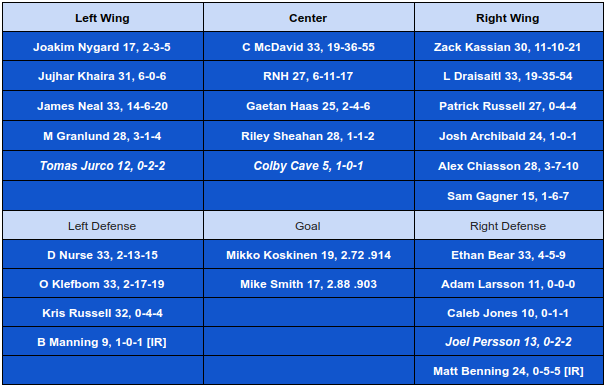 It was an unusual night, but the bullet points involve Carolina being the better team, Edmonton pushing back and then taking penalties (the PK has sprung a leak). Lots of posts and fancy Dan plays and people are mad at the goalie but I think the Hurricanes were the better team from the anthem to the trip to the airport. All numbers (unless noted) five on five via NST.
LINE 1 Joakim Nygard-Connor McDavid-Zack Kassian played 10:06, going 21-2 Corsi, 14-1 shots, 2-0 goals, 7-0 HDSC.
Joakim Nygard's speed helped the line, he had an assist, three shots, two HDSC and moved the puck in a good direction. Connor McDavid, now the NHL's leading scorer, had two assists plus a PP apple, a shot, HDSC. He was on fire all night. Zack Kassian scored twice, five shots, four HDSC and two minors. The penalties marred one of his strongest games, even if at least one of them was a silly call by the zebra.
LINE 2 Jujhar Khaira-Leon Draisaitl-Nuge played 10:31, going 5-10 Corsi, 2-7 shots, 0-1 goals, 1-1 HDSC.
Jujhar Khaira had a shot but made a fatal error on the fourth goal when he was unable to corral the puck. Small play, but deadly. He was 0-3 goal differential. Leon Draisaitl had an assist on the PP, while drawing a penalty and a takeaway. Had one good chance at five on five. Nuge scored on the power play, plus HDSC at five on five. Line spent the evening against the Aho line (7:55, 1-5 shots, 0-1 goals) and the Slavin-Hamilton pairing (7:43, 0-5 shots, no goals) or Edmundson-Pesce (no luck there, either). That's one of the tougher NHL assignments, I would view this line's evening through that lens. Khaira miscue a gigantic game moment though.
LINE 3 James Neal-Gaetan Haas-Patrick Russell played 6:49, going 6-11 Corsi, 3-6 shots, no goals and 1-1 HDSC.
James Neal had one shot and one HDSC, he has gone very quiet lately. Scorers can turn it around in a hurry, going to be difficult on this line. Gaetan Haas had a shot and a takeaway, got lost in coverage a couple of times. Patrick Russell worked hard all night but couldn't get anything going.
LINE 4 Markus Granlund-Riley Sheahan-Josh Archibald played 5:24, going 5-9 Corsi, 4-1 shots, no goals and 1-1 HDSC.
Markus Granlund had a shot, HDSC and drew a penalty. That's a good night's work for a fourth liner. He stood out in a good way. Riley Sheahan also had a shot, HDSC and won four of seven on the dot. Both men played 2:19 PK and were 0-1. Josh Archibald had a couple of shots and was on for two GA with Jujhar Khaira despite the fact they were on the ice together for a total of 10 seconds. That's some kinda some kinda. He doesn't impact the game enough.
PAIRING ONE Darnell Nurse and Ethan Bear played 14:45, going 24-7 Corsi, 17-6 shots, 1-0 goals, 7-1 HDSC and 9-2 offensive-defensive faceoffs.
Darnell Nurse had six shots on goal and no giveaways. A couple of errant passes and a little indecision that led to some moments but overall a rock solid game. Exposed on the PK a couple of times. Ethan Bear had one shot, a takeaway and two giveaways, he was also excellent with the puck. He has a patented little slide pass to McDavid to the right of the Oiler net that springs 97 every time. So good.
PAIRING TWO Oscar Klefbom and Adam Larsson played 10:51, going 9-16 Corsi, 5-6 shots, 0-1 goals, 1-2 HDSC and 3-3 offensive-defensive faceoffs.
Oscar Klefbom had two shots, three giveaways and drew a penalty. He was 0-3 on the night and whatever injury that ails him is keeping him from getting to pucks in a timely fashion. Adam Larsson hit a couple of posts and blocked a bunch of shots. This pairing was assigned the Aho line, gave up one goal and lost the possession battle 7-5 (shots 3-3) in 8:07. Larsson was the lone PK regular without a blemish.
PAIRING THREE Kris Russell and Caleb Jones played 7:55, going 3-15 Corsi, 3-7 shots, no goals, 0-1 HDSC and 4-4 offensive-defensive faceoffs.
Kris Russell defended a lot, and it didn't cost the team at five-on-five despite those ugly numbers. Had trouble on the PK last night, betwixt and between a lot. Caleb Jones picked up an assist, had one shot and a giveaway. His speed was useful against Carolina. He was a noticeable improvement over Joel Persson to my eye.
Goalie Mikko Koskinen stopped 26 of 32, .813. It was a difficult night for him but I'm going to credit Hurricanes forwards on a couple of those goals and point at the PK on two more. That said, Koskinen needed to stop that goal at the end of the period and was Pepe Le Pew on the Hamilton goal. Coach Tippett's postgame comments had some iron in them re: Goalie and PK, both fair in my opinion.
JONES AND GAUTHIER
If there was any showcasing going on last night, and there's plenty of chatter about it, I believe Caleb Jones showed a lot. As for Julien Gauthier he was noticed when he took a penalty and I thought he was faster than the reports implied. Beyond that, not much to say.
TRADE IMPETUS
Dom has the Oilers at 39 percent to make the playoffs, I'd suggest part of the issue for Edmonton is that the teams chasing them now (Arizona, Calgary, Vegas) are also better, have more balance and are currently riding a wave. Vancouver is an interesting team as well, they'll be heard from this season. For Ken Holland, whose boss could use some playoff revenue, a trade to help this group has to be at least contemplated, no?
CONDORS ROLL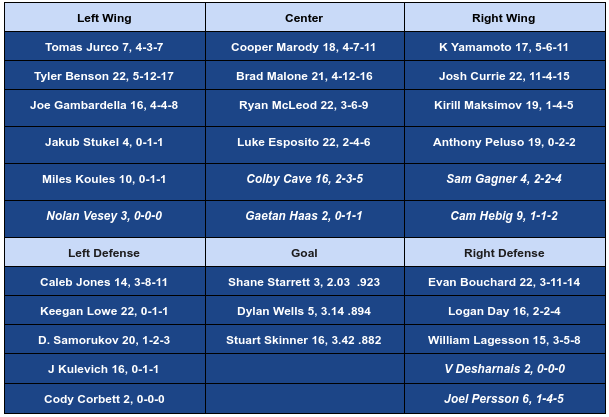 The Condors play tonight against the Barracuda in San Jose. Shane Starrett's presence in net will be the biggest news (if he plays) to come out today, Condors are a different team with him in net. In the team's most recent game, a 7-3 loss to the Stockton Heat, Bakersfield outshot the Heat 39-34 but didn't get the goaltending. Kailer Yamamoto had 5 SOG in that game, an encouraging sign.
LOWDOWN WITH LOWETIDE
At 10 this morning, TSN1260. Bruce McCurdy will make sense of last night and have a first blush view of the rest of the week. We'll talk about trades and playoffs, too. Joe Osborne from OddsShark will make sense of the NFL week to come and talk about Super Bowl odds. 10-1260 text, @Lowetide on twitter. See you on the radio!