I'll be honest, I'd rather not lose a Game 7. Given the choice, make it to the finals or lose in a Game 7, I'll take an earlier loss. Too painful. Don't need no memories hangin' round.
THE ATHLETIC!
The Athletic Edmonton features a fabulous cluster of stories (some linked below, some on the site). Great perspective from a ridiculous group of writers and analysts. Proud to be part of The Athletic, less than two coffees a month offer here.
OILERS AFTER 33 GAMES
Oilers in 2015: 14-17-2, 30 points; goal differential -13
Oilers in 2016: 16-12-5, 37 points; goal differential +4
Oilers in 2017: 14-17-2, 30 points; goal differential -9
Oilers in 2018: 18-12-3, 39 points; goal differential +4
Oilers in 2019: 18-10-4, 40 points; goal differential +5
There are three teams who are similar (2016, 2018, 2019) through 32 games, and of course the 2016 and 2018 teams headed in different directions. There is potential for a crossroads period here between now and Christmas, as the Oilers are facing some tough teams in the coming days.
OILERS IN DECEMBER
Oilers in December 2015: 5-0-0, 10 points; goal differential +6
Oilers in December 2016: 2-1-2, six points; goal differential +1
Oilers in December 2017: 3-2-0, six points; goal differential +8
Oilers in December 2018: 4-1-0, eight points; goal differential +5
Oilers in December 2019: 2-1-1, five points; goal differential -2
I have tonight as a loss for Edmonton, meaning this year's team will be trailing previous December runs with McDavid. Goal differential also poor. Plenty of room to grow.
WHAT TO EXPECT IN DECEMBER
On the road to: VAN (Expected 1-0-0) (Actual 1-0-0)
At home to: OTT, LAK, BUF, CAR (Expected 2-1-1) (Actual 1-1-1)
On the road to: MIN (Expected 1-0-0)
At home to: TOR (Expected 0-1-0)
On the road to: DAL, STL (Expected 0-2-0)
At home to: PIT, MTL (Expected 1-1-0)
On the road to: VAN (Expected 0-0-1)
At home to: CAL, NYR (Expected 1-1-0)
Overall expected result: 6-6-2, 14 points in 14 games
Current results: 2-1-1, 5 points in 4 games
A win tonight and the Oilers will have covered my prediction, while a loss would put the team at a point per game. Edmonton's ability to avoid losing streaks, and to gather Bettmans while ye may, have been a major help.
TRADING YOUNG PLAYERS
The Oilers rumour mill is a gas, and reflects the small town nature of this beautiful city. Edmonton is a city of conversation. Text and calls, parsing Bob on the radio, nudging a trade possibility forward via insiders like our own Frank Seravalli from the national side. Maybe Ryan Rishaug or Mark Spector finds out something or an out of town reporter (Garrioch? Russo?) fills in more of the picture. Fans, who have come to know this as 'how it works' are amazingly patient and innovative: Fans not only get the trades right, sometimes their trade ideas are better than the ones who find their way to the league office. Just as you can never question the authenticity of the wonderful food being made in various restaurants and cafes, the homemade trade is a unique and wonderful experience.
My least favourite type of trade is 'young draft pick who hasn't fully matured for short term return' although that has worked over the years. Folks, trading youth for experience only makes sense when you are ready to push for a championship. I count trading for a signed Taylor Hall as wise, I don't count trading for an impending free agent Taylor Hall as anything but folly. How many good young players has this organization traded away for an experienced return?
Walt Poddubny to Toronto for Laurie Boschman, March 1982.
Martin Rucinsky to Quebec for Ron Tugnutt, March 1992.
Martin Gelinas to Quebec for Scott Pearson, June 1993.
Miro Satan to Buffalo for Barry Moore, March 1997.
Jarret Stoll and Matt Greene to LA Kings for Lubo, June 2008.
Oilers traded youth for youth, age for youth and everywhere in between, but these are the trades that come to me instantly (along with a megascrew deal involving Adam Graves).
WINTER TOP 20 PROSPECTS
The winter list is up, I broke out the top 5 individually and the rest are listed and reviewed in today's piece at The Athletic. I don't especially enjoy the idea of trading any of Tyler Benson or Caleb Jones or Dmitri Samorukov being sent away, but a trade for an expiring contract (forward) who gets signed is a different matter. Would the Oilers deal Evan Bouchard? Philip Broberg? Ethan Bear? No sir, don't believe they would do it. The first round 2020 pick? Better be a signed Taylor Hall driving to Ford Hall when the news breaks.
If you haven't subscribed (or didn't renew) you can do so by clicking this link at the cost of $4.19 a month for a year. Makes a great gift, too.
OILERS 2019-20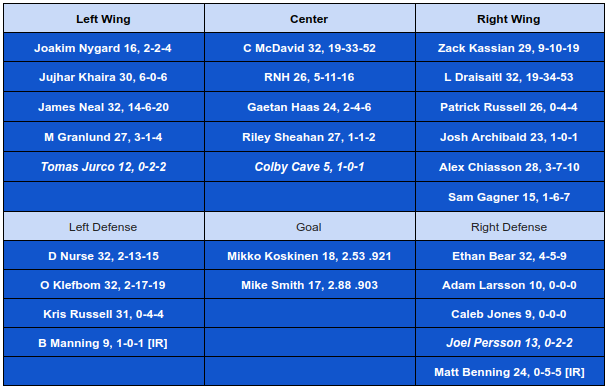 Who knows how long these lines will last, honestly feels strange running 97 without one of 29 or 93. We'll see. It would be a travesty to waste McDavid even for one night. I get the idea of needing second line scoring but the organization has other options. I love the No. 2 line, wish the team had a strong No. 1 LW option than Nygard. He is playing well, maybe Tippett catches lightning in a bottle.
LOWDOWN WITH LOWETIDE
A busy morning, lots of fun and hopefully more clarity on the Caleb Jones recall. At 10 this morning, TSN1260. Jonathan Willis from The Athletic will talk new lines and the tough schedule ahead. Andrew Peard and Corey Graham will pop in just after 11 to talk Oil Kings and we'll replay the Teddy Bear toss audio (it was awesome). We'll also chat Philadelphia Eagles, who won't go away. 10-1260 text, @Lowetide on twitter. See you on the radio!