I used to live in Red Deer, and some of that time featured the glory days of the Oilers-Flames rivalry. Rod on one radio channel, Peter Maher on the other. Television: ITV, 2&7.
I was in my 20's, the Oilers were too. I loved them. Beyond fun. Name a player, he did something worth watching. Vicious? That was one guy's nickname. Crazy? Pretty sure, although no one had the nerve to have No. 11 tested.
Flames looked and acted like a bunch of thugs and I hated them. I remember listening to a game while driving down Gaetz Avenue, looked down and realized I was speeding from rage. Thank goodness no police clocked me. I'd get too riled up to sleep at night, that's the truth.
The current rivalry is just percolating and we don't know the quality yet, but there is some promise. Tonight's game is a Saturday Damnation edition and the Oilers are coming off a poor performance December 27 in Edmonton. Back in the 1980's, I'd be distracted by 10am, rumbling by 2pm and shaking by 6pm. I'd love to see those days again.
THE ATHLETIC!
The Athletic Edmonton features a fabulous cluster of stories (some linked below, some on the site). Great perspective from a ridiculous group of writers and analysts. Proud to be part of The Athletic, less than two coffees a month offer here.
OILERS AFTER 47 GAMES
Oilers in 2015-16: 19-23-5, 43 points; goal differential -22
Oilers in 2016-17: 25-15-7, 57 points; goal differential +7
Oilers in 2017-18: 21-23-3, 45 points; goal differential -24
Oilers in 2018-19: 23-21-3, 49 points; goal differential -7
Oilers in 2019-20: 24-17-5, 53 points; goal differential -2
This year's model is clearly No. 2 among the McDavid Oilers but remains in the range with the playoff crew. I'm impressed with how much tightening we've seen in recent games in the goal differential. Work to do but nice progress.
ON THE 10'S
First 10 games: 7-2-1
Second 10 games: 5-4-1
Third 10 games: 5-4-1
Fourth 10 games: 3-6-1
Current 10 games: 4-1-1.
OILERS IN JANUARY
Oilers in January 2016: 2-2-1, five points; goal differential -2
Oilers in January 2017: 2-3-0, four points; goal differential -3
Oilers in January 2018: 1-4-0, two points; goal differential -12
Oilers in January 2019: 3-2-0, six points; goal differential -4
Oilers in January 2020: 3-0-1, seven points; goal differential +4
WHAT TO EXPECT FROM JANUARY
On the road to: BUF, BOS, TOR, MTL, CAL (Expected 2-2-1) (Actual 3-0-1)
At home to: NAS, ARI, CAL, STL (Expected 1-2-1)
Overall expected result: 3-4-2, eight points in nine games
Current results: 3-0-1, seven points in four games
Insane. Heresy. Liar! Impossible! These are things someone who left the country New Year's Eve might saw when viewing this January record for the Oilers. This team hit some famous towns and robbed them of their silver and gold. Can they do it tonight?
OILERS 2019-20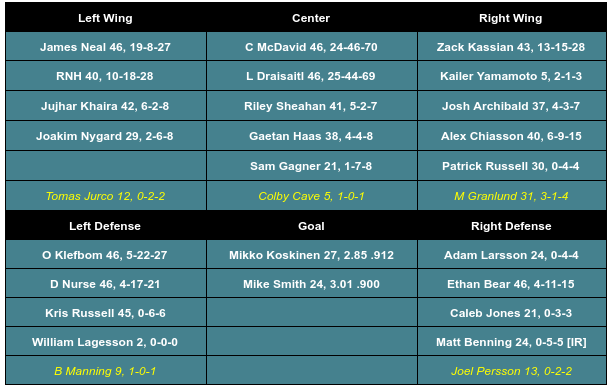 Oilers roll into this game having used two goalies, 10 defensemen and 17 forwards. I was fairly certain we'd be at about 35 by now overall, haven't yet cracked 30. I do think Tyler Benson has to be close though. No one can deny the impact of Kailer Yamamoto, why not send yourself another potential Red Bull?
CONDORS 2019-20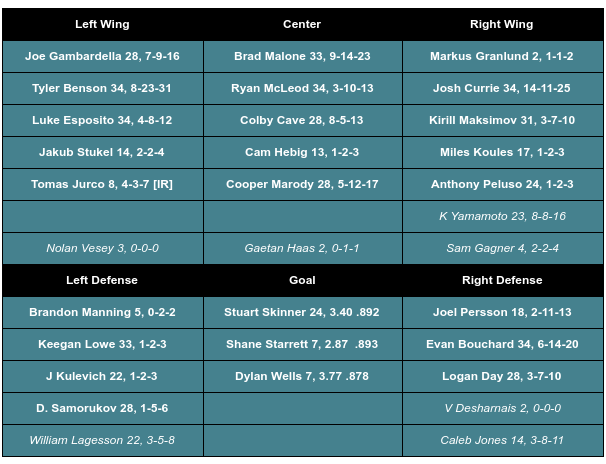 Hell's a poppin' in California these days, several Oilers prospects are spiking in the last little while. Tyler Benson is 1-11-12 in his last eight games, Evan Bouchard is 3-3-6 in his last eight, Stuart Skinner is 3-1-0, 2.22, .941 in his last four starts. Benson is the only one I can see being recalled from the trio, but there are some nice things happening in Bakersfield. Word is Bouchard is getting better in coverage too, perhaps the best news of all.