Ryan Nugent-Hopkins scored a huge goal last night in Montreal, No. 157 for his career. Per 82 games during his career, Nuge is averaging 22-36-58. That's a productive player. RNH has played in the shadow of a great player, either Hall or McDavid or Draisaitl, for his entire NHL career. It's easy to overlook his contributions with so much star power all around. Last night was another reminder about how important the quiet No. 1 overall pick is to the Edmonton Oilers. Photo by Rob Ferguson.
THE ATHLETIC!
The Athletic Edmonton features a fabulous cluster of stories (some linked below, some on the site). Great perspective from a ridiculous group of writers and analysts. Proud to be part of The Athletic, less than two coffees a month offer here.
OILERS AFTER 46 GAMES
Oilers in 2015-16: 18-23-5, 41 points; goal differential -24
Oilers in 2016-17: 24-15-7, 55 points; goal differential +6
Oilers in 2017-18: 19-23-3, 41 points; goal differential -26
Oilers in 2018-19: 22-21-3, 47 points; goal differential -7
Oilers in 2019-20: 24-17-5, 53 points; goal differential -2
Walking on sunshine this morning with that record, Oilers are once again pushing toward the upper echelon of the Pacific Division. January has been such a welcome fit for the team, with a more leisurely pace to the schedule and a fantastic road trip.
OILERS IN JANUARY
Oilers in January 2016: 2-2-0, four points; goal differential -1
Oilers in January 2017: 2-2-0, four points; goal differential -1
Oilers in January 2018: 1-3-0, two points; goal differential -11
Oilers in January 2019: 2-2-0, four points; goal differential -4
Oilers in January 2020: 3-0-1, seven points; goal differential +4
I was impressed with Edmonton's recovery in last night's game. The first period was poor but they kept the game in reach. The second period saw improved play but both teams scored in the middle frame so the Oilers gained no ground. The third period saw a brilliant PP goal by Nuge, and then the club kept pushing. Chiasson scored the goal and full credit, but Archibald or Yamamoto or Kassian could have cashed as well. It looked like a team that was going to win, and we were just waiting for the script to be finalized. It's been a long time, I think since MacT, since an Oilers team looked so much under control.
WHAT TO EXPECT FROM JANUARY
On the road to: BUF, BOS, TOR, MTL, CAL (Expected 2-2-1) (Actual 3-0-1)
At home to: NAS, ARI, CAL, STL (Expected 1-2-1)
Overall expected result: 3-4-2, eight points in nine games
Current results: 3-0-1, seven points in four games
Last night's win was a big one, especially if you're watching the standings. Edmonton is one of five Pacific Division teams with a shot at three spots, maybe four, in the playoffs. So, one of those teams is going to be out of the postseason, maybe two. Teams that are going to make it in have to be consistent. Edmonton has one dominant 10-game segment and one poor one. The current set is shaping up as the second strong segment of the campaign. 10-game segments so far are: 7-2-1; 5-4-1; 5-4-1; 3-6-1 and now 4-1-1. Impressive.
OILERS 2019-20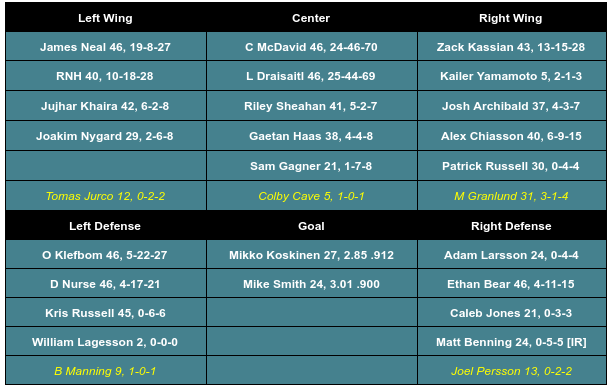 Tippett shuffled lines later in the game, McDavid played two or more minutes with RW's Kassian, Chiasson and Archibald, plus 58 seconds with Yamamoto. All numbers five on five and via NST.
LINE 1 James Neal-Connor McDavid-Zack Kassian played 8:13, going 4-11 Corsi, 2-7 shots and 0-1 goals, 2-1 HDSC. In 68 minutes together, the line is 3-3 goals and 41-37 shots.
James Neal had a couple of chances (97 is sending him sublime passes) but is still at goal No. 19 on the season. One shot, a bunch of hits and plenty of try. Connor McDavid had a terrific assist on the Nuge PP goal, drew a penalty, had a HDSC and won six of 10 in the dot. He was quality. Zack Kassian had one shot, was more effective once he moved to a line with Nygard and Sheehan. Not sure why he got shuffled out but he was strong strong strong with Nygard and Sheahan later on.
LINE 2 Ryan Nugent Hopkins-Leon Draisaitl-Kailer Yamamoto played 14:49, going 8-12 Corsi, 4-6 shots, 0-1 goals and 0-2 HDSC. In 52 minutes together, this line is 3-1 goals and 22-28 shots.
Ryan Nugent-Hopkins scored a huge goal to tie the game on the PP, and had two HDSC. Strong game. Leon Draisaitl had a PP assist, two HDSC, drew a penalty and won eight of 17 faceoffs. I counted seven dangerous passes, he is a supreme set-up man. Kailer Yamamoto had a shot on goal and skated miles to turn over pucks and make life miserable. A major addition.
LINE 3 Joakim Nygard-Riley Sheahan-Josh Archibald played 6:13, going 8-6 Corsi, 4-4 shots, 1-0 goals and 2-1 HDSC. This line has played 55 minutes together this year, going 2-2 goals and 23-22 shots.
Joakim Nygard is around the puck more in the last few weeks. Sweet pass to Sheahan for the goal, three shots, four HDSC and a takeaway. He's a good player. Riley Sheahan scored a goal, three shots, HDSC and won nine of 14 in the circle. Josh Archibald scored an EN goal, and was dogged on the forecheck several shifts. I'm loving the Tippett forechecking and Archibald can do it well.
LINE 4 Jujhar Khaira-Gaetan Haas-Alex Chiasson played 6:24, going 6-12 Corsi, 2-8 shots, 1-0 goals and 1-1 HDSC. Line has played 13 minutes together, 1-0 goals and 6-8 shots.
Jujhar Khaira had one decent look and a giveaway. He turned the puck over in the neutral zone and only a quality play by Ethan Bear saved a great chance. I believe in him but I don't know how much longer he's going to be in the lineup. PK 1:25 ranked No. 3 among forwards. Gaetan Haas won five of 10 and was relatively quiet offensively. Alex Chiasson scored the winning goal, a fabulous tip of a Klefbom pass. Two shots and a takeaway. He is 2-1-3 in his last two games.
PAIRING ONE Darnell Nurse and Ethan Bear played 20:51, going 20-24 Corsi, 13-12 shots, no goals and 6-5 HDSC. Played 10 minutes against the Danault line (no goals, 6-8 shots, 7-14 Corsi.
Darnell Nurse defended very well, making some outstanding plays in his own zone. Three shots, four blocked shots, solid at five on five and PK. Ethan Bear made a couple of fine defensive plays but also had four giveaways. He played huge minutes, defending most of the time (including a snow angel!) but he needs to be the outlet passer more on the pairing. It's what makes it go.
PAIRING TWO Oscar Klefbom and Adam Larson played 17:10, going 10-18 Corsi, 6-11 shots, 1-0 goals and 0-1 HDSC.
Oscar Klefbom's assist on the game-winning goal was a wonderful play, delivered by a quality player. Had one shot, one giveaway, but spent most of the evening battling Montreal's fast forwards to a draw on the defensive side. Adam Larsson was effective physically, had an assist, a shot, a giveaway. Pairing is 6-12 goals this season but 126-127 shots and 49.2 expected goals. Regression should be a reward for them in the second half.
PAIRING THREE Kris Russell and Caleb Jones played 7:16, going 3-7 Corsi, 2-6 shots, 0-2 goals and 0-1 HDSC. It was not a good night.
Kris Russell was on the ice for both goals, the first one he was part of the crime, second one he was in the photo but that was a big damned jailbreak. Russell did get some playing time in the third period with other partners, but coach Tippett shut down the third pair with 3:34 left in the second period. Jones was also on the ice for both goals against, I think he played the first GA properly and would suggest, on the second goal, he made a decision, committed to it and paid the price because of it. It happens. If you're mad at Jones for that GA, be prepared to get angry at dozens of rookie blue over the next few years. It's all quick decisions in rapid time. He sat for the entire third period.
First goal against: Russell sends a pass behind the net where it is secured by Caleb Jones. Jones takes the puck and sends a clean outlet pass to Jujhar Khaira, who can't find Zack Kassian's stick from 10 feet away. Jeff Petry gobbles up the puck finds a safe place and sends a lovely pass to Tomas Tatar and the puck is quickly heading to Edmonton's end with the forwards changing. Jones and Russell, who are on the ice for 40 seconds as the puck enters the zone, back in too far. Danault takes his first shot from the high slot, Smith handles but leaves a big rebound. Russell turns outside while Danault hunts for the rebound with Russell having his back to the puck. Jones covers his man enough to get Tatar to overskate the puck, Russell can't recover and Danault cashes.
Second goal against: Play begins with Yamamoto and Draisaitl on the forecheck, Nuge high man in the neutral zone. This is not in any way dangerous unless a rookie defenseman pinches on the outlet pass, which is what Jones did on the play. Edmonton didn't have possession, it was a high risk decision and it worked out badly. Jones made a mistake. He is a rookie. The key is that he learns from it. Defense in the NHL is damned tough. If Jones is doing that two years from now, it's a problem. I think he'll be a quick study.
GOALIE Mike Smith had a strong night, stopping 35 of 37, .946. His SP moved from .897 to .900, tough to move the needle that much this far into the year.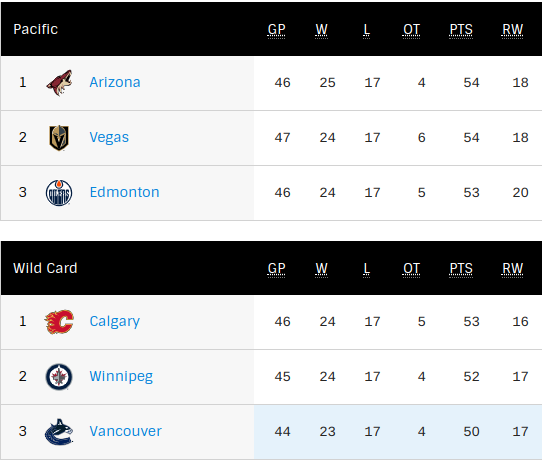 Edmonton's January winning run has allowed the team to keep pace with the leaders, plus stay ahead of Calgary via regulation wins. The real bonus is that the Oilers didn't sink at all while other teams were playing more games and catching up in that department. The game on Saturday is going to be massive. One thing I believe Oilers fan count on: Edmonton will be determined to show that the December 27 loss (5-1) to the Flames is not representative of this hockey club. Do you remember talking about 'Tabernac Saturday' games that mattered against Calgary? It's been a long, long time.