The Montreal Canadiens appeared in Edmonton for the first time to face the Oilers on December 14, 1979. In a season that featured history on a daily basis (everything was new!), seeing the Habs in Alberta had the impact of a Papal visit. Dave Lumley scored in the first, Kari Makkonen scored his second goal of the season (and the final NHL goal of his career), Gretzky, Lumley again, Messier late with his third of the year. Montreal didn't get started until the third period, then received qoals from Pierre Larouche (22nd of the year), Yvon Lambert, Pierre Mondou. Lafleur had an assist, Bunny Larocque loses to Eddie Mio.
THE ATHLETIC!
The Athletic Edmonton features a fabulous cluster of stories (some linked below, some on the site). Great perspective from a ridiculous group of writers and analysts. Proud to be part of The Athletic, less than two coffees a month offer here.
OILERS AFTER 46 GAMES
Oilers in 2015-16: 18-23-5, 41 points; goal differential -24
Oilers in 2016-17: 24-15-7, 55 points; goal differential +6
Oilers in 2017-18: 19-23-3, 41 points; goal differential -26
Oilers in 2018-19: 22-21-3, 47 points; goal differential -7
Oilers in 2019-20: 23-17-5, 51 points; goal differential -3
The Oilers are in a good spot right now, January has been most kind early days. Goal differential is starting to straighten up and fly right. Just for a reminder, the 10-game segments so far are: 7-2-1; 5-4-1; 5-4-1; 3-6-1 and now 3-1-1.
OILERS IN JANUARY
Oilers in January 2016: 2-2-0, four points; goal differential -1
Oilers in January 2017: 2-2-0, four points; goal differential -1
Oilers in January 2018: 1-3-0, two points; goal differential -11
Oilers in January 2019: 2-2-0, four points; goal differential -4
Oilers in January 2020: 2-0-1, five points; goal differential +3
January 2020 stands out in the McDavid crowd, and with Montreal 2-7-1 in its last 10 perhaps Edmonton arrives in Quebec at a good time. The goal differential so far this month is encouraging but it's early days. Also, this Oilers team famously stubs toes against lesser opposition.
WHAT TO EXPECT IN JANUARY
On the road to: BUF, BOS, TOR, MTL, CAL (Expected 2-2-1) (Actual 2-0-1)
At home to: NAS, ARI, CAL, STL (Expected 1-2-1)
Overall expected result: 3-4-2, eight points in nine games
Current results: 2-0-1, five points in three games
I projected five points from the first five games, Oilers grabbed the points in three games. A key moment in the season now, can this club get some bonus points from the final two games of the trip. Even a split sets them up at 3-1-1 heading into the last four games of the month. It's a big game tonight.
OILERS 2019-20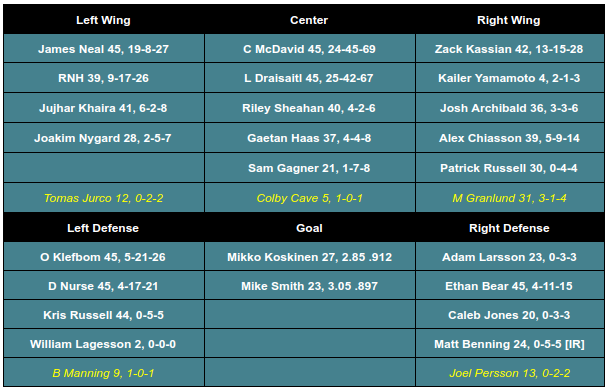 Sam Gagner will join the lineup, replacing Joakim Nygard who will replace Jujhar Khaira. If you're looking for an entry spot for Tyler Benson, right now it would be Haas and Chiasson. Maybe they call up Benson and Malone, run them with Haas.
CONDORS 2019-20
Condors lost last night, but Stuart Skinner continues an impressive run out outings recently. In his last three games, his save percentages are .935, .975 and .923. Tyler Benson had two assists and over the last seven games is 1-9-10. Wilde had the lines and pairings, OP with nice updates in-game during the previous thread. Benson recall imminent? Sam Gagner is playing tonight, I think that's a transaction (Benson up, Gagner to Bakersfield) that will be discussed and perhaps we see it after the All-Star break. Or before.
I think the Benson recall is overdue. I also think Josh Currie, Joe Gambardella and even Brad Malone might be able to fill a role. As we approach the trade deadline, I wonder if Ken Holland has a quick look-see on some of these options. If there's an internal solution to the Khaira-Gagner issue (I choose Benson, your mileage may vary), a five-game audition seems prudent.