The Edmonton Oilers and Arizona Coyotes are rocketing up the standings together this season, with the entirety of California sliding into the ocean. The question we will see answered in the coming weeks surrounds how many upstarts will make the playoffs. We can assume Vegas and Calgary will be two of the playoff teams from the Pacific, with one or two spots left to the Coyotes, Oilers and Vancouver Canucks. All of which makes today's game a big damned deal.
THE ATHLETIC!
The Athletic Edmonton features a fabulous cluster of stories (some linked below, some on the site). Great perspective from a ridiculous group of writers and analysts. Proud to be part of The Athletic, less than two coffees a month offer here.
OILERS AFTER 49 GAMES
Oilers in 2015-16: 19-25-5, 43 points; goal differential -24
Oilers in 2016-17: 26-15-8, 60 points; goal differential +10
Oilers in 2017-18: 22-24-3, 47 points; goal differential -29
Oilers in 2018-19: 23-23-3, 49 points; goal differential -13
Oilers in 2019-20: 25-18-5, 55 points; goal differential -2
We're fast approaching the 50-game mark this season and the Oilers have already passed 50 points and reached 25 wins. With a victory in this afternoon's game, Edmonton would be on pace for 95 points and 42 victories. The team needs to keep pushing but there are good stories here.
ON THE TENS
First 10 games: 7-2-1
Second 10 games: 5-4-1
Third 10 games: 5-4-1
Fourth 10 games: 3-6-1
Current 10 games: 5-2-1
OILERS IN JANUARY
Oilers in January 2016: 3-2-2, eight points; goal differential -2
Oilers in January 2017: 4-3-0, eight points; goal differential -2
Oilers in January 2018: 3-4-0, six points; goal differential -10
Oilers in January 2019: 4-3-0, eight points; goal differential 0
Oilers in January 2020: 4-1-1, nine points; goal differential +4
This January run was far from assured and I think credit is due to the coach and every player on the team. The Oilers were faced with joining the California three at the beginning of the month, and have delivered and then some heading into action today.
WHAT TO EXPECT IN JANUARY
On the road to: BUF, BOS, TOR, MTL, CAL (Expected 2-2-1) (Actual 3-1-1)
At home to: NAS, ARI, CAL, STL (Expected 1-2-1) (1-0-0)
Overall expected result: 3-4-2, eight points in nine games
Current results: 4-1-1, nine points in six games
Edmonton has already exceeded my expectations, and done it against some excellent NHL teams. More challenges to come, the final three games are going to be key in setting up February and the run to the trade deadline.
OILERS 2019-20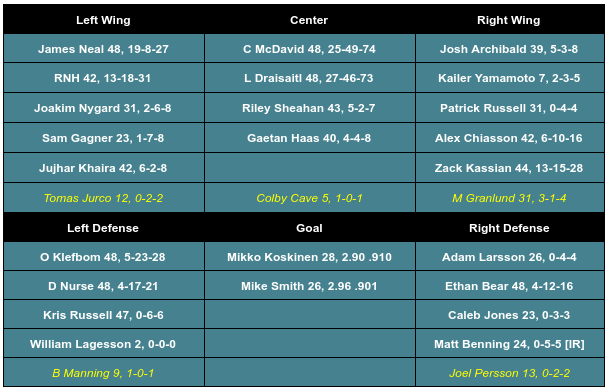 A massive story is possibly unfolding with the team currently, and it surrounds the No. 2 line. Currently running at a (five on five) 6-1 goal differential, the shot differential (40-42, 48.78) is a little shy. We're 78:39 into this experiment (all numbers Natural Stat Trick), Edmonton badly needs this trio to click in all areas.
James Neal-Connor McDavid-Josh Archibald have been together for 45:19 at five on five, 2-1 goals, 19-22 (46.34) goal differential. Neal-McDavid are over 50 percent in shot differential (95-94 in 184:46) but just 6-7 in goals.
Finally, at five on five this season, Connor McDavid's on ice goal differential is 47-42, +5. The rest of the Oilers roster? 44-67, -23 (39.6 percent). Last year, McDavid was 77-75, +2, easily the poorest of his career. The rest of the roster in 2018-19? 69-103, -34 (40.1). The trouble is still the trouble. That second line could help in a big way.
TRADE DEADLINES PAST
March 14, 1994—Oilers traded D Dave Manson and 1994 sixth-round pick (D Chris Kibermanis) to Winnipeg Jets for D Boris Mironov, C Mats Lindgren, 1994 first-round pick (C Jason Bonsingore) and 1994 fourth-round pick (R Adam Copeland). A fantastic trade, BoBo is one of my favorite post-Stanley Oilers and Lindgren was a decent center. The first-round botch hurt like hell, but the general manager was on fire with this trade.
CONDORS 2019-20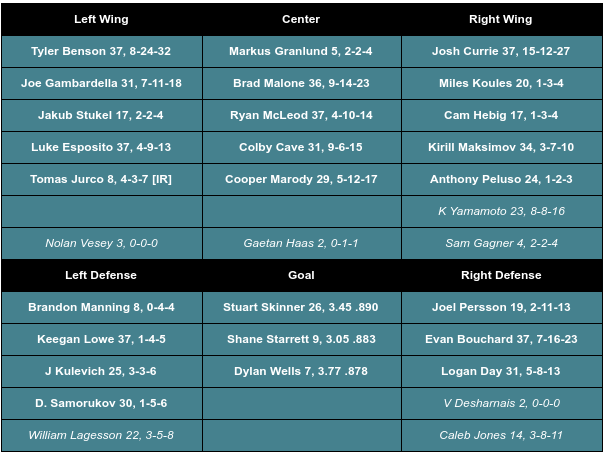 Condors lost last night, as Mark Williams (who takes all those great photos) said on twitter Bakersfield needs some stops. William Lagesson is probably back during NHL All-Star week and the break that goes with it, maybe Yamamoto takes the flight, too. Condors back in action tonight, I'll have an article on Evan Bouchard at The Athletic after the Oilers game this afternoon.