On New Year's Day, the Edmonton Oilers owned a record of 21-17-4, good for 46 points. The team goal differential was -7.
Today, after a stunning 5-1-1 romp through the heart of January, these Oilers are 26-18-5, have 57 points and own a playoff spot at the All-Star break. Goal differential? +1. That's a strong run.
THE ATHLETIC!
The Athletic Edmonton features a fabulous cluster of stories (some linked below, some on the site). Great perspective from a ridiculous group of writers and analysts. Proud to be part of The Athletic, less than two coffees a month offer here.
OILERS AFTER 49 GAMES
Oilers in 2015-16: 19-25-5, 43 points; goal differential -24
Oilers in 2016-17: 26-15-8, 60 points; goal differential +10
Oilers in 2017-18: 22-24-3, 47 points; goal differential -29
Oilers in 2018-19: 23-23-3, 49 points; goal differential -13
Oilers in 2019-20: 26-18-5, 57 points; goal differential +1
Music! Out of the blue and into the black! Edmonton's goal differentials in the previous two seasons were ghastly and poor respectively. I know +1 doesn't seem like something worth celebrating, but this club has climbed from a few miles back over the last 50 days.
ON THE TENS
First 10 games: 7-2-1
Second 10 games: 5-4-1
Third 10 games: 5-4-1
Fourth 10 games: 3-6-1
Current 10 games: 6-2-1
OILERS IN JANUARY
Oilers in January 2016: 3-2-2, eight points; goal differential -2
Oilers in January 2017: 4-3-0, eight points; goal differential -2
Oilers in January 2018: 3-4-0, six points; goal differential -10
Oilers in January 2019: 4-3-0, eight points; goal differential 0
Oilers in January 2020: 5-1-1, 11 points; goal differential +7
The best January record in the McDavid era so far and it isn't close. What a welcome mid-season kicker.
WHAT TO EXPECT IN JANUARY
On the road to: BUF, BOS, TOR, MTL, CAL (Expected 2-2-1) (Actual 3-1-1)
At home to: NAS, ARI, CAL, STL (Expected 1-2-1) (2-0-0)
Overall expected result: 3-4-2, eight points in nine games
Current results: 5-1-1, 11 points in seven games
Oilers made a mockery of my projections. I work on these things, you know. In fact, I had it 3-5-1 before changing my mind. Wow. Beyond impressed.
OILERS 2019-20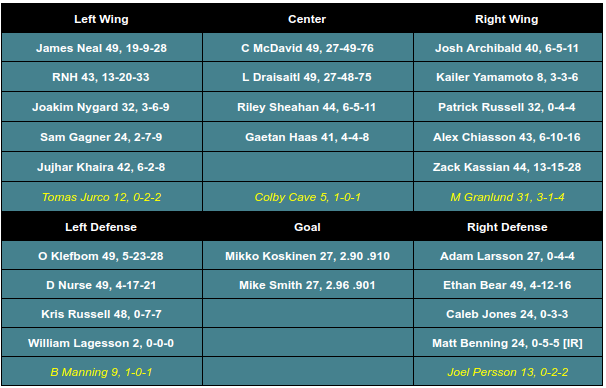 Yesterday's game allowed depth players like Sheahan and Archibald to get their boxcars healthy in a hurry, and we're at the All-Star break with two men at 27 goals and three more with a chance to hit 20 goals on the season. Edmonton's 155 goals ranks No. 11 overall. The 153 goals against ranks No. 18 among the 31 teams. All numbers five on five unless noted and via NST.
LINE 1 James Neal-Connor McDavid-Josh Archibald played 9:54, going 12-6 Corsi, 4-3 shots, 1-0 goals and 3-2 HDSC.
James Neal had an assist, two HDSC, drew a penalty and had a takeaway. He played well. Connor McDavid scored a goal, plus another on the PP, and was brilliant and fast as always. Such a pleasure to watch him play the game. Josh Archibald had an assist and a takeaway, plus a shorthanded goal and another even-strength goal that wasn't five on five. This line isn't an obvious trio, but it works. Archibald's pass to McDavid on 97's second goal was lovely.
LINE 2 RNH-Leon Draisaitl-Kailer Yamamoto played 11:43, going 15-8 Corsi, 10-5 shots, 1-0 goals and 3-2 HDSC. Moving Nuge to LW and recalling Yamamoto has turned this line into some kind of forechecking monster. It's like three spring-loaded Dave Keons hit the ice in unison. I cannot tell you how much I love this line. Seriously.
Ryan Nugent-Hopkins had an assist and a HDSC, plus a power-play helper. He had some good looks, Nuge's shot has some real torque on it this year. Leon Draisaitl had the work boots on and still found the soft hands of an elite playmaker while grabbing two assists (one five on five, one PP). Fantastic player. Kailer Yamamoto scored a goal and contested everything, he's tireless and won't give up on anything. Best recall in memory.
LINE 3 Joakim Nygard-Riley Sheahan-Patrick Russell played 9:31, getting caved 2-8 Corsi, 1-6 shots, 1-1 goals and no high dangers.
Joakim Nygard scored a wicked goal, helluva shot. He had two HDSC and two takeaways. A bullet train. Riley Sheahan had his best game as an Oilers player, maybe best ever. Two assists, four takeaways, won nine of 11 in the circle. Added a PK assist and an EN goal, going 1-3-4 on the night. He looks nothing like the player we saw the first two months of the season. Composed, intelligent, effective. Patrick Russell fanned on Sheahan's pass, leaving it to Nygard to blast it home. Russell was the quiet one on the night.
LINE 4 Sam Gagner-Gaetan Haas-Alex Chiason played 8:52, going 4-10 Corsi, 0-4 shots, no goals and 0-1 HDSC.
Sam Gagner scored a goal, took a penalty and had a giveaway. Good to see him get a goal, it had been some time (15 games). Gaetan Haas had a giveaway, a takeaway and won four of nine faceoffs. He is also now part of the PK rotation. What an impressive season for him. Alex Chiasson played a pedestrian game at five on five but was noticeable on the power play.
PAIRING ONE Darnell Nurse and Ethan Bear played 17:07, going 22-16 Corsi, 10-11 shots, 3-0 goals, 4-3 HDSC.
Darnell Nurse had a shot on goal and played a calm, mostly low event game. Ethan Bear had four shots, three giveaways, drew a penalty, made a poor pinch that resulted in a goal that was called back on offside. His passing hasn't been as prevalent as it was earlier, but his defending is solid.
PAIRING TWO Oscar Klefbom and Adam Larsson played 12:22, going 10-11 Corsi, 6-7 shots, no goals and 4-2 HDSC.
Oscar Klefbom saved a goal when Mike Smith went walkabout just before Gagner's goal. Oscar had two shots, one HDSC and blocked a shot that hurt like hell and caused heartache all over Central Alberta. Adam Larsson was pure filth, that game he played was straight out of 1975. Two penalties, could have been double.
PAIRING THREE Kris Russell and Caleb Jones played 13:04, going 5-12 Corsi, 3-4 shots, 0-1 goals and 1-0 HDSC.
Kris Russell had a giveaway and a couple of blocked shots, plus a PK assist. Strong on the puck to start the Archibald goal. Caleb Jones is starting to get comfortable, and on two occasions bailed himself out of possible danger. He's coming along. Gave too much Clearance Clarance on the Hall goal that got Arizona going, needs to tighten up there like Archie Bell.
GOALIE Mike Smith had some wild moments, the walkabout on the Klefbom goal was highly unnecessary and he placed the puck in poor places (third goal) a few times. Stopped 27 of 30, .900. He's on a roll and that's good. There's a lot of adventure in his game.
CONDORS 2019-29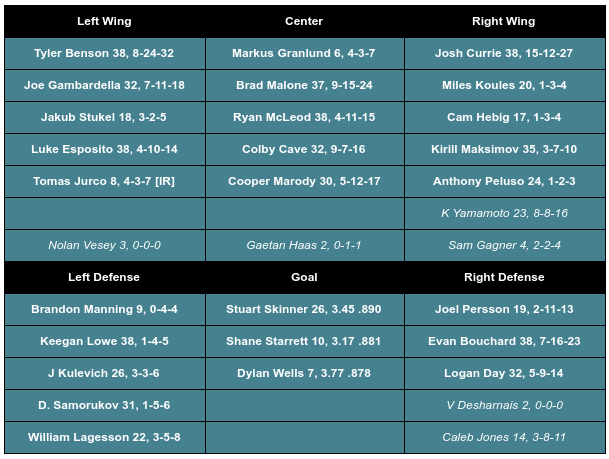 William Lagesson got sent down last night, Condors have plenty of games ahead and they can use him. I wrote about Evan Bouchard yesterday (it is here) and the excellent progress he is making. The post-Christmas numbers are quality. Also, check out Markus Granlund, that's a player who wants back in to the NHL. Condors play Monday, I'll be drilling down on that roster tomorrow.