The first general manager in Kansas City Royals history was Cedric Tallis, who believed in finding 10-year solutions to positions of need. It's all over his expansion draft in 1968, and in the trades that followed. Example: The second player drafted, third baseman Joe Foy, was dispatched after one season to the New York Mets (of course) in exchange for a 10-year solution: Amos Otis.
The Oilers are doing pretty well in the NHL version of 10-year solutions this season. Ethan Bear and Kailer Yamamoto look like they could be multi-year fixes, with Tyler Benson and Evan Bouchard on the way.
All of this progress has obscured some useful players who could be shorter term solutions. You can't find 10-year solutions to every problem in one summer or winter. What about those mid-20's AHL players? How can they help?
THE ATHLETIC!
The Athletic Edmonton features a fabulous cluster of stories (some linked below, some on the site). Great perspective from a ridiculous group of writers and analysts. Proud to be part of The Athletic, less than two coffees a month offer here. 
CONDORS 2019-20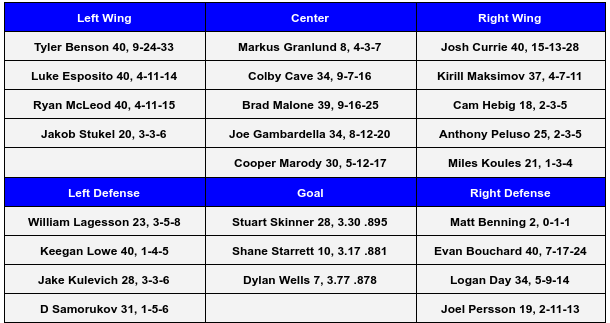 In terms of immediate recalls, many are clamoring for Tyler Benson to be the next man on a plane, but Markus Granlund is performing like a man who would like to see the NHL again soon.
The players I'm talking about today are men like Joe Gambardella, Josh Currie, Colby Cave, Brad Malone, Keegan Lowe (although the Oilers are flush with blue so Lowe's path is blocked multiple times).
It has to be a difficult road for these men, waiting for the opportunity and hoping the coach sees their skill set as being useful compared to the rest of the crowd. Patrick Russell is this year's winner among this group, and it's easy to see why coach Dave Tippett likes him. Works hard in every second of every shift, formidable on the forecheck, pucks deep, makes progress through the neutral zone exactly as difficult as dragging the river.
I've always maintained that the NHL has about 150 players in the minors each season who could play in the bigs but are waiting for that lucky opportunity. The NHL at any time employs about 715 players, add another 60 for IR (that's a guess) and then throw in 25 more for those unusual Puljujarvi situations.
The back portion of those 800 men, say the final 150, are somewhat interchangeable with 150 guys in the AHL who are pushing hard for that recall. Wives at home, maybe with babies, doing everything they can to support their fella and his goal of making the bigs. The entire situation is equal parts majestic, tragic and compelling.
These are the men I've always found to be the most interesting. If I ever had the ear of any of them, I'd say you pursue that dream as long as you can, because what comes after just isn't the same. There's no sin in being one of the 1,000 best hockey players in North America, and maybe luck will shine on you tomorrow.
Joe Gambardella. Josh Currie. Patrick Russell. Those stories are the ones that speak to me. That's why Patrick Russell matters, because he's the current example of a very important player in the game of hockey: The replacement level support player.
Some people call them jags (just a guy) but I never do. I've always cheered for them. Del Hall. Marc Habscheid. Mark Arcobello. Patrick Russell. Their lives, their stories, are perhaps even more compelling than this weekend's All-Stars. They have a lot in common with the rest of the population. I love their stories.
In the next few weeks, Patrick Russell will jump over the boards and play in an NHL game. Music! I guarantee Russell will value that shift more than someone like Sam Gagner could ever value a single 30 seconds. I'll cheer like hell for Russell, for his wife and for his family. That's the story. I've been watching these players since Larry Mavety and cheer for every one.
LOWDOWN WITH LOWETIDE
Friday! Weekend on the way, we kickstart things on TSN1260 at 10 this morning. Steve Lansky from BigMouthSports talks All-Star weekend and the McDavid story, Matt Iwanyk rails against the baseball hall of fame, and I'll tell you some stories. 10-1260 text, @Lowetide on twitter. Talk soon!