Ryan Nugent-Hopkins scored the winner on a gorgeous shot that followed a fine six-foot pass by Leon Draisaitl. Mike Smith stopped 38 of 40 to help the Oilers win an enormous game in the final minutes of February. This group does not resemble Oilers clubs of the recent past, save 2016-17 and this group is more of a team.
THE ATHLETIC!
The Athletic Edmonton features a fabulous cluster of stories (some linked below, some on the site). Great perspective from a ridiculous group of writers and analysts. Proud to be part of The Athletic, less than two coffees a month offer here.
OILERS AFTER 65 GAMES
Oilers in 2015-16: 24-34-7, 55 points; goal differential -32
Oilers in 2016-17: 35-22-8, 78 points; goal differential +13
Oilers in 2017-18: 27-34-4, 58 points; goal differential -38
Oilers in 2018-19: 28-30-7, 63 points; goal differential -22
Oilers in 2019-20: 34-23-8, 76 points; goal differential +1
Oilers reach the end of February on a pace to finish with 96 points and that should be a playoff spot. The club won a big game on Saturday night and several teams in the chase lost. This thing has miles to go.
ON THE TENS
First 10 games: 7-2-1
Second 10 games: 5-4-1
Third 10 games: 5-4-1
Fourth 10 games: 3-6-1
Fifth 10 games: 6-2-2
Sixth 10 games: 6-3-1
Current 10 games: 2-2-1
OILERS IN FEBRUARY
Oilers in February 2016: 4-9-1, nine points; goal differential -10
Oilers in February 2017: 6-6-0, 12 points; goal differential -1
Oilers in February 2018: 5-8-1, 11 points; goal differential -7
Oilers in February 2019: 4-6-4, 12 points; goal differential -13
Oilers in February 2020: 7-5-2, 16 points; goal differential -1
Edmonton's 2019-20 had the best February in the McDavid era, overcoming injury and various other issues. The goal differential only slightly underwater.
WHAT TO EXPECT FROM FEBRUARY
On the road to: CAL, ARI (Expected 1-1-0) (Actual 1-1-0)
At home to: SJS, NAS, CHI (Expected 2-1-0) (Actual 2-1-0)
On the road to: TBY, FLA, CAR (Expected 1-1-1) (Actual 2-1-0)
At home to: BOS, MIN (Expected 1-1-0) (Actual 0-1-1)
On the road to: LAK, ANA, VEG (Expected 2-1-0) (Actual 1-1-1)
At home to: WPG (Expected 1-0-0) (Actual 1-0-0)
Overall expected result: 8-5-1, 17 points in 14 games
Current results: 7-5-2, 16 points in 14 games
The month landed close to expectations but if we're honest these numbers are cherry considering McDavid's injury.
OILERS 2019-20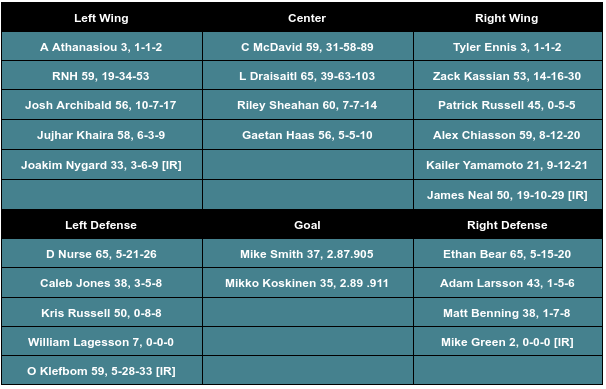 Draisaitl (2-1-3), Nuge (1-2-3), McDavid (0-2-2) and Larsson (0-1-1) delivered the offense and the rest of the skaters worked like demons to keep a desperate Jets team at bay. All numbers five on five via NST.
LINE 1 Nuge-Leon Draisaitl-Zack Kassian played 15:22, going 12-16 Corsi, 4-9 shots, 1-0 goals and 5-2 HDSC.
Ryan Nugent-Hopkins was brilliant, two PP assists and the winning goal at five on five. Two HDSC, took a penalty. Leon Draisaitl was an absolute horse, scoring twice on the power play and making a brilliant pass on the Nuge goal. Two shots, one HDSC, three takeaways, one F-bomb, won five of 10 in the dot. Zack Kassian had an uneven game, had two HDSC and four giveaways. No penalties, that's a key.
LINE 2 Andreas Athanasiou-Connor McDavid-Tyler Ennis played 9:48, going 11-12 Corsi, 4-7 shots, no goals and 6-3 HDSC.
Andreas Athanasiou had two HDSC and two takeaways, and yet looked tentative to my eye when playing with McDavid. He checked down to Riley Sheahan where he was quiet (but effective in possession). Connor McDavid was brilliant as always. Three shots, two HDSC, four giveaways, two takeaways and of course the two power-play assists. He's also hauling ass on the back check, several times coming in handy as the third man back for Edmonton. Tyler Ennis feels like a natural fit for 97, he had one shot, two HDSC and was driving to the net with authority. Don't give up on either new winger yet, ladies and men. Small sample.
LINE 3 Jujhar Khaira-Gaetan Haas-Alex Chiasson played 7:46 together, going 6-9 Corsi, 2-5 shots and 1-2 HDSC.
Jujhar Khaira had one great look, it happened so quickly he didn't get a shot away but I've seen him score on that kind of play before. Bad luck or confidence? Don't know. Effective on the PK, he sold out to make plays and he'll score again someday. Gaetan Haas also had one great chance, a takeaway and won three of five in the dot. Alex Chiasson had a better game on this line, one shot plus a give and a take.
LINE 4 Patrick Russell-Riley Sheahan-Josh Archibald played 6:46, going 6-8 Corsi, 2-3 shots, 0-2 goals and 2-1 HDSC.
Patrick Russell had two shots, a HDSC and a giveaway on a night away from Haas. Riley Sheahan was effective on the PK, had a shot, HDSC and won six of 11 on the dot. He was in the photo on the first goal against, I wouldn't go to the extreme of blaming him for the goal. Josh Archibald had one shot, drew a penalty and played well on the PK. He moved up to the McDavid line for a time.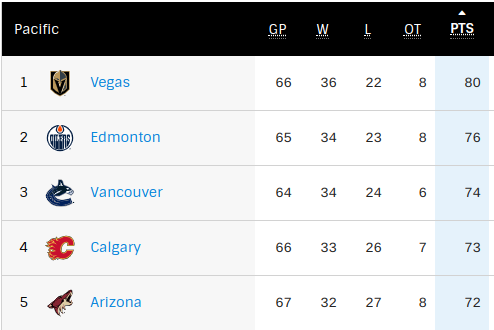 PAIRING ONE Darnell Nurse and Ethan Bear played 18:04, getting caved via Corsi 14-30, 8-16 shots, 0-1 goals and 6-4 HDSC. Almost all of the deficit came against the Connor-Schiefele-Wheeler line. Were 11-24 Corsi and 0-1 goals against the trio.
Darnell Nurse had one shot on goal, two giveaways and a takeaway. He earned part of the blame on the second goal against, he was drawn to the puck carrier instead of covering his mark. Ethan Bear had a giveaway, plenty of impressive work including at least two painful shot blocks. Looked like a rookie (a rare item for Bear) against Wheeler by getting neither puck nor body. I see a lot of anger and rage focused toward Nurse online today, would remind you that Wheeler and Connor are world class, the play doesn't happen if Bear stands up Wheeler or denies the sortie by knocking the puck away AND the sortie isn't successful if Nurse stays with his man. So, flame away, but sometimes you have to give the other man his due. Helluva deke and pass by Wheeler.
PAIRING TWO Caleb Jones and Adam Larsson played 16:40, going 19-7 Corsi, 6-4 shots, 1-1 goals and 6-1 HDSC. Numbers were partly due to small sample against Schiefele line, but these are solid totals.
Caleb Jones had a giveaway and a takeaway, an accidental late penalty and skated miles. He was late closing the gap on the opening goal, but (like Nurse on the first goal) the die was cast. He's comfortable now, making good decisions with the puck and transporting with confidence. Battle hardened by the playoffs, he and Bear will author a large portion of the team's success. Adam Larsson had an assist, was not in the photo because of a pinch at center ice on the first goal (I don't consider that a mortal sin but your mileage may vary) and generally played effectively.
PAIRING THREE Kris Russell and Matt Benning played 11:40, goin 7-13 Corsi, 1-7 shots, no goals and 2-3 HDSC.
Kris Russell's return to NHL action was not without its challenges. Had a giveaway, takeaway, shot block, effective on the PK. Tippett trusts him, had Russell out for the second last shift of the game. Matt Benning was chasing most of the night, did have one giveaway. His last shift was completed at 13:50 of the third period. Coaches prefer aged defensemen, they just do.
GOALIE Mike Smith was absolute fire, stopping 39 of 41 (.951). Catherine Silverman told me July 1 the season would work out this way, with moments of savage brilliance and complete despair. To Smith's credit, he's .918 since January 1. That's a substantial sample.
LAST NIGHT
Just enough time (it's 8:28) to talk about last night's game and its importance. If you look at the standings this morning and imagine a loss last night, then consider the schedule to come, it was a monster two points. Mike Smith, Leon Draisaitl, Connor McDavid and Ryan Nugent-Hopkins had impact evenings. Music!