The Winnipeg Jets are hard to cheer against, especially when Dustin "he didn't mean to, but your guy is still dead" Byfuglien isn't on the road trip. At this point in the season, even cousins are enemies. Both teams badly need two points and preferably in regulation. In the words of the great hockey coach Bugs Bunny "of course you know, this means war."
THE ATHLETIC!
The Athletic Edmonton features a fabulous cluster of stories (some linked below, some on the site). Great perspective from a ridiculous group of writers and analysts. Proud to be part of The Athletic, less than two coffees a month offer here.
OILERS AFTER 65 GAMES
Oilers in 2015-16: 24-34-7, 55 points; goal differential -32
Oilers in 2016-17: 35-22-8, 78 points; goal differential +13
Oilers in 2017-18: 27-34-4, 58 points; goal differential -38
Oilers in 2018-19: 28-30-7, 63 points; goal differential -22
Oilers in 2019-20: 33-23-8, 74 points; goal differential 0
The 2016-17 team is starting to roll and will post 25 more points in the final 17 games. This year's team doesn't need to manage that pace but a win tonight is a big deal.
ON THE TENS
First 10 games: 7-2-1
Second 10 games: 5-4-1
Third 10 games: 5-4-1
Fourth 10 games: 3-6-1
Fifth 10 games: 6-2-2
Sixth 10 games: 6-3-1
Current 10 games: 1-2-1
OILERS IN FEBRUARY
Oilers in February 2016: 4-9-1, nine points; goal differential -10
Oilers in February 2017: 6-6-0, 12 points; goal differential -1
Oilers in February 2018: 5-8-1, 11 points; goal differential -7
Oilers in February 2019: 4-6-4, 12 points; goal differential -13
Oilers in February 2020: 6-5-2, 14 points; goal differential -2
If the Oilers can win tonight, I'll call this the best February of the McDavid era. The competition isn't strong.
WHAT TO EXPECT IN FEBRUARY
On the road to: CAL, ARI (Expected 1-1-0) (Actual 1-1-0)
At home to: SJS, NAS, CHI (Expected 2-1-0) (Actual 2-1-0)
On the road to: TBY, FLA, CAR (Expected 1-1-1) (Actual 2-1-0)
At home to: BOS, MIN (Expected 1-1-0) (Actual 0-1-1)
On the road to: LAK, ANA, VEG (Expected 2-1-0) (Actual 1-1-1)
At home to: WPG (Expected 1-0-0)
Overall expected result: 8-5-1, 17 points in 14 games
Current results: 6-5-2, 14 points in 13 games
The Oilers will finish shy of my predicted totals, but I didn't factor in McDavid's injury and several other issues. This is a good team. Are they a playoff team? I think they are but the race is a fierce one this year. Including tonight.
OILERS 2019-20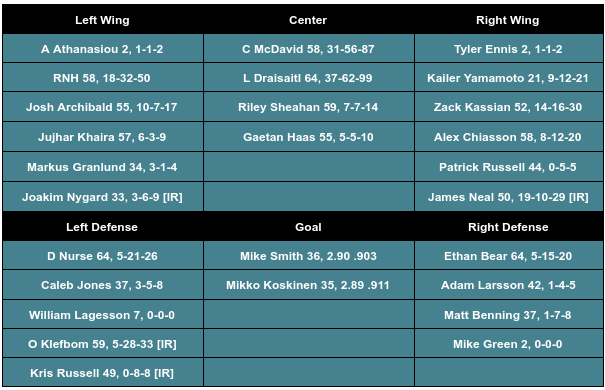 I'm excited about the top two lines and the third line could terrorize opponents if they get rolling. Losing Mike Green after two games sucks, Oscar and Russell still matriculating and it sounds like Russell is close.
Looking at this roster for next season, we could see three (Bear, Jones, Lagesson) sophomores along with Klefbom and Nurse, who I see as roster staples. Where does that put Larsson, Russell, Benning and now Green? Suspect that's the conversation we're having all summer long.
Up front, if Athanasiou and Ennis work out, could see both men sign? That would leave goaltending (which is going to be an issue) and the bottom-six as summer moves.
Among goalies who have played in 30 or more games this season, Mikko Koskinen ranks No. 24 in even strength save percentage (.911), Mike Smith No. 38 (.903). Last among the 49 goalies who qualified? Devan Dubnyk and Jimmy Howard, .892. Oilers need an upgrade, not sure what they'll do.
FIVE ON FIVE POINTS PER 60
Among players who have over 200 minutes in the discipline, Edmonton boasts five men at 2.00/60 or better. That's generally the line in the sand I use for "productive top-six forward" each season. I'm not going to include Athanasiou (4.9) or Ennis (3.88) due to small sample size.
Kailer Yamamoto 3.21
Leon Draisaitl 2.83
Connor McDavid 2.76
Zack Kassian 2.17
Ryan Nugent-Hopkins 2.00
Joakim Nygard 1.27
Josh Archibald 1.05
Riley Sheahan 1.00
Gaetan Haas 0.86
James Neal 0.84
Jujhar Khaira 0.79
Markus Granlund 0.75
Alex Chiasson 0.68
Patrick Russell 0.66
It's been a tough year for some of these men, then again Ken Holland shouldn't have a difficult time identifying who to replace. Cruel summer ahead.