The hardest thing to do for the Oilers, surely, is to make the playoffs two seasons in a row. Running a close second? Establishing a pipeline of useful forwards coming out of the minor league system. From the beginning of the century, I count Daniel Cleary, Fernando Pisani, Jason Chimera, Jarret Stoll, Kyle Brodziak. All of them arriving over a decade ago. Time to pack the pipe.
THE ATHLETIC!
The Athletic Edmonton features a fabulous cluster of stories (some linked below, some on the site). Great perspective from a ridiculous group of writers and analysts. Proud to be part of The Athletic, check it out here.
2018-19 Condors forwards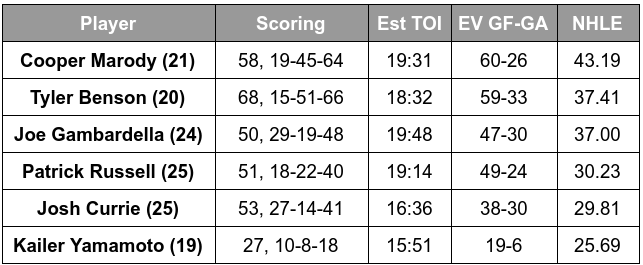 Ideally you're seeing players graduate to the NHL during entry deals, for '18-19 that was represented by Marody, Benson and Yamamoto. Marody drove the offense on the top line, Benson helped and benefited. Yamamoto struggled with injury and he didn't see feature minutes. Those three men, Marody, Benson and Yamamoto, carry the biggest potential payload for the future.
2019-20 Condors forwards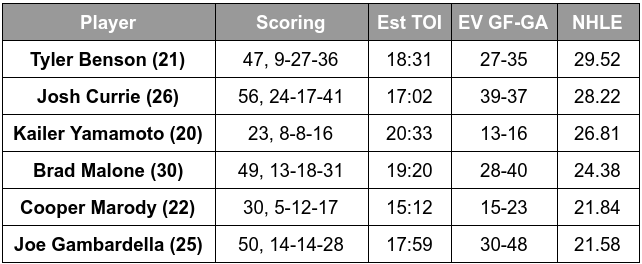 Prospects are like kids, you open the door and they head in their own directions. Marody's effectiveness was halved due to injury, Yamamoto's best days were in the NHL and Benson lost some shine without Marody. In the end, Patrick Russell was the '18-19 Condors forward to win a full-time job, with Yamamoto arriving just after Christmas. All numbers via Eric Rodgers.
Yamamoto's NHL performance wasn't foretold by his AHL results. What does that tell us about AHL numbers? Well, as was the case with Benson's rookie season, we must understand context. Benson played with a truly impressive Marody as his center in '18-19, and Yamamoto's center (Draisaitl) and left wing (Nuge) were stunning talents upon his NHL arrival. Context.
Benson hedges
I think Benson needs to bust a move at some point in 2020-21. It could come after Christmas, and it doesn't need to be Yamamoto run, but success in 25+ NHL games will be important. Edmonton needs a 500-game second rounder who can play a two-way game, agitate and own a bat good enough to stay in the lineup. I believe Benson has those qualities. He needs a center who can make plays. A No. 3 center who can help offensively, is righthanded and covers the defensive conscience of the line is required. Now. Finding that player is a chore.
Internal solutions (Cooper Marody, Gaetan Haas) are either injured or less than ideal. Some external options (Ryan Getzlaf, Derek Stepan, Kyle Turris, Travis Zajac, Jeff Carter) are either spent forces, had a massive cap hit, or both.
Ryan Strome would be a nice get, but the price for trade and the contract cost are both out of sight. Riley Nash will make $2.75 million in 2020-21, has more offense and is better in the dot than Haas. He wouldn't take a lot to acquire imo.
Mitchell Stephens would be a nice acquisition, right at the beginning of his career. Lightning don't do foolish things but do have an insane number of graduates every year. Dylan Gambrell in San Jose is also a nice option.
Mavrik Bourque is a righty center, perhaps the Oilers grab him in the draft. It won't help short term.
LOWDOWN WITH LOWETIDE
A fun and packed Friday morning on the Lowdown, beginning at 10. Steve Lansky from BigMouthSports will talk about play by play-color tandems and what makes them work (or not work). Jeff Krushell from Krush Performance are kicking off a three part series on anti-doping, he'll be in at 10:40. Matthew Iwanyk talks NFL, CFL draft and the return of sports. 10-1260 text, @Lowetide on twitter. 90 minutes from NOW!