Remember when this blog was devoted to finding a No.1 center? It wasn't that long ago (it was a long time ago). Then came Nuge, Leon and McDavid and now the position is stunning. A team does need four of them and this Oilers team is a little shy. Somehow.
THE ATHLETIC!
The Athletic Edmonton features a fabulous cluster of stories (some linked below, some on the site). Great perspective from a ridiculous group of writers and analysts. Proud to be part of The Athletic, check it out here.
LOWETIDE 2020 DRAFT 81-102 NHLE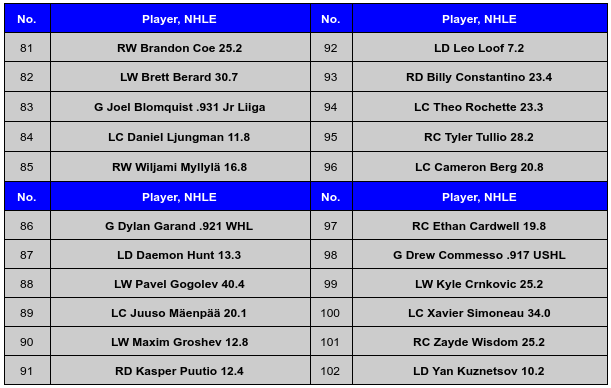 This is the final group, I've published 93 names and there are nine more here. I'll get to 120 in the coming weeks, the next update will probably be Top 100 and will arrive before the end of April. Expect a lot of change, there are no games to come and we're dealing with final numbers.
From this group, Co, Gogolev and Wisdom probably move up. Kuznetsov is just outside Craig Button's first round, and No. 102 on mine. That's a player I may have artificially low (he's very young in the NCAA).
MCDAVID VIA PUCK IQ

McDavid's performance against elites is searing, majestic. He wins across the board against the gritensity bin, although you'd like to see more of a gap. Middle? Poor. Why?
My article at The Athletic today is about the most dynamic scoring lines in the Oilers 40-year history. McDavid's best is near the top if you adjust for era, and that's a damned tough list. I think the article also shows that Gretzky (and Messier) were blessed with two quality offensive wingers in their best seasons. Draisaitl is an impact partner in crime. The Oilers need to find a complete line for 97 and right soon.
DRAISAITL VIA PUCK IQ

Draisaitl's numbers (like McDavid) against elite and gritensity bins are excellent and solid, respectfully. Middle opposition? Not so good although not the goal differential free fall we see with the captain. Wonderful player. Both of the top two centers outscored opponents at five on five in '19-20, that's progress. Both men outscored elites impressively, need the top two lines to dominate the middle and gritensity bins. My answers are a more substantial No. 3 line and an upgrade in net. Your answers?
SHEAHAN VIA PUCK IQ

Sheahan performed well against the middle bin but struggled agains the elites (expected) in a surprisingly large sample size. Against the gritensity group his group allowed too many goals while not scoring at all. Probably better suited to 4C duties. It's also true it took some time to find the range for this player, I think he returns.
HAAS VIA PUCK IQ

Haas had a haappening season, with the only issue being how much offense he can bring to the NHL. His possession and outscoring numbers are good, this is a solid year. I don't know if he's a center but definitely worth a contract. HOW did he play with the group assigned to him and get these numbers? He's Hooudini!