One of the barriers for Tyler Benson, Cooper Marody and other AHL Bakersfield Condors hopefuls are men like Joakim Nygard. Older, more experienced, faster and ahead of the group in California on the depth chart. What if none of the kids can catch Nygard?
THE ATHLETIC!
The Athletic Edmonton features a fabulous cluster of stories (some linked below, some on the site). Great perspective from a ridiculous group of writers and analysts. Proud to be part of The Athletic, check it out here.
LOWETIDE 61-80 NHLE 2020 DRAFT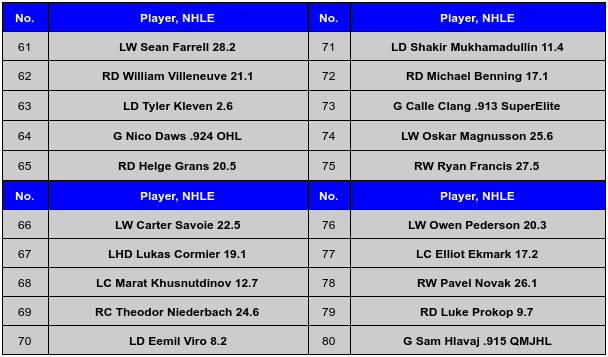 We'll see a lot of movement from this group in the ranking at the end of the month. Good arrows for Helge Grans, Sean Farrell, Carter Savoie. Down arrows for Tyler Kleven.
NYGARD VIA PUCK IQ

Puck IQ is the best. Fascinating information about five on five performance against differing levels of opposition. Nygard played very little against elites but the Oilers delivered when he was on the ice. He was 4-1 in 14 minutes with Connor McDavid, that's a big part of it.
He played 52 minutes against the middle competition with Riley Sheahan. They were 61 percent DFF, 2-2 goals.
Nygard is going to make life more difficult for Benson in 2020-21, if he can stay healthy and add a little more offense. His DFF is impressive across the board. I think this is an astute signing and re-signing.
NUGE VIA PUCK IQ

This is Nuge. His Puck IQ player card is interesting, Dave Tippett rolled him over consistently among the three levels of competition. Nuge and his line outscored all three levels, but dominated only the gritensity group in possession. A full year with Leon and Yamamoto should improve that number. Overall, this is easily the best player card among the LW's.
JAMES NEAL VIA PUCK IQ

Neal's 220 minutes against elites went pretty well, you'd like the possession number to be a little higher but he was in the black rel and the goal differential is fine. Complete disaster against the middle, and then a strange number set against gritensity: Great in possession, disaster in goal differential. It's over 211 minutes too, that's a lot. We talk on this blog about buying Neal out, but has the organization contemplated it? General managers get attached to the idea that their acquisitions are successful.
AA VIA PUCK IQ

Small small sample size here but his Detroit numbers were beyond ghastly and not terribly useful when we're examining the Oilers. I don't think there's enough here to comment but do believe we'll have a lot more to discuss about Andreas Athanasiou a year from now.
JUJHAR KHAIRA VIA PUCK IQ

This is Khaira and he might be in real trouble despite impressive PK ability. There's very little positive here. A year ago he performed well against elites and gritensity levels, this year his DFF against gritensity and his goal differential against middle opposition are the only positive signs. I'm stubborn, I'd keep him, but Nygard is going to eat his lunch at five on five.
Sincere thanks to Puck IQ, outstanding information freely available and extremely valuable. Question for the group: Would you like to see the other positions broken down like this? Let me know.