Cooper Marody knows better than anyone the opportunity missed in 2019-20. Edmonton spent the season looking for RH help up the middle, but Marody just couldn't get healthy. This fall might be his last chance Texaco.
THE ATHLETIC!
The Athletic Edmonton features a fabulous cluster of stories (some linked below, some on the site). Great perspective from a ridiculous group of writers and analysts. Proud to be part of The Athletic, check it out here.
LT 41-60 NHLE FOR 2020 DRAFT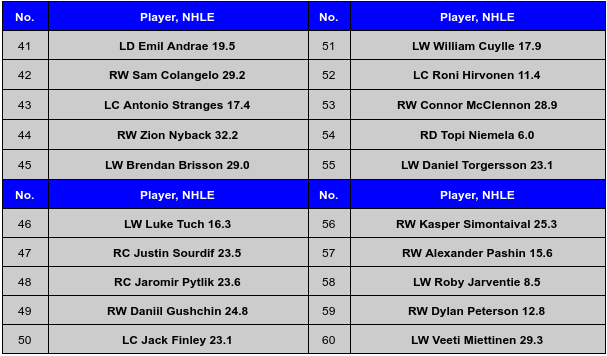 Now we get to a difficult area of my list and honestly one of the reasons I don't normally post NHLE's. I nick USHL numbers (Colangelo, Brisson) because I think the currently held wisdom on the league is aggressive.
Jack Hughes NHLE a year ago (44.3) wasn't a strong predictor of his actual results (61, 7-14-21, about 28 points per 82 games) and we simply don't have enough examples of USHL-to-NHL to make a strong estimate.
Later in the third round (above) leagues like the Allsvenskan and Finnish Junior leagues come into play. NHLE isn't there yet in terms of projecting, but I do use some metrics (here) to find a ballpark for players. I'm not going to throw Veeti Miettenin into the first round but I do know he's kicking ass in his current league.
MARODY

Marody was drafted the same year as Mason Appleton and has (mostly) been the superior player in each season despite being almost one full year younger. This past season was a tough one for Marody, whose offense was cut in half while playing in Bakersfield. Appleton spent most of the season in the NHL. Edmonton needs a RH center with skill. Marody missed a big opportunity.
When I followed baseball closely, a big worry was a beanball. If a hitter took a fastball to the head, the ramifications could be extensive and long term. Marody's injury in the spring of 2019 had a major impact on his career. You can see the offensive impact above.
Consider that his on ice even strength goal differential went from 60-26 in '18-19 to 15-23 this past season. That is a sensational (the bad type) drop in production. If Marody and Tyler Benson had been able to build on their '18-19 success both men might be in the NHL now (Oilers needed an outscoring soft parade line). Benson went from 59-33 to 27-35.