This time a year ago, I would have told you that Kailer Yamamoto had the higher ceiling but that Tyler Benson was more of a sure bet to have an NHL career. I felt (still feel) Benson can find a role as a two-way winger while also having the talent to make it as a complementary player on a skill line. Is he on the verge of an NHL career?
THE ATHLETIC!
The Athletic Edmonton features a fabulous cluster of stories (some linked below, some on the site). Great perspective from a ridiculous group of writers and analysts. Proud to be part of The Athletic, check it out here.
LT 21-40 NHLE'S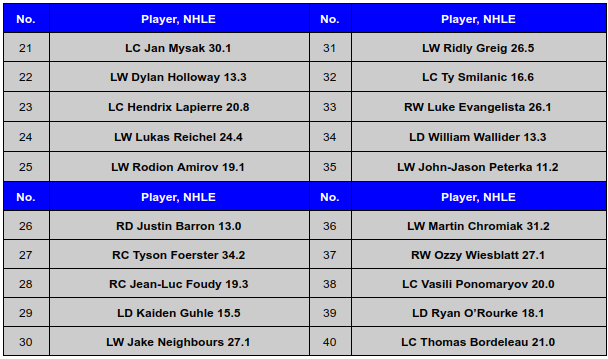 Here we reach the annual 'dazed and confused' portion of my draft list. Players who were ranked high early and then struggled (Holloway) are mixed in with late breakers (Mysak) and I spend a couple of months figuring things out.
I've been moving Guhle down all year, now I think he's too low. Neighbours could move up, but I think he's going to have an Ethan Moreau career as opposed to being a consistent offensive contributor. Nothing wrong with that, but do you draft that player in the first round?
Ridly Greig will move up, Wallinder too, but the rest have issues and we could see several move down. Tomorrow: 41-63.
TYLER BENSON
Benson is tracking a little behind Dillon Dube, the two men were chosen in the same round of the same year and the numbers have been consistent over several years.

Benson has been a little behind each season, with age 19 seeing Dube spike and he arrived about six months (and counting) before Benson. Is it reasonable to suggest that Benson might play in 45 games next season? Post 14-20 points? I think that's the range.
Ideally Benson gets an NHL center similar to Cooper Marody (RH, very skilled) although that player is not on the roster. He had limited minutes with Riley Sheahan as his pivot (45 minutes, 42.68 Corsi, 1-3 goals) and 11:52 with Gaetan Haas (82.35 Corsi, no goals).
Andreas Athanasiou—Connor McDavid—Zack Kassian
Nuge—Leon Draisaitl—Kailer Yamamoto
Tyler Benson—Colton Sissons—Josh Archibald
Joakim Nygard—Riley Sheahan—Alex Chiasson
James Neal, Jujhar Khaira
Darnell Nurse—Ethan Bear
Oscar Klefbom—Adam Larsson
Caleb Jones—Evan Bouchard
Kris Russell
Mikko Koskinen, Anton Khudobin
Miles to go before we're discussing nuts and bolts solutions as a reality, but I think the key additions to the roster will include rookies Benson and Bouchard.