The Edmonton Oilers 2019-20 deployed a 43-goal scorer (Leon Draisaitl), a 34-goal man (Connor McDavid) and a 22-goal winger (Ryan Nugent-Hopkins).
James Neal (19 goals), Zack Kassian (15 goals), Josh Archibald (12 goals), Alex Chiasson (11 goals) and Kailer Yamamoto (11 goals) gave the team eight forwards who scored in double digits.
If Edmonton is to win a Stanley Cup, the team will need more 20-goal men, along with the kind of depth scoring managed in 2019-20. How many can we reasonably project from the current roster to score? Where is the procurement focus going this summer?
THE ATHLETIC!
The Athletic Edmonton features a fabulous cluster of stories (some linked below, some on the site). Great perspective from a ridiculous group of writers and analysts. Proud to be part of The Athletic, check it out here.
TOP 20 NHLE'S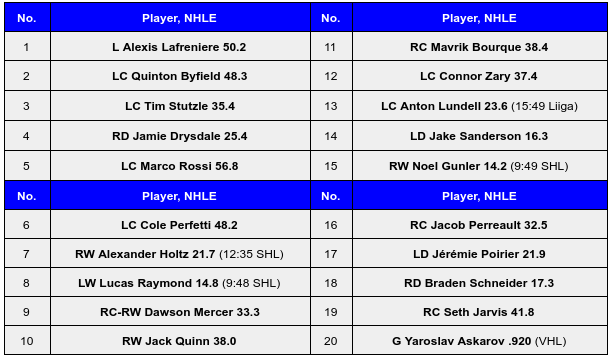 Someone asked the other day about publishing NHL equivalencies with my rankings, I will for the April edition but thought I might pass them along in three chapters this week. I can also explain a little about my rankings.
The hardest part of the rankings is Europeans. Holtz, Raymond and Gunler play in the SHL but in a feature role at evens or on the power play. Same with Lundell in the Liiga. Finding the right spot for those men is difficult.
Also, I have nicked Jarvis. He'll land in the top 15 on my final list (in his last 10 games he posted 10-12-22) and is a late breaker. He's been moving up steadily (No. 19 from No. 24 on my last list). However, Jarvis (and Perreault from the Q) have the numbers but not the scouting verbal. There's a lag. Still figuring out the Euros and Jarvis among the top 20. We'll do 21-40 tomorrow.
OILERS 2020-21 GOALIE DEPTH CHART

Heading into summer, the most likely scenario has Ken Holland signing Mike Smith to another one-year deal. It's uncertain what will happen with Shane Starrett, there's a full boat of goaltenders in the AHL and Konovalov is potentially a year away. Maybe we see a veteran AHL goalie added and one of the prospects traded.
OILERS 2020-21 DEFENSIVE DEPTH CHART
I set it up this way because there are some trains of thought that need to be reset in the comments section. There are NINE players vying or seven NHL spots and I don't think you can count on William Lagesson clearing waivers.
If you send Lagesson down, and are depending on him for AHL play, then losing him to waivers could send the minor league team sideways. NHL teams are always looking for bona fide defensemen, especially inexpensive ones who can play.
If you can't count on Lagesson clearing waivers, you must either make room for him or deal him. I think Russell and Benning are most likely to be dealt and do believe Bouchard will make the team in the fall. Something like Nurse-Bear, Klefbom-Larsson, Jones-Bouchard and Lagesson. That's a lot of youth, but it's also some impressive value deals who can actually play.
Bakersfield will need some help. Samorukov is the only certainty to be on the opening night roster for the Condors.
OILERS 2020-21 CENTER DEPTH CHART

This position will need addressing in a big way, suspect Riley Sheahan gets signed for sure. After that, if Holland can find a No. 3 center my guess is Khaira will either come to camp on the roster bubble or will be dealt over summer. Erik Haula is the popular choice but every team needing a solution will be knocking on his agent's door, so he'll be expensive.
The AHL team boast two centers, Josh Currie and Brad Malone may get NHL deals but Holland may prefer to sign AHL contracts with minor league veterans.
OILERS 2020-21 WINGER DEPTH CHART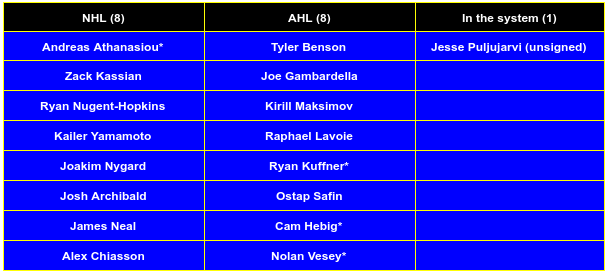 As upside down as it looks now, this is a better situation than a year ago. Yamamoto's emergence was a major positive and Neal was more productive than Lucic. It's also easier to buy out the Neal contract. I think we'll see some movement, possibly Chiasson dealt. Benson will push but Nygard might delay the start of his career. That speed is attractive.
I think several RFA's listed here won't return but decided to keep them all on to make sure we're not overlooking anyone. Lavoie is going to be the big prospect in Bakersfield this fall.
One thing we could discuss today: The big move of summer 2020 being Andreas Athanasiou's acquisition. The big man has a 30-goal season, brings speed and size and won't cost the moon. I think he might be the winger for 97's line opening night.