If you believe, as I do, that the difference between the bottom 75 forwards in the NHL and the top 75 forwards in the AHL is marginal, then the Oilers should be getting more from the minor league system than we've seen this past decade. Ken Holland is probably going to get way more out of his AHL team than previous managers.
THE ATHLETIC
The Athletic Edmonton features a fabulous cluster of stories (some linked below, some on the site). Great perspective from a ridiculous group of writers and analysts. Proud to be part of The Athletic, check it out here.
OILERS FARMHANDS AT 20 2000-20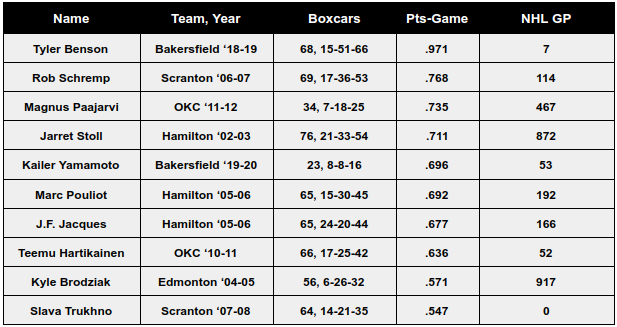 This is the group of top scoring AHL forwards at 20 and their total NHL games. So, Zack Stortini isn't here, nor Colin McDonald nor Tyler Pitlick. The 10 men have played (so far) 2,840 NHL games. Notice just how many players stalled, from skilled men like Schremp to two-way players like Pouliot.
DRW FARMHANDS AT 20 2000-2020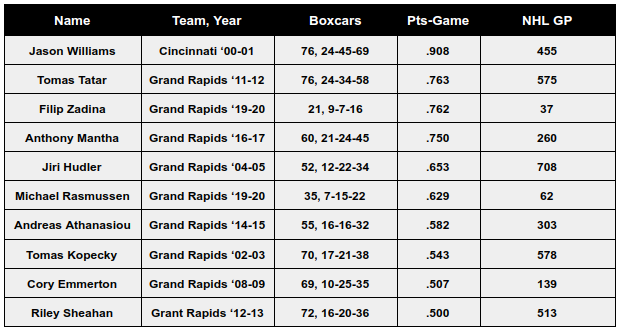 DRW throw nothing away, and this list of their top 10 points-per-game forwards at 20 (AHL) has delivered 3,630 NHL games. Lots of good role players in there and I don't see a bolting Bogdan Yakimov nor an Anton Slepyshev who chooses not to sign.
I get that it isn't easy, the Oilers are not an organization that has established itself as a power. So, while DRW back in the day could (mostly) maneuvre players as they wished, Edmonton doesn't get the same kind of room to wheel.
Will Holland change the weather in Edmonton? What would it look like? Well, for starters I think Holland might have found a way to keep Slepyshev, and Yakimov and even Paigin. Maybe he would have drafted Swedish players instead. Either way, the Oilers have been somewhat a farm team for the KHL in this decade and that has to stop. I believe Hartikainen could have had an NHL career, Omark too, hell maybe even Toni Rajala.
Rookies since 2015-16
The Oilers have been doing well in developing players in Bakersfield, especially since Jay Woodcroft took over. How does the pipeline compare to Detroit's assembly line? Here are the AHL rookie numbers by men who have both played in the minors and made it to the majors since 2015. Ranked by NHL GP.
Darnell Nurse '15-16 9gp, 0-2-2 (350)
Tyler Bertuzzi '15-16 71gp, 12-18-30 (199)
Jesse Puljujarvi '16-17 39gp, 12-16-28 (139)
Filip Hronek '16-17 10gp, 1-1-2 (111)
Anton Slepyshev '15-16 49gp, 13-8-21 (102)
Ethan Bear '17-18 37gp, 6-12-18 (89)
Dennis Cholowski '18-19 25gp, 0-12-12 (88)
Caleb Jones '17-18 58gp, 2-15-17 (60)
Kailer Yamamoto '18-19 27gp, 10-8-18 (53)
Patrick Russell '16-17 68gp, 8-9-17 (51)
Filip Zadina '18-19 59gp, 16-19-35 (37)
Taro Hirose '19-20 35gp, 5-22-27 (36)
Joe Hicketts '16-17 73gp, 7-27-34 (22)
Givani Smith '18-19 64gp, 6-7-13 (21)
Evgeni Svechnikov '16-17 74gp, 20-31-51 (20)
Robbie Russo '15-16 71gp, 5-34-39 (19)
Joe Gambardella '17-18 50gp, 13-6-19 (15)
Ryan Kuffner '19-20 32gp, 6-3-9 (10)
Kyle Criscuolo '16-17 76gp, 17-24-31 (9)
Dominic Turgeon '16-17 71gp, 6-12-18 (9)
Evan Bouchard '19-20 54gp, 7-29-36 (7)
Tyler Benson '18-19 68gp, 15-51-66 (7)
Cooper Marody '18-19 58gp, 19-45-64 (6)
Oilers have been doing fine work on developing defensemen (Nurse, Bear, Jones, I didn't include Benning) but the forwards stall out (Marody) or bolt to Europe (Puljujarvi, Slepyshev). Hopeful signs include Yamamoto and Benson. DRW forward Bertuzzi is a big win for the organization, and I'll note the Detroiters are STILL treating Svechnikov like a developing talent. Holland's one asset that should help Edmonton is that he appears to be stubborn as a mule in waiting for prospects to figure it out. Godspeed on that idea, one hopes Benson, Marody, Gambardella, Maksimov, Safin and others benefit from the long view.
LOWDOWN WITH LOWETIDE
At 10 this morning, TSN1260, we hit the ground running with a quality group of guests. Jonathan Willis from The Athletic will pop by to talk about the Oilers in free agency, Andrew Peard will talk about an Oil Kings trade and Dave Van Horne (!!!!) from the Florida Marlins broadcasts will join me at 11:20 to talk MLB, Marlins and Expos. 10-1260 text, @Lowetide on twitter. Talk soon!