I'm no math scientist, but if the cap remains flat the Oilers could be in more hell than a little bit. There's so much we don't know, but let's address the things we know for a fact and develop worry lines from there.
THE ATHLETIC!
The Athletic Edmonton features a fabulous cluster of stories (some linked below, some on the site). Great perspective from a ridiculous group of writers and analysts. Proud to be part of The Athletic, check it out here.
OILERS AND THE CAP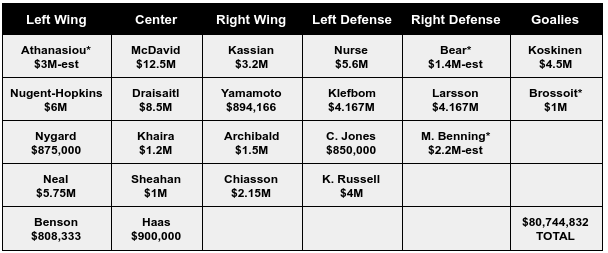 Assuming $81.5 million and no buyouts, Edmonton can't afford to sign Mike Smith. I don't have his bonuses included here, only the buyouts and retention dollars, so Edmonton may have to cut more money.
With all the teams looking at less for cap room, we might see teams attempt to make do with what they have. Oilers could walk the AA or Benning contracts and elevate Tyler Benson and Evan Bouchard but that decreases depth and pushes two rookies into the opening night lineup.
Players who could benefit? Evan Bouchard and Tyler Benson, both under $1 million before bonuses. If the market doesn't allow a Russell trade, Benning might be the defenseman sent out, perhaps Chiasson up front. How does that look? Can Smith fit onto the tweaked roster?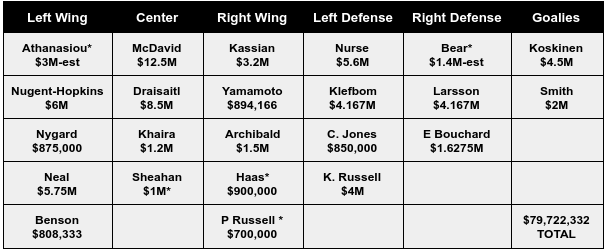 Note: This isn't what I'm thinking, this is what I think the organization may see as the way forward. What would I like to see?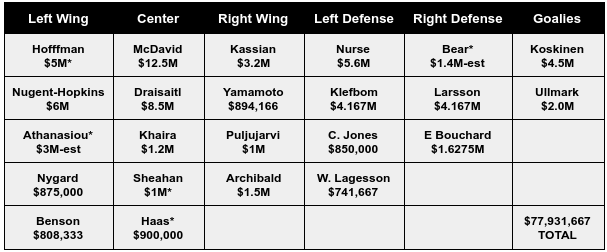 Eventually I think Puljujarvi would replace Kassian, someone needs to be the defensive conscience on that trio and I believe JP has that kind of skill set. Russell is dealt, Neal is bought out, a couple of rookies and maybe a lack of experience on the back end. I like my free agent goalie. You?
LOWDOWN WITH LOWETIDE
At 10 this morning, I'm back on the radio, TSN1260. Vinny Iyer from the Sporting News will talk NFL draft, trades and some free agency. Michael DeCourcy (Sporting News), talk The Last Dance and how the NFL will handle spring camps and preseason. Jason Gregor TSN1260 on what will the Chiefs do at the draft and we'll talk a little Oilers too. 10-1260 text, @Lowetide on twitter. See you on the radio!