Craig Button is a valuable resource for fans of the draft. Why? He's a scout, former scouting director and gives his opinion on each year's draft.
It's a unique perspective and I believe he is underrated by many hockey fans. Memories of his time as general manager in Calgary, or draft misses from yesteryear (every team misses every year) get mentioned often. What doesn't get mentioned? A strong, informed opinion based on many years of doing the job, available several times a year.
THE ATHLETIC!
The Athletic Edmonton features a fabulous cluster of stories (some linked below, some on the site). Great perspective from a ridiculous group of writers and analysts. Proud to be part of The Athletic, check it out here.
THE 2015 DRAFT

I'm using Button's January list because the June one is nowhere to be found. Notice his ranking both Jones and Bear. That's impressive. Red Line Report, another quality service, had Bear No. 81 but Jones No. 214. Button's scouting ability had both men in the top 80. Bottom line: Oilers drafted well and Button did a good job in his ranking. By the way, 45.5 percent of the men chosen in 2015 have played in the NHL. That's a fantastic number, 2015 should eventually pass 2011 (59.2).
THE 2016 DRAFT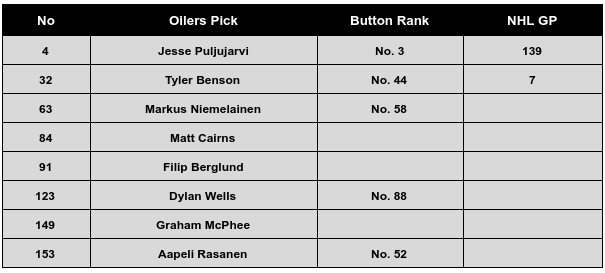 Button's ranking of Edmonton's picks in 2016 was a little all over and that's kind of how the draft has turned out. Plenty of track for this draft, Button liked five of Edmonton's selections. None of them is bona fide at this time. Oilers badly need one of the players from the second round on to pop. Button didn't have any of those players in his top 40.
THE 2017 DRAFT

Button liked five men the Oilers drafted in 2017, all of them inside the top three rounds. Yamamoto and Samorukov are tracking well. Notice the ranking on Yamamoto, many Oilers fans have commented on this blog over the years about Yamamoto's lack of this, that or the other. Button had him top 20 overall.
THE 2018 DRAFT

Bouchard was basically a universal top 10 but Button is the one prominent scout who doesn't care about consensus. I still read about Bouchard not being able to defend, or lacking enough speed. I don't think those things will hold him back, and his passing and power-play finesse will both become major advantages.
THE 2019 DRAFT

One of the first things I look at Saturday of draft night is the McKenzie and Button lists. The 2019 draft saw Edmonton grab two of the 20 best players available according to Button. Broberg's position and style have people discounting his future, I think it unwise to make a decision so soon. At the same time, Lavoie is considered a major piece by some. Again, let's see how this plays out.
BUTTON'S 2020 TOP 30 (LT)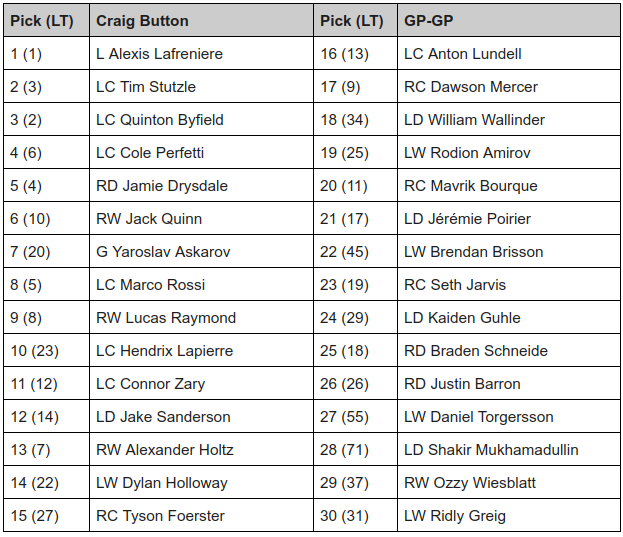 Fascinating. Button is very strong on Jack Quinn and is remaining true on the Russian goalie. He has a bit of a stubborn streak with the guardiens in my opinion, but Askarov has a lot of fans in the scouting community.
He also likes Lapierre, I faded him a little due to injuries. He likes Foerster too, he'll be moving up my list but not this far. Near the end of the first round things get wild, Button's choices are way down my list. That suggests a wild time after about No. 25 overall.