Gaetan Haas is a wildly popular player for a man who scored just five goals in his first NHL season. I did the season ending grades for The Athletic and had Haas and Jujhar Khaira with the same grade. It looked to me at that time, and does today, that only one of the two will be back next season. Interesting addition.
THE ATHLETIC!
The Athletic Edmonton features a fabulous cluster of stories (some linked below, some on the site). Great perspective from a ridiculous group of writers and analysts. Proud to be part of The Athletic, check it out here.
Many of you have taken advantage of the 90-day free trial this week, so I wanted to remind everyone a final time that clicking on the story link takes you directly to the free trial. And thanks to those who joined this week.
50-MAN ROSTER (37)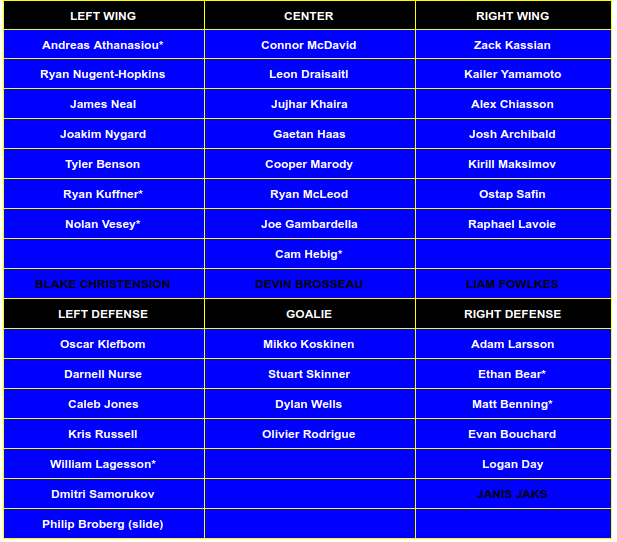 Riley Sheaham, Tyler Ennis, Patrick Russell, Mike Smith, Mike Green, Markus Granlund, Brandon Manning, Tomas Jurco, Brad Malone, Josh Currie, Keegan Lowe and Shane Starrett are the remaining UFA's.
I wonder if Khaira is moved out, with Sheahan signing and the Oilers running McDavid-Draisaitl and Sheahan on the checking line with Haas the energy line pivot. I like Haas' speed, his ability to draw penalties and interrupt sorties. He didn't score enough, his faceoff totals aren't fab, and I wonder if he lands on a line (eventually) with a lefty center. That would allow each man to take strong side faceoffs. One thing about Haas? He didn't play much against elites (132 minutes, 26 percent of his overall five on five time according to Puck IQ) but he performed well in those minutes:

If you had to offload one of these men, who would it be? Khaira's penalty killing is my checkdown for keeping him, but is quality PK work enough to keep a player on the roster? Suspect we're about to find out.
2008 Harvest Moon
The Edmonton Oilers were one of the quietest teams in the NHL this weekend at the draft. The offer sheet signing of Dustin Penner (and subsequent lay down by Anaheim) meant that Edmonton would be standing in the shadows for much of the heart of this draft.
Compounding the problem was the inability to acquire a draft pick in round 2 or 3. Looking at the transactions it appears as though many teams were willing to trade picks but lesser picks in this year's draft were part of the asking price.
Simply put, the Oilers didn't have the currency required to get in the game based on the facts before us. One quibble with that statement would be that the New York Rangers acquired pick #90 with a prospect "in the range" of Jean-Francois Jacques. On a day when quality was available well into the 4th round it might have been an opportunity missed as Jacques will be waiver eligible this fall if and when he is sent away.
Round One: RW Jordan Eberle- A perfect combination. A strong argument can be made that Eberle was the best player available and he certainly addressed a need (shooter) in the system. He's a May 1990 and 16 (tied for 4th in the WHL) of his 42 goals (tied for 4th in the WHL) came on the powerplay. A quality pick and immediately one of the 5 best prospects in the system (I'll rank them all next weekend with a new top 20).
Round Two: None. Kevin Prendergast stated the price was so ridiculous they decided to sit and wait where they were. Kevin Lowe said they might have moved up had they pulled the trigger on the 2 needs for the NHL team (top 2line F and toughness) but the extra NHL and fringe talent (Stoll, Torres, Pouliot, Schremp, Jacques) was held back for another day.
Round Three: None. There was still quality on the table at this time and most certainly the Bourret trade at #90 is a tell that the Oilers could have been in the mix (the two teams involved, NYR and Phoenix, are "Oiler friendly" and one imagines Edmonton decided not to offer a superior talent to Bourret which is not a difficult task). We all have our opinions, but I think Edmonton needed to pay their way in to the third round and pick up another asset with Jacques. Perhaps I'm overvaluing the player, but Bourret is no screaming hell I'll tell you that much right now.
Round Four: D Johan Motin. A solid, if unspectacular pick and generally speaking we adopt this player type as our own when the Oilers brass give the seal of approval. Stay at home type with size and a mean streak, he apparently can be exposed in areas and is no sure thing. Still he's rather safe for the 4th round and my bet is he'll play at some point in time with the big club.
Round Five: LW Phillippe Cornet. His scouting report reads like a pure tweener. He's skilled but he isn't fast, he's got some try but isn't overly physical. Somewhat similar to Stephane Goulet at first glance, but players with his resume taken in the fifth round do not have a terrific history of success. This is where the Kyle Brodziak's of the world, the plumbers, find their homes and begin the long process of grinding themselves into useful role players. A real long shot from here.
Round Six: C Teemu Hartikainen. This is the type of player who can get somewhere from this point in the draft. Good size and strength combination, he has feet of clay but some pluck and desire. Finns seem to be genetically predisposed to playing well in the North American style and based on his resume this fellow would seem like a worthy candidate. The third most valuable player taken by the Oilers this weekend.
Round Seven: D Jordan Bendfeld. Tough as nails enforcer who will go right to pro (he's a draft re-entry, former Coyote selection). This is an organizational hire who someone in management likes for what might be a variety of reasons. There are probably 100 kids with more talent that didn't get drafted today and another 100 with the same talent who could be signed as minor league free agents tomorrow. I don't think these kinds of picks are terribly wise simply because it's a bullet in the organizational gun and you might as well pick a "draft and follow" player who may emerge as something else again one year from now. Having said that, if this were my kid Lowe had just drafted I'd be crying on the deck with a beer in my hand right now so what the hell let's leave it alone.
The Oilers weekend came and went and we're still left with the need for a shooter and some grit on the big club and a plethora of players who are NHL players or near NHL players with not enough deck chairs for the fall dance. Among the things that are more likely today than they were a week ago are Marty Reasoner being passed over because of roster problems, JF Jacques hitting the waiver wire and Curtis Glencross finding a new home. Nothing really got done but that Eberle kid is a terrific story and looks like a player.
We're porridge.
Quick notes on 2008 from 2020
Looking back, I was fairly obsessed with getting back into the second and third round, while NHL teams also correctly valued those picks more than J.F. Jacques. The second round had some NHL goalies (Jacob Markstrom, Jake Allen) along with talented skaters like Roman Josi, Justin Schultz, Derek Stepan, Travis Hamonic and Marco Scandella. The third round was less abundant, but Adam Henrique, Zack Smith and Michael Stone were available.