The Oilers 2016 entry draft rolls along like molasses in January. Not content to be framed as the most disappointing draft of the decade (yet), the prospects captured by the team that fateful weekend keep progressing like checkers on a checker board: One space at a time.
THE ATHLETIC!
The Athletic Edmonton features a fabulous cluster of stories (some linked below, some on the site). Great perspective from a ridiculous group of writers and analysts. Proud to be part of The Athletic, check it out here.
A quick note to thank everyone for joining (or re-joining) this week, it means a lot. I'll be writing two more in this series over the next two weeks and follow it with a "what I think we'll see on draft day" piece for The Athletic leading into May long weekend.
50-MAN LIST (39)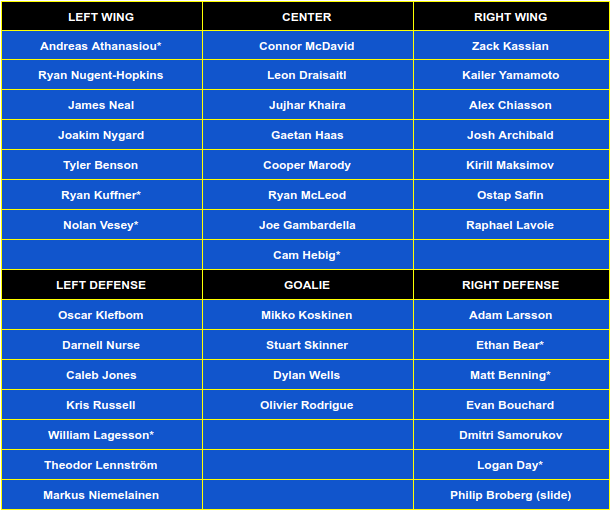 Ken Holland is signing these guys one day at a time, I'm beginning to wonder if he's doing it just so I have to do this graph every day and count to 39. Diabolical! I'll know today, if he signs Filip Berglund.
The best scouting report I've read on Niemelainen came from Corey Pronman (this happens often): Niemelainen was a fine two-way player for Saginaw this season. He's a fantastic skater for a defender of his size, moving effortlessly around the ice. His skill isn't high-end, but he moves the puck at a solid-to-average level, showing good hands and coordination for a player his size, and decent offensive instincts.
He improved a great deal this season, increasing his ice time from 13:47 a night to 19:46 per game. It's not certain to me that Niemelainen's increased playing time came with corresponding effectiveness. I wrote about his season here.
PROJECTED CONDORS 2019-20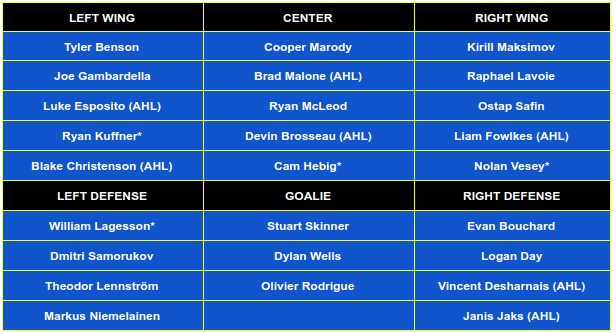 I'll suggest Niemelainen (21) is behind Lennstrom (25) in terms of depth chart, important to keep in mind the age difference. Niemelainen was highly rated in 2016 (Craig Button had him No. 36, Bob McKenzie No. 38 and Corey Pronman: No. 68) and the Oilers judged him worthy of signing.
Much of what happened between his draft day and last season performance spike suggested he would not be signed, but he earned the deal and his future is going to play out in California over the next two seasons. It gives me great pleasure to say (clears throat) the depth chart in front of him, both NHL and AHL, is considerable.
HARVEST MOON 2011
This is a tweaked harvest moon, I always found this edition to be plodding so I juiced it with some lines from the 'top 20 prospects' item that always follows the day after the draft concludes.
The Edmonton Oilers drafted Ryan Nugent-Hopkins yesterday, giving the club a potential elite level center for the first time in a generation. Seventeen years ago this club boasted youth and skill in abundance at the position (Weight, Arnott) but the 2000's were a tough time at C.
With RNH and a position switch among the gifted young wingers possible, the team could have impressive depth when those items are added to Gagner, Lander and others. It's all projection at this point, but these young men are bona fide.
I think we should expect a much different draft one year from now. The first round pick in 2012 should have exceptional value and with the blue featured heavily it could dovetail nicely for the Oilers. After that, the cluster of picks that began with Jordan Eberle will begin getting paid in full and winning will become important for the first time in years.
#1 overall- C Ryan Nugent-Hopkins: Immediately the best prospect in the system, RNH is a vital pick in the development of this cluster. If he is in fact an elite level playmaker, the Oilers have at least four outstanding candidates for chemistry on the top line and powerplay. One of the questions we can ponder over the summer is "which winger will he develop chemistry with?" come the fall. Taylor Hall and Jordan Eberle will certainly get the first few at-bats, but Omark and Pääjärvi are out there and the ridiculous Hemsky remains an option.
#19 overall- D Oscar Klefbom: I talk about a complete defender a lot because they're really important to a team's overall success. Klefbom's numbers in the SEL don't tell the whole offensive story, but when facing kids his own age the young man posted impressive crooked numbers. Red Line Report had him #11 in the entire draft, saying he was "the best pure passer" of the top end blue for this year's entry. Red Line then shifts into overdrive: "At Red Line, we believe he might ultimately become the best all-around balance of offensive upside and physical strength in this year's class."
#31 overall- D David Musil: I'm a little surprised by the reaction to his selection. He was safely in my top 30, so getting him at thirty-one is a nice bonus to my way of thinking. I'm all for players with a nice range of skills, but defensemen who can make the safe play have value. Musil isn't going to bring the O, but he appears to be plenty good enough to supply the D. A safe pick. Red Line Report ranked him as the 5th best defenseman in the entire draft, one behind Klefbom.
#62 overall- G Samu Perhonen: I expect Perhonen will open up a SAAB dealership with Tommy Salo by the end of the decade but Janeway found a wormhole for Voyager to save Tuvok so maybe Stu MacGregor can find a goalie to save Steve Tambellini. Have no idea about Perhonen.
#74 overall- C Travis Ewanyk: Future role player has a nice range of skills and therefore a few slots he could fill. PF size and style, he can win faceoffs and projects as a future checking center. I don't know that he's going to bring enough offense to make the NHL.
#92 overall- D Dillon Simpson: I have no idea if he or a Brandon Davidson type will end up winning the day, but I think that's the race he's going to be involved in. Red Line Report: Stay at home defencemen with savvy and size. Son of former longtime NHL'er Craig Simpson has very good hockey sense and understands game situations instinctively. Had trouble getting qualilty icetime as a 17-year-old true freshman on deep, veteran defence corps of top collegiate program, but did show steady progress adjusting to the pace of play against older, stronger opponents. Sluggish skater with a short stride, but shows good gap control and lateral mobility.
#114 overall- C Tobias Rieder: Red Line Report loves him, describing Rieder as an "undersized, but exceptionally smart playmaking winger with excellent offensive instincts and creativity." Rieder impressed as a rookie in a very good league. He was taken at the point in the draft where you shouldn't expect anything, but it's also true that Rieder is probably a better NHL prospect than a couple of the kids Edmonton picked before him.
#122 overall- D Martin Gernat: Huge kid (6.05, 187) and considered somewhat similar to Marincin (lower ceiling) in style. Raw prospect, will take time but he's certainly a player of interest.
#182 overall- G Frans Tuohimaa: Oilers saw him good . Has a nice SP in junior.