I love Blue Rodeo. Their original songs are pure, their covers are gorgeous, the sound of the band professional but always raw. I've never mistaken their recordings for a feature singer with a bunch of studio musicians. They're a band. Blue Rodeo is from Ontario, but Alberta loves them like their children. That happens a lot, K.D. Lang is from Alberta (born in Edmonton) and can pack a joint from New York to Melbourne. The ultimate example is The Guess Who and Toronto. Find yourself a partner that loves anything like Toronto loved the Guess Who in 1972.
I like the country music, not the dumb stuff but the thoughtful, piercing stuff. Bad Timing by Blue Rodeo, my goodness that's a song. Those harmonies reach you and you're done. The words are pure too.
Well I'd rather be Walking through the tall pine trees
High up above Lake Louise
And I'd rather be
Chasing after shooting stars
Than waiting for this dumb 503 TTC
I'm not even certain what the 503 TTC is, always assumed it was a Toronto crosstown bus or subway. Doesn't matter. I picked up what Blue Rodeo was putting down from the first note, that's never going to change. Welcome to my look at the WHL for the 2020 draft.
THE ATHLETIC!
The Athletic Edmonton features a fabulous cluster of stories (some linked below, some on the site). Great perspective from a ridiculous group of writers and analysts. Proud to be part of The Athletic, check it out here.
THE BEST OF THE WHL
LC Connor Zary. Two-way center. September 2001. NHLE 37.
RC Seth Jarvis. Jarvis is a fantastic player, undersized and skilled.
RD Braden Schneider. Fine skater has a range of skills, owns a fairly complete game.
LD Kaiden Guhle. Big defenseman has good foot speed and complete skill set.
LW Ridly Greig. Smart offensive W with good instincts, he isn't a fast train.
LW Jake Neighbours He's skilled, gritty and plays a strong two-way game. March 2002
RW Ozzy Wiesblatt. 20+ goals lacks size but plays with great determination.
RW Connor McClennon. He's undersized but can score goals.
RC Jack Finley. A big pivot, skates well, useful in multiple areas.
RC Justin Sourdif. Two-way winger gained notice at the Hlinka.
LW Owen Pederson. Scored 28 goals in 61 games. He's worth drafting.
RW Pavel Novak. Speedster with skill, he's a scorer. NHLE is 26, he's an April 2002.
RD Luke Prokop. A giant (6.04, 218) Shutdown blue.
Tristan Robins. Impressive numbers, he is very skilled doesn't get much attention.
L Kyle Crnkovic. Small (5.07) doubled his point total season over season.
G Dylan Garand. Eye popping SP (.921), June 2002, he's only 6.0. Good numbers down the line.
LD Daemon Hunt. Big defender with good wheels, he is an effective player without the puck
RD Kasper Puutio. Skill defender had a good Hlinka and then a strong late push
LW Cross Hanas. Speedy winger scored 22 goals in Portland.
RD Alex Cotton. Big offensive defenseman, second year eligible can he defend?
RC Josh Pillar. Fast player, spiked offensively, could be underrated here.
LC Michal Gut. Skill center, average speed, August 2002.
LW Carter Souch. Undersized, skilled, great skater, shows flashes of brilliance.
RW Robbie Fromm-Delorme. Skill winger, great name. Big improvement.
RD Simon Kubicek. Big man who can defend, has some offensive flair.
The WHL list doesn't reach the brilliant heights of the OHL, but there are quality names here. I'm especially interested in Jarvis, Neighbours, Finley, Cotton and Pillar.
WHL 2019 LIST
Bowen Byram, LHD, Vancouver Giants. 67, 26-45-71 (1.06)
Kirby Dach, RHC, Saskatoon Blades. 62, 25-48-73 (1.18)
Dylan Cozens, RHC, Lethbridge Hurricanes. 68, 34-50-84 (1.24)
Peyton Krebs, LW, Kootenay Ice. 64, 19-49-68 (1.06)
Matthew Robertson, LHD, Edmonton Oil Kings. 52, 7-26-33 (0.63)
Brett Leason, RW, Prince Albert Raiders. 55, 36-53-89 (1.62) (OA)
Brayden Tracey, LW, Moose Jaw Warriors. 66, 36-45-81 (1.23)
Lassi Thomson, RHD, Kelowna Rockets. 63, 17-24-41 (0.65)
Mads Sogaard, G Medicine Hat Tigers. 37, 2.64 .921
Nolan Foote, LW, Kelowna Rockets. 66, 36-27-63 (0.95)
Luka Burzan LHC, Brandon Wheat Kings. 68, 40-38-78 (1.15) (OA)
Adam Beckman, LW, Spokane Chiefs. 68, 32-30-62 (0.91)
Kaedan Korczak, RD, Kelowna Rockets. 68, 4-29-33 (0.49)
Dillon Hamaliuk, LW, Seattle Thunderbirds. 31, 11-15-26 (.84)
Oleg Zaitsev, LHC, Red Deer Rebels. 66, 13-30-54 (0.65)
Trent Miner, G, Vancouver Giants. 32, 1.98 .924.
Alexei Protas, LC, Prince Albert Raiders. 61, 11-29-40 (0.66)
Gianni Fairbrother, LHD, Everett Silvertips. 64, 10-26-36 (0.56)
Sasha Mutala, RW, Tri-City Americans. 65, 20-21-41 (0.63)
Reece Newkirk, LHC, Portland Winterhawks. 68, 23-36-59 (0.87)
Josh Williams, RW, Edmonton Oil Kings. 66, 14-19-33 (0.50)
Quinn Schmiemann, LHD, Kamloops Blazers. 58, 5-23-28 (0.48)
Dustin Wolf, Everett Silvertips. 61, 1.69 .936
Martin Lang, RW, Kamloops Blazers. 65, 11-22-33 (0.51)
Luke Toporowski, LHC, Spokane Chiefs. 67, 21-28-49 (0.73)
Ben McCartney, LW, Brandon Wheat Kings. 67, 21-20-41 (0.61)
Vladimir Alistrov, LW, Edmonton Oil Kings. 62, 12-26-38 (0.61)
Henry Rybinski, RW, Seattle Thunderbirds. 33, 7-28-35 (1.06)
Mark Kastelic, RHC, Calgary Hitmen. 66, 47-30-77 (1.17) (OA)
Cole Moberg, RHD, Prince George Cougars. 61, 13-27-40 (0.66) (OA)
My opinion is that the 2019 list is stronger than the 2020 edition, your mileage may vary. As I did yesterday, here's the NHLE for Oilers top WHL picks from the decade with some of the current names thrown in.
Seth Jarvis 41.8
Leon Draisaitl 40.6
Ryan Nugent-Hopkins 38.0
Kailer Yamamoto 37.7
Connor Zary 37.4
Now I'm not suggesting Jarvis is going to eclipse Leon or even Nuge, but he posted some crazy good numbers. I don't believe Jarvis goes top 10, and he might not go top 15. He is a small winger. We'll see.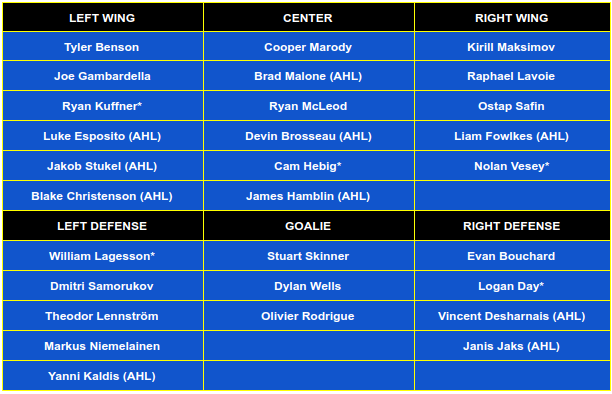 There are several RFA's (Kuffner, Hebig, Vesey, Lagesson, Day) who are without contracts, these AHL signings may be replacements for some of those names. I like this plan, good AHL players on minor league contracts are gold. I don't believe Brad Malone will take minutes from Ryan McLeod, and ice time for the prospects is the only real concern. Jay Woodcroft and his staff have established that playing the kids is a priority.
LOWDOWN WITH LOWETIDE
At 10 this morning, TSN 1260, we hit the ground running with a great group of guests. At 10:20, Tom Gazzola talks Oilers, the draft and what it's like to golf in the time of the Coronavirus. Marshall Ferguson from TSN1150 in Hamilton and CFL.ca will talk draft review, the season to (hopefully) come and remind us who is playing where. Tristan Jarry of the Pittsburgh Penguins will join us at 11:25 to share his memories of the 2014 WHL finals and the Memorial Cup later that spring. 10-1260 text, @Lowetide on twitter. See you on the radio!