The genesis of the current Oilers defensive depth chart came in 2011, when Oscar Klebfom (Edmonton) and Adam Larsson (New Jersey) were chosen in the first round. Two years later, with Craig MacTavish replacing Steve Tambellini, the club drafted Darnell Nurse in the top-10 overall. The three high picks would eventually get together when Larsson was acquired from the Devils in June of 2016.
However, a major event occurred at the 2015 draft, when Caleb Jones and Ethan Bear were drafted. Jones arrived later in the 2019-20 season and gave the team some quality option for roster construction moving forward. The Edmonton Oilers have achieved depth and balance. What does that mean? Ken Holland can anticipate moving an quality, established blue to acquire an asset that addresses an area of need.
THE ATHLETIC!
The Athletic Edmonton features a fabulous cluster of stories (some linked below, some on the site). Great perspective from a ridiculous group of writers and analysts. Proud to be part of The Athletic, check it out here.
OILERS 2020-21
Let's say the Oilers decide to retain the five names mentioned above and then hold a draft weekend auction for the extra players. Keepers are Klefbom-Larsson, Nurse-Bear and then Jones No. 5, all others are dangled.
That means Kris Russell, Mike Green and Matt Benning could be shopped, or at least Russell and Benning (Green is a free agent). William Lagesson could also be made available, he's waiver eligible next season (2020-21).
If Holland trades Russell and Benning, signs Green and Lagesson wins the No. 7D job, that might save $2 million or more off the cap. Klefbom-Larsson, Nurse-Bear, Jones-Green and Lagesson could cost $20.5 million or thereabouts. Inexpensive contracts for Bear, Jones and Lagesson, plus the trades of Russell and Benning, ease the new Nurse cap number and the Mike Green deal. It works, but only because of Jones and Bear (plus Lagesson if he isn't dealt). The question I have today is this:
Who is going to play defense in Bakersfield?
50-MAN LIST [36]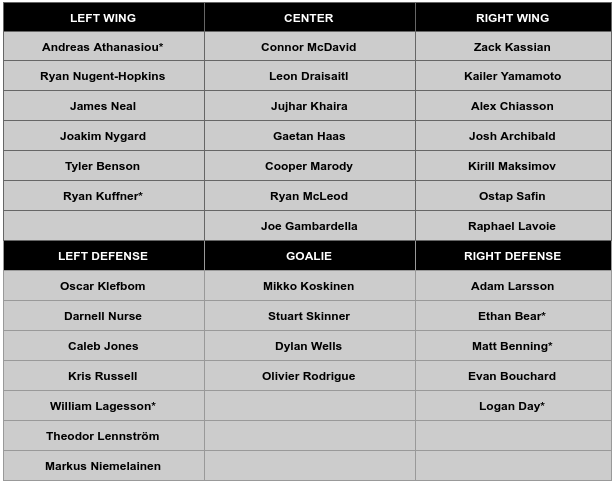 I have deleted Cam Hebig and Nolan Vesey, along with Broberg, Berglund and now Samorukov. There are too few players here by some margin. The Oilers will keep 14 forwards, there are 20 here. Edmonton will keep 7 defensemen, leaving five for the Condors, plus three goalies.
I'm not sure the Oilers will sign a complete group of minor leaguers because the season may be shorter by some margin. I think we might see a lot of NHL-AHL tweeners spend a long time unsigned because of uncertainty about the AHL season. Placing prospects where they're likely to see game action may be the key, and in that light the Samorukov move makes sense.