I love getting new math on prospects, especially far away players who we can't see much. Around April-May of each year, some math genius drops the numbers and projections for various leagues. This year, it's Pick224 math. The information isn't perfect, and doesn't resemble previous years, but it gives another angle all the same.
THE ATHLETIC!
The Athletic Edmonton features a fabulous cluster of stories (some linked below, some on the site). Great perspective from a ridiculous group of writers and analysts. Proud to be part of The Athletic, check it out here.
PICK 224 AHL (PRIMARY POINTS-60 ESTIMATE ALL GAME STATES)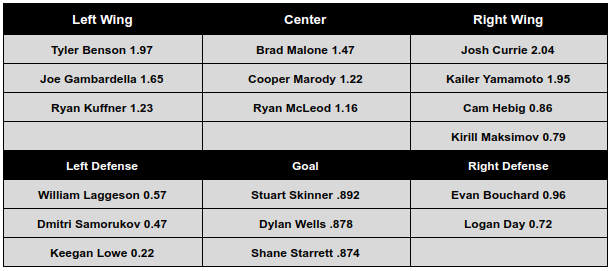 This is estimated points-per-60 in all game states, so that's Bouchard, Benson, Currie, Yamamoto above, their power-play numbers are included here. It is primary points, so first assists and goals, and expressed in estimated 60-minutes format. The takeaway for me? Marody and McLeod. It's go time for those two centers.
PICK 224 DISTANT LANDS (PRIMARY POINTS-60 ESTIMATE ALL GAME STATES)

I'm fascinated by the Russian, have to say. He's an undersized skill center and he isn't playing in the KHL, but that's a fine number the young man posted. He's a player to follow. Lavoie's number is impressive in the QMJHL, Puljujarvi's in the Liiga. Broberg has a pulse.
I've always felt the trade made sense, still do. Jesse Puljujarvi in Manhattan, where he could spend his early 20's grinding his talents into a useful pain in the ass winger who scores 15-20 goals. I know a little about Rangers history and if I could give JP a gallon of Billy Fairbairn's style he would flourish for 15 years. Fairbairn could score goals but was a fine checker and he could hit people without taking penalties. Genuine pain, effective player, Puljujarv has about half a foot in height and maybe 50 pounds on him. JP has all the tools to be a monster in Manhattan in a two-way role.
Lias Andersson had a good run in the SHL (12 points in 15 games) and he's a center. Speed has been the issue, so there's some Anton Lander in him, I think the Oilers would need to get a pick to make the deal close to even and I wouldn't make it. That and a toonie gets you a coffee in Alberta today. Rangers have two first-round picks and a pair of third rounders, I'd keep Puljujarvi.
If the Rangers offered Andersson and a late first, would Holland pull the trigger?
LOWDOWN WITH LOWETIDE
A busy, fun but difficult morning begins at 10, TSN1260. Steve Lansky from BigMouthSports will join us to talk about Father's Day, his podcast this week and a ghastly story involving all manner of abuse in the CHL. Dom Luszczyszyn from The Athletic has written a massive item on NHL free agency and Matt Iwanyk will tackle MLB's latest. 10-1260 text, @Lowetide on twitter. Talk soon!