I didn't have Christmas as a kid, grew up in a religion that didn't observe it. Don't feel sorry for me, I was raised by two parents who loved me and received lots of toys and bikes and enough sense to make it this far. When I celebrated my first Christmas (in Leduc, with my friend's family) it was a lovely afternoon and evening. Later this year, I will celebrate (God willing) Christmas No. 39 with Mrs. Lowetide and they've all been wonderful.
For me, the NHL draft is kind of like Christmas in summer. In most summers, I publish my final list June 1, then await my favorite lists. Corey Pronman and Scott Wheeler have published, Red Line Report has been out for several weeks, Steve Kournianos published his final list first week of June, Grant McCagg is out (and Simon Boisvert!) and HockeyProspect.com released its first round on Friday. Music! After we look at HP, we are down to Bob McKenzie's list on Monday and then Craig Button when he publishes a final list. And then, we wait for Friday and the lottery, draft in October, November or hell maybe August.
THE ATHLETIC!
The Athletic Edmonton features a fabulous cluster of stories (some linked below, some on the site). Great perspective from a ridiculous group of writers and analysts. Proud to be part of The Athletic, check it out here.
HP VERSUS LOWETIDE, FIRST ROUND 2020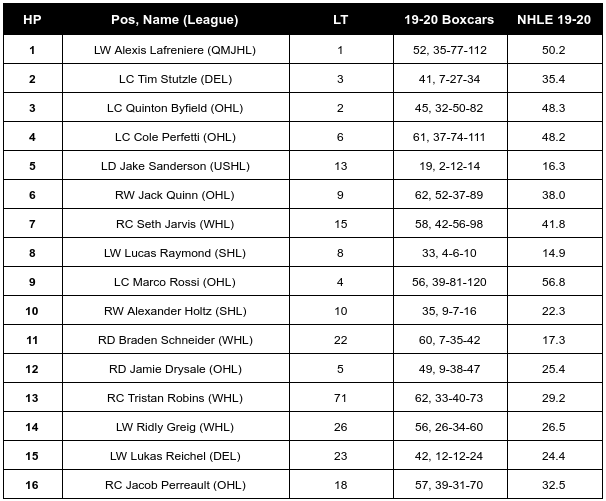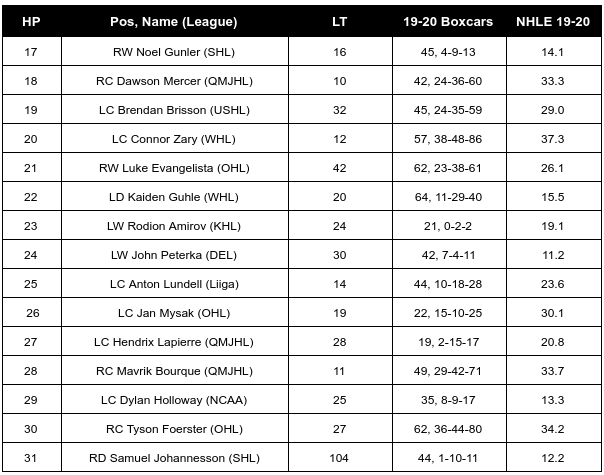 This is a fascinating list. A reminder HP isn't trying to predict the draft, this is a scouting staff ranking the players they would draft in order. Jamie Drysdale is the third defenseman, Marco Rossi is No. 9, Tristen Robins is in the top 15, and Samuel Johanneson is No. 31. Fantastic conversation can be enjoyed by looking over this list and drilling down on the decisions.
ROOKIE AHL FORWARDS AT 20, LAST 25 YEARS
Over the last two+ decades, the Oilers have had many forward prospects arrive at the pro level (age 20) and fail miserably in their efforts to make it to the show. Of those who did make an NHL impact, most are fringe players, enforcers or a combination of same. As I mentioned in Farm Workers the other day, the successes are men who emerge as quality role players, like Fernando Pisani, Daniel Cleary and Jason Chimera. They can mind the store and chip in offensively. Notice how many forwards ranked among the top 10 prospects below didn't make a dent in the NHL. It's what you can suppress, and what you can score. The outscorers make the show. Here they are, 32 strong, ranked by points-per-game:
1 Tyler Benson (18-19 Bakersfield Condors) 68gp, 15-51-66 .97 An exceptional rookie season, Benson's passing ability and vision reflected in his assist total. He isn't a pure offensive player, there are elements to his game that will be useful in a two-way role.
2 Michel Riesen (99-00 Hamilton Bulldogs). 73gp, 29-31-60 .822 Riesen's quality AHL season at 20 is somewhat misleading in that it was his second year in the league. He played well no matter the circumstance, so well that his entire line (Riesen-Swanson-Cleary) won jobs in the fall of 2000 on the big club. His 99-00 AHL season and the pre-season in fall 2000 represent the highlight of his NHL career (plus the 12 games he actually got into 00-01).
3 Steve Kelly (96-97 Hamilton Bulldogs). 48gp, 9-29-38 .792 Kelly was a speed demon who the Oilers liked a "hair" more than Shane Doan at the draft in 1995. His pro debut wasn't Doan-like (Doan had played over 130 NHL games by the spring of 1997) but he held his value better than did Bonsignore and ended up having a better (if hugely disappointing) NHL career.
4 Rob Schremp (06-07 SWB Penguins) 69gp, 17-36-53 .768 Schremp had a tough first year pro, getting benched a few times and was a healthy scratch a few times too. His coach did have some nice things to say about him but he was always dogged by skating and coverage issues.
5 Magnus Paajarvi (11-12 Oklahoma City Barons) 34gp, 7-18-25 .735 Paajarvi played in the NHL at 19, so this is kind of cheating (so is Riesen, the Euro's have different rules). I like this player a great deal, great speed and an attention to the defensive game not often seen in such a young player. However, his rookie season aside, he didn't score enough to stay in the NHL. He can skate like the wind, so don't rule out a return.
6 Jarret Stoll(02-03 Hamilton Bulldogs) 76gp, 21-33-54 .711 The two things I remember about Stoll in the AHL are a goal he scored maybe 5 seconds after the faceoff at center-ice and that the "shared" Habs/Oil team that year was a beauty. Stoll played with really good players and had an excellent season, which he built upon to become a solid NHL player.
I have Raphael Lavoie's reasonable expectations for 2020-21 here, .696 on 56, 18-21-39.
7 Marc Pouliot (05-06 Hamilton Bulldogs) 65gp, 15-30-45 .692 Pouliot played on a shared team (like Stoll) and put up excellent results. Of all the kids who've played extended AHL time this century for the Oilers, he's the guy who I thought could have helped them in the two-way role. It never happened for him, some evidence he balked at the checking role and injury contributed to his lack of NHL success.
8 Jason Bonsignore (96-97 Hamilton Bulldogs). 78gp, 21-33-54 .692 Bonsignore's career has been well documented and his 20-year old AHL season might have been his pro career highlight. These are reasonable scoring numbers for a player with a two-way game and the desire to work every shift. Bonsignore was not that player.
9 Peter Sarno (99-00 Hamilton Bulldogs). 67gp 10-36-46 .687 Sarno was an interesting prospect who ended up with 7 career NHL games for two different teams (Oilers and Columbus). He gained a solid reputation as a powerplay specialist and got a couple of long looks from the Oilers.
10 Jean Francois Jacques (05-06 Hamilton Bulldogs) 65gp, 24-20-44 .677ppg Jacques had a helluva pro debut and his size and speed made him a promising prospect. He lost a lot of momentum due to back injuries and lacked 'hockey sense'.
11 Kailer Yamamoto (18-19 Bakersfield Condors) 27gp, 10-8-18 .67 High-end talent didn't get a push during his AHL debut but showed his fearlessness and created mountains of offense. Has a good chance to be one of the very best names on this list when all is said and done.
12 Teemu Hartikainen (10-11 Oklahoma City Barons) 66gp, 17-25-42 .636 The big Finn was a pure delight and the first 20-year old AHL forward in a couple of years to show up on the radar in the Oilers system. He was a little shy on speed but could have had an NHL career with a little luck. He built a fine career in the KHL.
13 Kyle Brodziak (04-05 Edmonton Roadrunners) 56gp, 6-26-32 .571 Brodziak had a nice combination of size and skill. His AHL debut at 20 came on a very poor offensive team, and he built on that season (that team couldn't score a lick), finally emerging as a legit NHL player about the time Edmonton traded him. He was an NHL regular for a long time, the next in line after Cleary, Pisani and Chimera on the list of successess.
14 Jani Rita (01-02 Hamilton Bulldogs) 76gp, 25-17-42 .553 I thought Jani Rita would make it, swear to God. I remember at WJC goal he scored (it was real, and it was spectacular) and also saw a few AHL games in which he always looked like he was having an impact (plus he could score goals, 63 in 204 AHL games). He never made it, but that first AHL season would have to rank as one of the best on this list.
15 Slava Trukhno (07-08 Springfield Falcons) 64GP, 14-21-35 .547 I loved his passing, Trukhno could really find the lane. He had a nice debut but was a bit of wide body skater and I don't think Edmonton had a tremendous need for a slower skill LW at the time.
16 Bogdan Yakimov (14-15 Oklahoma City Barons) 57gp, 12-16-28 .491 This is a more impressive season than it looks here, Yakimov's offense comes in a more defensive era than some of the numbers above him. Big man has a range of skills, bolted for Russia but he had ability.
17 Marco Roy (15-16 Bakersfield Condors) 42gp, 8-12-20 .480 One of the truly strange happenings from the Bakersfield era is the AHL contract doled to Roy. They put him on the fourth line, had him PK and he still outscored the other AHL forwards that year (Slepyshev, 21, excluded). For the life of me I'll never understand the Oilers not signing him.
18 Georges Laraque (96-97 Hamilton Bulldogs). 73gp, 14-20-34 .466 Laraque is the only one of the three 20-year old AHL prospects in 96-97 to become an NHL player and contribute to his team's wins. The other two were Steve Bleeding Kelly and Jason Bloody Bonsignore. BG was a world class enforcer and an effective shot suppression winger. When the big man held the puck down low in the opposition end, you could be sure nothing bad was going to happen. One of my favourites on this list, he was part of some legendary fourth lines.
19 Phil Cornet (10-11 Oklahoma City Barons) 60gp, 7-16-23 .383 He looked like a tweener from the start, I always liked his spirit. Made it to the NHL for two games and at 30 he's productive in the Liiga.
20 Tyler Pitlick (11-12 Oklahoma City Barons) 62gp, 7-16-23 .371 Highly thought of on draft day 2010, a decade later he isn't so much a failed pick as a slow developing one. He has played 248 games and is averaging 13.5 NHL goals per 82 games.
21 RW Greg Chase (15-16 Bakersfield Condors) 19gp, 1-6-7 .370 Chase didn't make it but he was a talented prospect and fantastic value for where they drafted him. There's much we don't know about player development but his junior career warranted a longer AHL look before he was traded.
22 Jason Chimera (99-00 Hamilton Bulldogs) 78gp, 15-13-28 .359 Chimera was a speed demon who improved offensively by some distance during his entry deal in the AHL. He didn't champion the finer points of the defensive game but stay in an NHL lineup forever.
23 Kyle Platzer (15-16 Bakersfield Condors) 48 gp, 6-11-17 .350 I always thought the pick was innovative, as Platzer was buried on a deep London Knights team in junior. He didn't make the NHL but just posted a damn fine Liiga season.
24 Ryan Martindale (12-13 Oklahoma City Barons). 41gp, 6-8-14 He showed well in a couple training camps, you could see the size being an advantage and he could pass the puck. It never found its way to the regular season, not enough anyway.
25 Dan Lacouture (97-98 Hamilton Bulldogs). 77gp, 15-10-25 .325 Lacouture was a big kid with speed when he arrived in pro hockey. I remember him scoring a goal scorers goal against Boston (probably fall 2000) as he came in over the blueline and ripped a beauty by the goalie. Lacouture learned how to stay in the NHL after a time as a role player and played at least as long as his talent merited. The first discussion about the Oilers I ever had online was with Kim Gernack (redtwilight) in regard to his future. Miss that guy.
26 Curtis Hamilton (11-12 Oklahoma City Barons). 41gp, 5-6-11 .268 A wildly disappointing pro debut based on his final junior season, Hamilton never did get untracked during his entry level deal. Improved in year four and made it to the NHL for one game, but more was expected.
27 Kirill Maksimov (19-20 Bakersfield Condors) 53gp, 5-8-13 .250 A disappointing season but far from a confirmation he won't have an NHL career. He can score goals, has utility and two more years to refine his skills.
28 Jujhar Khaira (14-15 Oklahoma City Barons) 51gp, 4-6-10 .196 He is 218 games into his NHL career despite a distinct lack of offense. Has established himself as a quality penalty killer, had a poor season five on five in 2019-20.
29 Travis Ewanyk (13-14 Oklahoma City Barons) 68gp, 7-5-12 .176 Ewanyk had a lot of nice things but the offense in junior suggested this would happen. What is the difference between Khaira and Ewanyk? Don't know but both were shy offensively.
30 Zack Stortini (05-06 Iowa/Milwaukee) 64gp, 2-8-10 .156 Low event offensive player also slowed down the other side a little, but not on BG's level. Got all he could out of his career and should be remembered as a guy MacT played over many more talented kids. Stortini earned every shift with hard work.
31 Mitch Moroz (14-15 Oklahoma City Barons) 66gp, 5-4-9 .136 Big man came off injury at the end of the Memorial Cup and then had some issues in the AHL, among them ice time. Moroz should have been drafted in the fourth round, don't think he could overcome expectations.
32 Kale Kessy (13-14 Oklahoma City Barons) 54gp, 2-4-6 .111 Now universally hated for his hit on Cooper Marody, Kessy was never wildly popular with Oilers fans (return on the Rieder trade) but most of that wasn't his fault. He was never going to score enough to make it.