In the late summer of 2016, Travis Yost made an appearance on the Lowdown. After an especially awful food take, Yost said "the thing about this Oilers team is they have McDavid and that combined with goaltending might get you into the playoffs."
It happened just that way in 2016-17. Or did it? What about the defense that season? How good was it? Who did the hard work? How far is the current team away from having the same calibre defense?
THE ATHLETIC!
I'm proud to be writing for The Athletic, and pleased to be part of a great team with Daniel Nugent-Bowman and Jonathan Willis. Here is our recent work.
2016-17 VERSUS ELITES (PUCK IQ)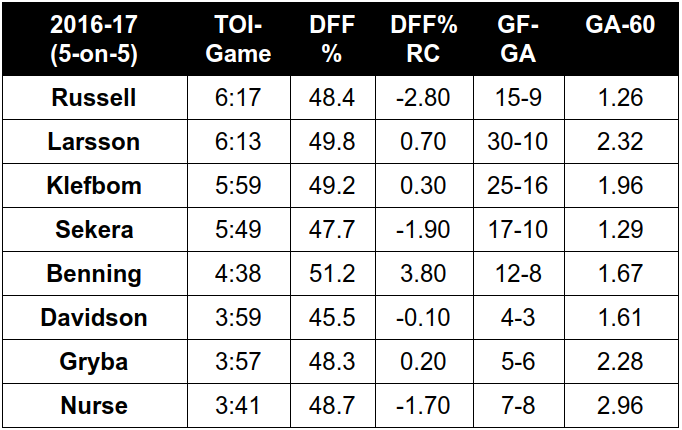 This is the defensive group Todd McLellan used during the 2016-17 season. There is a clear top 4-D, veterans all and the minutes are divided basically even between the top two pairings.
Benning, Davidson, Gryba and Nurse all played a significant amount against elites at five on five.
Terrific goal differential at the top here, Klefbom-Larsson are on a romp. Notice Russell's line here, he was fourth among the top-four in DFF% but first in GA/60. Russell defends too much but he and Sekera were an effective tandem in 2016-17.
2019-20 VERSUS ELITES (PUCK IQ)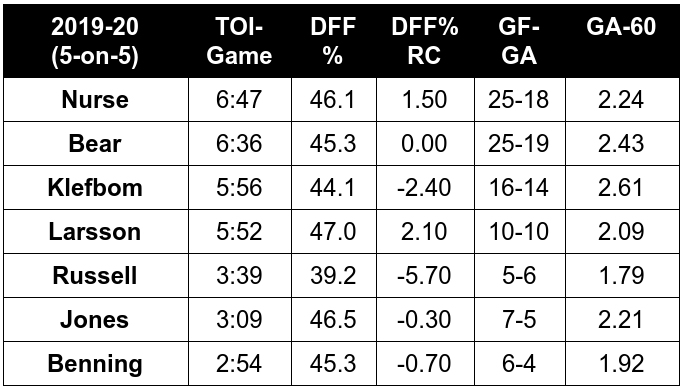 Unlike the 2016-17 team, led at the top by veterans, this group pushed rookie Ethan Bear into a feature role. He performed admirably, but trying it two years in a row—and that will happen with Klefbom's injury—is unwise. Coach Tippett didn't trust his third pair like McLellan did in 2016-17, the No. 5 man here played one minute less than in the playoff year. That may be a reason for Benning's exit.
THE 2020-21 PAIRINGS
I've been thinking about the best way to deploy this defense next year, and have decided Caleb Jones should play with the veteran Adam Larsson. If you have Nurse—Bear and get the results above, you can live with them. Jones—Larsson will rely on the veteran's savvy and the young man's skating and passing skills. That leaves Russell—Barrie as the third pairing, and hopefully they can close the gap and take on more of the load. I don't believe Russell can play big minutes anymore. Jones is the key, pretty sure.
HAPPY BIRTHDAY, BRUCE
I've made many friends since starting this blog, some of you are many miles away and my mind's eye conjures up the image of you. Leadfarmer types his comments into this section of the internet from a rich and beautiful study, with books lining each wall and a massive photo of Queen Elizabeth behind him. Original Pouzar writes on his phone while waiting for his next client. DSF wears a captain's hat and owns a pipe, looks into the lagoon for a few minutes before typing. Bendelson is wise and humble, and one of two people on this blog who know what CanCon is. Godot plays chess in the park.
Then there's a group who I have met, and know enough about to have an educated guess when it comes to typing comments into this section. Woodguy types from his phone hurriedly, which explains his spelling and his baffling inability to know the handedness of all living creatures. Clarkenstein owns a mountain and has 400 cars parked in his cave. PDO brings passion to everything.
Then there's Bruce McCurdy. There are over 10,000 "McCurdy" references in the comments section of this blog. That isn't Bruce commenting 10,000 times, a lot of those hits are people responding to what he wrote. Bruce is insightful, funny and has a tremendous memory, so he informs and inspires with his presence. I picked a random post from 2012: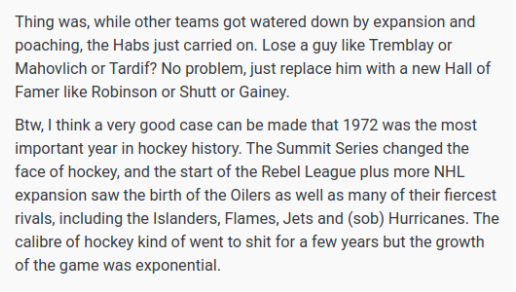 This is Bruce's birthday. He is a gift to all of us, an Oilers and hockey Smithsonian brought to life, and a funny, caring person too. We have met some great people in the course of this blog's existence, and Bruce is a dear one. Happy birthday, Bruce! You are now legal everywhere!
LOWDOWN WITH LOWETIDE
A busy morning on the Lowdown, as we hit the ground running at 10, TSN1260. Tom Gazzola from TSN and NHL network will join me to piece together the Oilers 2020-21. Paul Sir from The Basketball Show and Basketball Canada will join us at 11 to discuss Lebron's place in NBA history. 10-1260 text, @Lowetide on twitter. See you on the radio!