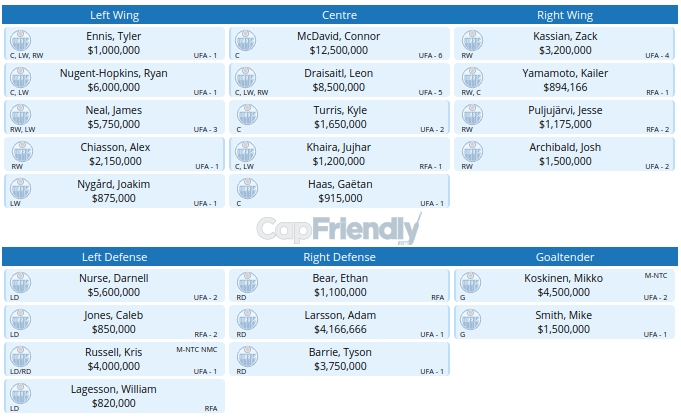 Ken Holland can go to training camp with the roster as it currently stands and have competition in the uncertain spots. There is room to add on the 50-man list and I do think a right-wing will be dealt for a left-wing. There are some great value contracts out there, one imagines the team at least ponders on or two additions. The next two moves will likely be signing RFA's Ethan Bear and William Lagesson. The weekend's work gives us our first chance to construct next year's roster and estimate the numbers. Let's go.
THE ATHLETIC!
I'm proud to be writing for The Athletic, and pleased to be part of a great team with Daniel Nugent-Bowman and Jonathan Willis. Here is our recent work.
July 8, 2019
On the date above, I wrote the following:
Looking long and hard for volume shooters to elevate to a skill line is damned difficult for the current Oilers. Tyler Benson (2.54 shots per game in the AHL), Joakim Nygard (2.94 shots per game in the SHL) and Sam Gagner (8.13 five-on-five shots per 60) are candidates for feature roles, but it's a moving target for this Oilers team. He's my first attempt at RE for 2019-20, understanding changes will come.
Leon Draisaitl [41]—Connor McDavid [44]—Zack Kassian [13]
Milan Lucic [9]—RNH [23]—Alex Chiasson [12]
Markus Granlund [11]—Gaetan Haas [7]—Joakim Nygard [10]
Jujhar Khaira [7]—Colby Cave [4]—Sam Gagner [10]
Tomas Jurco [7]—Cooper Marody [4]
Oscar Klefbom [8]—Adam Larsson [3]
Darnell Nurse [8]—Kris Russell [2]
Caleb Jones [2]—Matt Benning [5]
Brandon Manning [0]
Mikko Koskinen [.912]—Mike Smith [.905]
My estimate has Edmonton scoring 230 goals, allowing 252. That's a massive year over year improvement, most of it defensively. In 2018-19, the Oilers were 229-271 (-42) and my initial 2019-20 RE has the team -22, owing mostly to a massive improvement in goals against (+19 season over season). How will they get it done? I'm giving a lot of credit to Dave Tippett and shot suppression. In the Coyotes final season before Tippett, the team allowed 2591 shots. The following year? 2427. He also increased shots for by 200, but the Oilers currently employ a group who are unlikely to take full advantage. We'll see what the summer brings in terms of roster improvement.
As it turns out, the Oilers in 2019-20 did better than my 230-252 estimate, going 223-215 +8 in 71 games. The shots for and against don't rhyme because of fewer games, but if I pump up the 2019-20 season to 82 games, we can get a reasonable idea about whether Tippett managed any kind of shot suppression. Remember, in 2018-19, the totals were 2392-2599 (-207 shots). This year, extrapolating 71 games to 82, the numbers would be 2425-2626 (-201 shots). So why did they improve? Part of it is in save percentage, improved from .896 to .905. Part of it is special teams. How will things look in 2020-21? Here's my first look at RE.
RE 2020-21 FIRST BLUSH
Tyler Ennis [16]—Connor McDavid [38]—Zack Kassian [15]
RNH [25]—Leon Draisaitl [42]—Kailer Yamamoto [20]
James Neal [11]—Kyle Turris [14]—Jesse Puljujarvi [10]
Alex Chiasson [8]—Jujhar Khaira [5]—Josh Achibald [7]
Joakim Nygard [4]—Gaetan Haas [5]
Darnell Nurse [7]—Ethan Bear [5]
Caleb Jones [5]—Adam Larsson [2]
Kris Russell [1]—Tyson Barrie [14]
William Lagesson [0]
Mikko Koskinen [.918]—Mike Smith [.898]
That gives us (based on a slight increase in shots for and against) a goal differential of 254-246, +8. That is identical to the +8 differential of a year ago. I don't think this team is better, and the kids who are going to be regulars (Kailer Yamamoto, Jesse Puljujarvi, Caleb Jones, Ethan Bear) have a wide range of possible outcomes to their seasons. I think this is a playoff team, but Vegas has nothing to worry about, Calgary has improved and I'm sure Vancouver has plans, too.
If you're playing along at home, no I don't hate anyone on the list and yes there will be more players added to my final RE. This is the first blush, and Tyler Benson's minutes are represented by Nygard's presence, etc.
IS HOLLAND DONE?
Of course not. We'll see a trade and probably a waiver pickup somewhere in the preseason. For the second year in a row, Holland is leaving enormous opportunities for the youth of today to break on through. I didn't expect it a year after clearing the deck for Bear, Jones and Lagesson, plus recalling Yamamoto over making a trade after Christmas. Ken Holland's answers are coming from Bakersfield, friends.