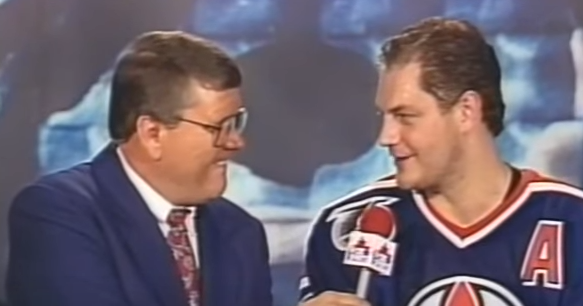 One of the fun things to look forward to each season is the emergence of new talents in the NHL. I remember when Esa Tikkanen arrived, he was unique and was worth watching even on a team of future Hall of Famers. This year, at least at the start of the year, the Edmonton Oilers are going to be low on rookies.
THE ATHLETIC!
I'm proud to be writing for The Athletic, and pleased to be part of a great team with Daniel Nugent-Bowman and Jonathan Willis. Here is our recent work.
PROJECTED OILERS ROSTER ($2.5M CAP ROOM)
I thought Evan Bouchard would be on the final list, but at this point it'll be a recall that gets him to Edmonton in 2020-21. Remember a year ago, when Holland bought out Sekera to make room for young blue? He went the opposite way this time. Put another way, even if Bouchard blows the doors off in training camp, there's no clear path to the NHL this fall. I believe Bouchard is going to be a terrific NHL player, but do find it curious that the organization's big free-agent addition duplicates his skills. Curious. I wouldn't worry too much about it, injuries hit defense like mad and Larsson's back basically guarantees the 7D and AHL recalls will play during the 2020-21 season.
William Lagesson should make the team and would be a candidate to move up the depth chart with injuries to LH defense. I think most believe he'll be a depth defenseman and that's fair, he isn't as dynamic as Ethan Bear or Caleb Jones. His Bakersfield on-ice goal differentials at even strength shone like diamonds, and I think he may merely be late to the party as opposed to a fringe addition to the two main pieces.
Jesse Puljujarvi is a player we've seen before, but the benefit of some time away for player and team should offer everyone a reset. I think the third line has a good chance to be Ennis-Turris-Puljujarvi, with the assignment to outscore, not just score. That's going to be a challenge, but a 12-minutes a night challenge, a less than fatal assignment the big Finn should be able to handle.
Is he done? I don't think so. The rumour of Alex Chiasson for Anders Bjork makes too much sense unless the Oilers are far more convinced of Tyler Benson than management is showing. I don't hear his name mentioned often, and that tells me the club believes the future includes other names, mostly on defense. I suspect we're not far from a trade that sends away a significant defender for a scoring winger. Possibly this offseason. There's a trade to be made.
What about Nuge? Sounds like a long-term deal is being thrown around and I think that's a good thing. RNH is the one lottery pick whose mindset has always included some two-way acumen and those things have exceptional value. If they didn't have him, the Oilers would have to invent him. He's also mature enough to play a role despite being an exceptional talent as a stand alone. He won't ever be captain of the Oilers, but in his works and conduct it's easy to see he's a leader on a traditionally young team.
Holland is fixing the overuse of youth though, you can see it in the roster above and the quality (Bouchard) that is NHL ready below. I would have Bouchard on this roster in 2020-21, but the only way that happens is an Adam Larsson trade. Seems a bit late in the process to be dealing your top shutdown option, but if an opportunity came along it could happen just this way.
What would I do here? In the feature article from The Athletic above, I offer some value free agents who are still available. It might require some dollars out via trade but there's some fine bets available today for just money, and perhaps not a lot of money. As days go down, some of these young wingers are going to be looking for opportunity over money, and Holland remains without a strong solution (aside from Nuge) on McDavid's left wing. Go left, young man, cash 30 and then get paid. That should be an easy sell.
LOWDOWN WITH LOWETIDE
A big day on the Lowdown, as we have terrific guests with news to break. It all starts at 10, TSN1260, with Frank Seravalli from TSN joining me at 10:20. The last two weeks he's been on the show Frank has dropped major Oilers news on us, perhaps he will again today. Reid Fowler from Draft Kings pops in at 11 to talk NFL weekend, and Andrew Peard, Oil Kings announcer, will join me at 11:25 to talk about the WHL's season which now has a firm starting date. 10-1260 text, @Lowetide on twitter. See you on the radio!