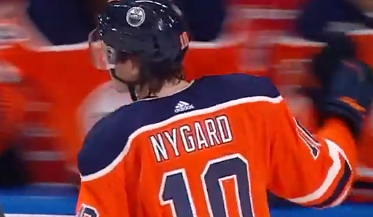 On July 12, 2019 the Edmonton Oilers hired Archie Henderson as director of pro scouting. I've been watching the pro signings closely since and would describe the work of the pro scouts as traditional and safe. The signings give the team solid backup in several areas and possible NHL replacement options at all positions. Is there more available? Or is that all there is?
THE ATHLETIC!
I'm proud to be writing for The Athletic, and pleased to be part of a great team with Daniel Nugent-Bowman and Jonathan Willis. Here is our recent work.
ARCHIE HENDERSON
Shortly after Henderson signed, Edmonton added free agent Josh Archibald and then later in the summer of 2019 Riley Sheahan. It's unknown how much input Henderson would have had on the process, but for me the pro scouting director is the guy looking for the next Jordan Oesterle or Rem Murray. Someone from off-off Broadway, if you know what I mean.
Henderson would have scouted the DRW before the acquisitions of Andreas Athanasiou and Mike Green, plus the Ottawa Senators before Tyler Ennis was added at the deadline.
Theodor Lennstrom was signed April 29, Henderson and the pro scouts would have seen him. We haven't seen him yet, but definitely part of the Henderson portfolio.
Adam Cracknell was signed September 10. He is 35 and in my opinion a poor bet and ties up a spot on the 50-man list.
Kyle Turris, Mike Smith, Tyler Ennis and Tyson Barrie were signed early in free agency 2020, Henderson would have had involvement and there are some interesting names in there.
Henderson would have been central to the signing of Anton Forsberg, Alan Quine and Seth Griffith.
So let's have a look at the AHL-Euro guys and see where the Oilers are shopping for fringe pieces. Any inspired additions in there?

There are some nice pieces here. Forsberg was .908 with the Blackhawks two years ago and .919 with the AHL IceHogs in 2018-19. He seems a suitable No. 3 goalie. He signed a $700,000 deal he gets paid that number no matter where he plays.
Quine is a player I've noticed for some time, he's an aggressive center and has offensive ability. I think he might be an under the radar signing who ends up being a bigger story. Quine got a one-way contract too, that might be a tell for a player like Jujhar Khaira.
JAYCE HAWRYLUK
Vancouver Canucks signed Jayce Hawryluk yesterday, the Florida Panthers cut him looks and Van City got him for $800,000 with $200,000 in the minors. Seth Griffith got a two-year deal for $725,000 with $450,000 as his minor-league salary. He is 27, Hawryluk 24, I like the Vancouver bet more.
There are some nice players out there who are in a similar spot to Hawrlyuk.
LW Anthony Duclair 66 games, 23-17-40. One dimensional but he can score.
LW Dominik Kahun 56 games, 12-19-29. 36-27 goal differential at five on five.
LW Andreas Athanasiou 55 games, 11-15-26. A fascinating and flawed player.
LW Drake Caggiula 40 games, 9-6-15. 22-27 goal differential at five on five.
LD Slater Koekkoek 42 games, 1-9-10. 27-24 goal differential at five on five.
RD Madison Bowey 53 games, 3-14-17. 34-48 goal differential at five on five.
There's quite the range here, Duclair would play a feature role, Kahun, Athanasiou, Caggiula and Koekkoek would be regulars and Bowey would be an NHL recall.
LOWDOWN WITH LOWETIDE
At 10 this morning, we're live on air TSN1260 with a pile of stories. Mike Zanier, former Oilers goalie and current radio colour commentator, will join us to discuss the progression of Philip Broberg. Will he be ready fall 2021? We're also working on an MLB guest as we prepare for Game 1 of the 2020 World Series. 10-1260 text, @Lowetide on twitter. Talk soon!