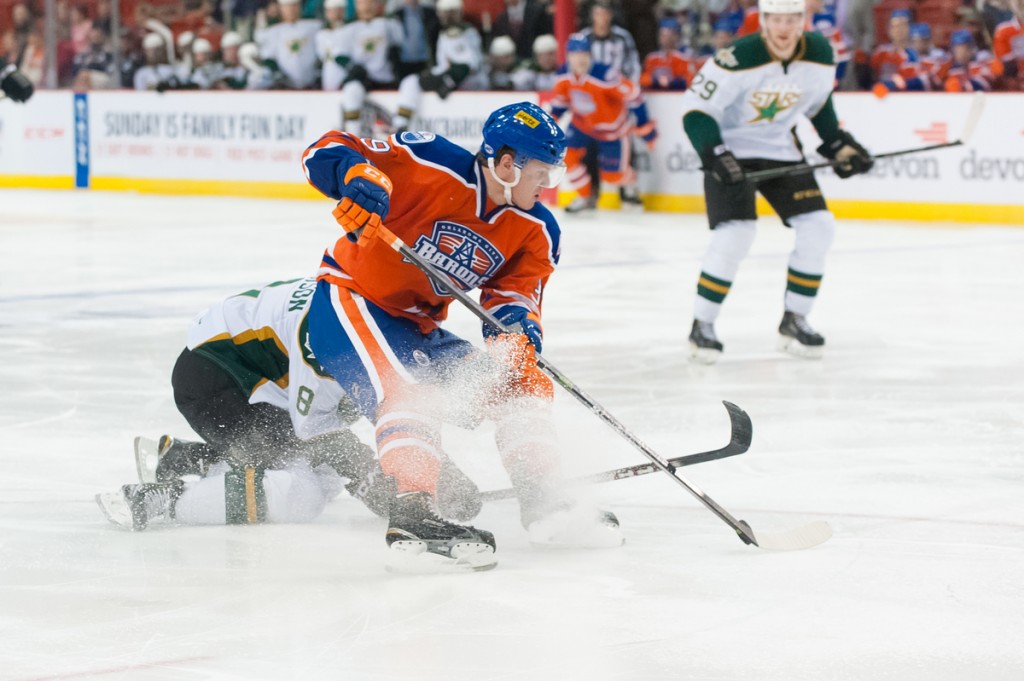 For most signed prospects, the window of opportunity is at least three years. That coincides with the end of the entry contract and those players are usually eligible for waivers in the fall of their fourth season. How many forwards who don't post significant offense in the AHL at age 20 make the NHL? What kind of roles do the successful players fill upon NHL arrival?
THE ATHLETIC!
I'm proud to be writing for The Athletic, and pleased to be part of a great team with Daniel Nugent-Bowman and Jonathan Willis. Here is our recent work.
OILERS FWD PROSPECTS AT 20 (AHL) PTS-GAME
Here are the numbers for AHL forwards at age 20 between 2010-19, with NHL games (in brackets)
Tyler Benson 69, 15-51-66 .97 (7 games)
Jesse Puljujarvi 39, 12-16-28 .72 (139 games)*
Kailer Yamamoto 27, 10-8-18 .67 (53 games)*
Teemu Hartikainen 66, 17-25-42 .64 (52 games)
Bogdan Yakimov 57, 12-16-28 .49 (1 game)
Marco Roy 42, 8-12-20 .48
Ryan McLeod 56, 5-18-23 .41
Phil Cornet 60, 7-16-23 .38 (2 games)
Tyler Pitlick 62. 7-16-23 .37 (248 games)
Kyle Platzer 48, 6-11-17 .35
Curtis Hamilton 41, 5-6-11 .27 (1 game)
Jujhar Khaira 51, 4-6-10 .20 (218 NHL games)
Travis Ewanyk 68, 7-5-12 .18
Mitch Moroz 66, 5-4-9 .14
Ryan Martindale 16, 0-2-2 .13
Kale Kessy 54, 2-4-6 .11
Some of this is the Oilers scouts discovering more offense is required from high picks (Moroz, Ewanyk) and some of this is prospects being legit better than their rookie NHL statistics due to lack of playing time (Tyler Pitlick, Jujhar Khaira).
I think it also shows Edmonton is getting better at drafting skill. That will hopefully spill over to the bottom six forwards as soon as this coming season. If we take the top two lines from last season and then count the rest of the goals by forwards, we get this:
Goals by 97, 29, 93, Kassian, Yamamoto, Neal, Chiasson: 156 goals

Goals by other forwards: 46
If the Oilers can find a way to use Tyler Ennis-Kyle Turris-Jesse Puljujarvi as a third line, goals should be more plentiful. I remain curious about outscoring, but the Oilers managed 223 goals in 71 games a year ago. Extrapolated over 82 games, that's 258 goals and a total that begins to carry a team.
A big day in Oilers history. Jari Kurri ascended to the top line on merit and stayed there because he made the top line better. That's exactly what the Oilers need for Connor McDavid's line.
The key to Kurri was his completeness. Sure he had a quick release and sure he had outside speed, but he patrolled all 200-feet with authority. For me, the most memorable play in his wonderful career came in the deciding game of the 1984 Stanley Cup Final. Both sides went for a line change as the puck was sent to the left corner behind Edmonton's net. Kurri retrieved the puck and sent a controlled missile to 99 waiting just onside at the center-ice line, and 20 men scrambled from a would-be grave and the dynasty needed their goalie to make the save. Gretzky cashed. Stanley. Music. Forever.