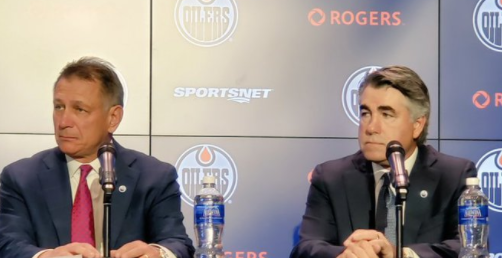 There are times you must give the other man his due. The Montreal Canadiens flew into town, outcoached, outplayed and outsmarted the Oilers on Saturday and then again last night. During the series, at five on five, Edmonton's shot share when Connor McDavid was on the ice was just 15-11. Leon Draisaitl? 12-11. That's some very good deployment and execution by the Habs.
When Kyle Turris was on the ice? A 7-20 shot share during the series. Devin Shore? 3-8.
Edmonton his the road with a 1-3-0 record and in last place. The fans are in ill humour, the coach is looking for answers and so far nothing rhymes. In each season there are trials, but you can hardly blame Oilers fans for allowing the gales of November remembered to creep into the current psyche.
One thing is certain: There is no immediate help coming via trade. Any incoming player is two weeks away due to Covid. In the words of the brilliant Ulysses Everett McGill: "Well, ain't this place a geographical oddity. Two weeks from everywhere!"
THE ATHLETIC!
I'm proud to be writing for The Athletic, and pleased to be part of a great team with Daniel Nugent-Bowman and Jonathan Willis. Here is our recent work.
OILERS IN MONTH NO. 1
Oilers in October 2015: 0-4-0, goal differential -8
Oilers in October 2016: 3-1-0, goal differential +2
Oilers in October 2017: 1-3-0, goal differential -6
Oilers in October 2018: 2-2-0, goal differential -4
Oilers in October 2019: 4-0-0, goal differential +5
Oilers in Month 1 2021: 1-3-0, goal differential -5
This is a poor start, but we cannot yet use adjectives like dreadful, shameful, despicable or gruesome. There are several miles before I'll start writing about the Donner Party, Nadir's Raiders (includes a Bonnie Raitt song) or the the time Daryl Katz used the word rebuild in January 2010. Hell, I probably won't do a draft post until May!
WHAT TO EXPECT IN MONTH NO. 1
At home to: Vancouver, Vancouver (Expected: 1-1-0)

(Actual 1-1-0)

At home to: Montreal, Montreal (Expected: 1-1-0)

(Actual 0-2-0)

On the road to: Toronto, Toronto, Winnipeg, Winnipeg (Expected 1-2-1)
At home to: Toronto, Toronto, Ottawa (Expected 2-1-0)
Overall expected result: 5-5-1, 11 points in 11 games
Current results: 1-3-0, 2 points after four games
When your team doesn't have a soft spot in the schedule, chances are your team is the soft spot in the schedule. I have the Oilers going 3-3-1 from here, meaning the end of January record would be 4-6-1, nine points in 11 games. If the team slumps on the road this week, there's a chance we'll be having 'the talk' in time for Valentines.
LINES LAST NIGHT
Nuge-McDavid-Kassian played 8:58, 4-5 shots, 0-0 goals and 0-0 HDSC. 5-8 Corsi five on five all numbers Natural Stat Trick. Give the Habs credit, this trio was barely noticed. The Danault line was especially effective. McDavid was physical and made a fine defensive play early by hauling ass into the offensive zone and getting in the way of a promising passing sequence. He is growing his game, even in a tough series. Nuge looked tentative with the puck, I didn't see Kassian beyond a solid hit on Josh Anderson.
Kahun-Draisaitl-Yamamoto played 6:25, 3-2 shots, no goals, 0-1 HDSC. Kahun had one good look at five, Draisaitl drew a penalty but looked off a little in his passing. Yamamoto, who has played very well in the season's early days, was also quiet.
Nygard-Turris-Puljujarvi played 6:16, 3-6 shots, no goals, 2-2, 5-9 Corsi. I actually liked this line, especially the wingers. Jesse makes a lot of plays, some of them don't work, but man he was around the play a lot and that's a good sign. He had two HDSC's on the evening at five on five, leading the team. Nygard drew a penalty and was strong on the forecheck. Turris is not moving the needle as No. 3 center at this time.
Archibald-Shore-Chiasson played 4:37, 1-4 shots, 0-1 goals and 1-0 HDSC. I don't know, suspect Neal or Nygard lands on LW, but Shore scored a goal and that counts for something. Chiasson is really struggling, both at five on five and on the power play.
I think we'll see some real shuffling for the road trip. Might see 97-29 together and Nuge back at center. Need to freshen. As for McDavid's wingers, maybe Kahun and Puljujarvi get a look.
PAIRINGS AND GOALIE
Nurse-Koekkoek played 11:25, 5-9 shots, 0-1 goals, 2-2 HDSC and 8-12 Corsi. Nurse took a severe shot in the back from Brendan Gallagher. The GA was the Romanov's first career goal, I think Archibald screened the goalie, Nurse was also in photo. The pairing worked well together to my eye.
Russell-Barrie played 12:16, 1-6 shots, 0-1 HDSC. This was not a successful pairing. Barrie isn't yet comfortable with the power play and that's having an impact, Tippett may have to tweak in that area. Russell calmed the waters by defending, suspect he'll play a lot on the road trip.
Lagesson-Larsson played 8:03, 2-3 shots, 1-1 HDSC and 7-5 Corsi. I liked this duo, although outlet passing wasn't on the menu. Lagesson remains a young man in need of opportunity, I wonder if he gets a chance with Bear or Barrie in the coming days.
Mikko Koskinen stopped 31 of 34, .912. He played well enough for Edmonton to have a chance on a night when the skaters seemed to lose interest in the first act of the play. People are mad at him for the first goal, and I blamed him too, but if you look at the replay (the broadcast didn't give us a long look for some reason) the big goaltender was blocked out for sure.
Tippett post-game talked about competitive defending that needed to increase, and he felt the group last night delivered. He said the next step was to increase offense, one assumes that will include inserting Bear, Jones or both on the road.
I expect many of you reading this are still upset about last night's game, but for me the Oilers are a team in need of a tweak or wrinkle. Since the Chicago series, and even in the Vancouver game to start the year, teams have found a way to suppress McDavid's wheels. He rarely roars through the neutral zone, and 97 created a lot of offense from chaos.
At the same time, the Draisaitl line has sputtered through the early days of this season as well. After a strong Kahun-Draisaitl verbal to start the season, we saw crickets against the Habs.
What's the answer? Well, a couple of times last night big Jesse Puljujarvi carried the puck with authority through the neutral zone and gained entry in the Montreal end. Perhaps he could lend a hand to one of the top lines. Joakim Nygard used his speed on the forecheck to turn over pucks and draw a penalty.
Dave Tippett is looking for answers. He knows a lot more about this team than we do. If you're an Oilers fan, I think the interesting part of the week ahead is how Tippett and his troops find a way to impose their will on Toronto and Ottawa.
It seems the defensive work is coming into view for the coach. Now it's time to work on adding some offense without giving up too much the other way.
LOWDOWN WITH LOWETIDE
A big morning on the Lowdown and we want to hear from you. TSN1260, starting at 10, former NHLer Jason Strudwick will join us at 10:20 to break down last night's game and talk about what Dave Tippett can do in order to get this team headed in a better direction. Josh Lewenberg from TSN will join us at 11 to talk about the Raptors current winning streak and what has changed. Perhaps there's an idea in there for the Oilers. 10-1260 text, @Lowetide on twitter. See you on the radio!