In the spring of 2019, in the weeks before the Edmonton Oilers hired Ken Holland as general manager, there were rampant rumours surrounding Mark Hunter as an option for the top job in Edmonton. I looked at Hunter's drafting record, 2015-2018, and compared it to Edmonton's at that time. Almost two years later, it's an interesting conversation for a whole new reason.
THE ATHLETIC!
I'm proud to be writing for The Athletic, and pleased to be part of a great team with Daniel Nugent-Bowman and Jonathan Willis. Here is our recent work.
OILERS IN MONTH NO. 1
Oilers in October 2015: 1-4-0, goal differential -5

Oilers in October 2016: 4-1-0, goal differential +4

Oilers in October 2017: 1-4-0, goal differential -8

Oilers in October 2018: 3-2-0, goal differential -3

Oilers in October 2019: 5-0-0, goal differential +8

Oilers in Month 1 2021: 1-3-0, goal differential -5
The October 2015 and 2017 teams were 1-4-0 after five, this year's model can climb toward daylight with a win against Toronto. Recent seasons have been unkind to the Oilers when facing the Maple Leafs, but this is a new year and (as we'll see in a minute) early indications have both teams a little loose in five on five goal suppression.
WHAT TO EXPECT IN MONTH NO. 1
At home to: Vancouver, Vancouver (Expected: 1-1-0)

(Actual 1-1-0)

At home to: Montreal, Montreal (Expected: 1-1-0)

(Actual 0-2-0)

On the road to: Toronto, Toronto, Winnipeg, Winnipeg (Expected 1-2-1)
At home to: Toronto, Toronto, Ottawa (Expected 2-1-0)
Overall expected result: 5-5-1, 11 points in 11 games

Current results: 1-3-0, 2 points after four games
Through four games (all numbers five on five), Edmonton is 7-11 (-4) goal differential and owns a 47 percent shot share. Also through four (at five on five), the TML is 6-8 (-2) goal differential and have a 55 percent shot share. Save percentages at five on five are .899 (Edmonton) and .889 (Toronto).
HUNTER VS THE OILERS 2015-18
When I looked at the Hunter picks over those four drafts (the article is here) it seemed to me that any Toronto advantage in spring 2019 had more to do with local knowledge of Mitch Marner and some luck (Jesse Puljujarvi wasn't working out because of usage by the Oilers). It also appeared at that time TML had more prospects trending in a good direction.
These years later, things have changed. Toronto's 2015 draft has the jewel of Hunter's drafts (Mitch Marner) and Travis Dermott, who is an NHL defenseman who played third pair. I thought Dmytro Timashov and Jeremy Bracco had a chance but neither man is established going on six years later.
At the time, Edmonton's 2015 draft looked like Connor McDavid and four distant bells, but as it turns out three defensemen (Caleb Jones, Ethan Bear, John Marino) have developed. All of them play tougher minutes than Dermott, and that gives Edmonton the edge. Toronto had two second and two third-round picks, Edmonton had none in those rounds. Distinct advantage for the Oilers, even excluding the first rounders (as we should).
Toronto's 2016 draft included Auston Matthews, who is a stunning hockey player. Edmonton, selecting just three picks later, grabbed big winger Jesse Puljujarvi. As time passes the entire draft has a meh feel, but Toronto has more hopefuls (Yegor Korshkov, Carl Grundstrom, Joseph Woll, Adam Brooks) than Edmonton (Tyler Benson, Filip Berglund). Edge to Toronto but Puljujarvi's re-emergence gives Edmonton's 2016 a more hopeful look.
The 2017 draft looked to have some momentum for Toronto, as first-round pick Timothy Liljegren had been rated highly but fell because teams were grabbing forwards early and then the run on blue started just before Toronto but they did well.
Edmonton's 2017 draft is looking good currently, with Kailer Yamamoto and Dmitri Samorukov leading the way.
Toronto in 2018 drafted Rasmus Sandin (he has played in the NHL) and a few players who are matriculating (Sean Durzi, Semyon Der-Arguchintsev). Edmonton has Evan Bouchard (he has played in the NHL) and players who are pushing (Ryan McLeod, Olivier Rodrigue).
Edmonton's 2015 draft was not expected (McDavid aside) even two years ago. Waiting five years is an important element in evaluating drafts and scouting directors.
PROSPECT DEPTH CHART
I run these twice a year or so, it isn't all inclusive but gives us an idea about how well Edmonton is covered at each position. Here's the list and then we'll talk about positional draft targets for 2021: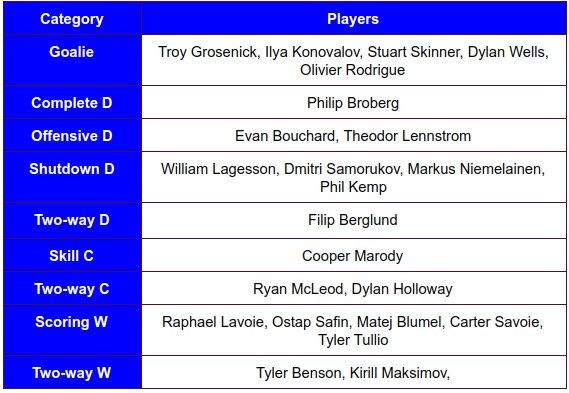 If your favourite prospect isn't there I missed him, don't hate him. Oilers possible position targets at the 2021 draft include complete D, goalie, two-way defense, skill center.
LOWDOWN WITH LOWETIDE
At 10 this morning, TSN 1260, we'll hit the ground running with a strong guest list. Bruce McCurdy from the Cult of Hockey at the Edmonton Journal will discuss the third goalie carousel, Bear/Jones and Jesse Puljujarvi. At 10:40 Andrew Stoeten will talk Blue Jays and their major signing (George Springer). At 11, it's Joe Osborne from OddsShark to talk NFL playoffs. 10-1260 text, @Lowetide on twitter. Talk soon!