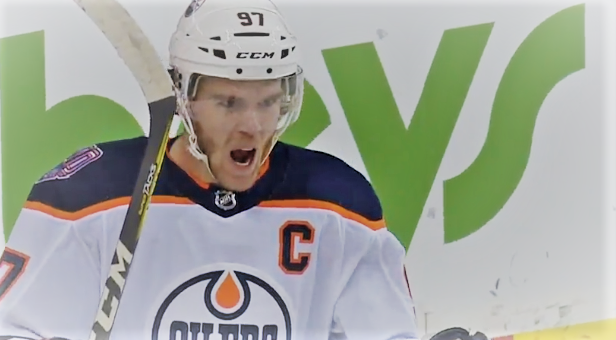 Edmonton Oilers fans are in surprisingly good spirits considering the team owns a 2-4-0 record and sits this morning out of the playoffs by more than a Bettman. I think fans understand this is a talented team, with a smart coach and significant options to fix the holes where the cold wins blow into the homestead.
I think the best way to monitor this team is five on five play. It's been a problem for a long time, especially the third and fourth lines. Is there any improvement? What's the next step?
THE ATHLETIC!
I'm proud to be writing for The Athletic, and pleased to be part of a great team with Daniel Nugent-Bowman and Jonathan Willis. Here is our recent work.
OILERS IN MONTH NO. 1
Oilers in October 2015: 3-4-0, goal differential -2

Oilers in October 2016: 6-1-0, goal differential +10

Oilers in October 2017: 2-5-0, goal differential -8

Oilers in October 2018: 3-3-1, goal differential -7

Oilers in October 2019: 6-1-0, goal differential +9

Oilers in Month 1 2021: 2-4-0, goal differential -5
I think we're at a point where winning is close to vital. A 1-1 run against Winnipeg is fine, but an 0-2 result in the Manitoba capital would sound the alarms. What I find interesting is that the answer to 'who is underperforming' once again returns answers that involve veteran performers. You know, that was the answer in 2011-12 and in 2017-18, too. Also worth noting the two playoff teams had already announced their presence with authority.
WHAT TO EXPECT IN MONTH NO. 1
At ho

me to: Vancouver, Vancouver (Expected: 1-1-0) (Actual 1-1-0)
At home to: Montreal, Montreal (Expected: 1-1-0)(Actual 0-2-0)
On the road to: Toronto, Toronto, Winnipeg, Winnipeg (Expected 1-2-1) (Actual 1-1-0)
At home to: Toronto, Toronto, Ottawa (Expected 2-1-0)
Overall expected result: 5-5-1, 11 points in 11 games
Current results: 2-4-0, 4 points after six games
I have tonight's game as a loss for Edmonton, with a win in the final game of the road trip. I projected the Oilers to go 0-1-1 in Toronto, so they're ahead of the game on this road trip. I think any win total at the end of the month that is four or more is fine, but 3-6-1 is taking the highway to the danger zone.
OILERS CENTERS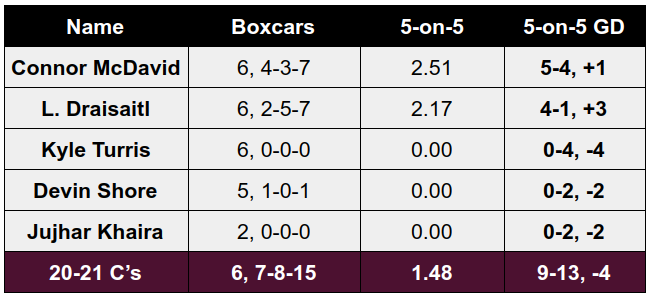 The top two lines (Draisaitl is 6-1 goal differential but two goals came while on the same line as 97) are outscoring five on five 9-5, while the two bottom lines are 0-8. What's crazy is, in the words of Tom Jones, it's not unusual. The Oilers have many options for the third and fourth lines, but so far nothing rhymes.
OILERS LEFT WINGERS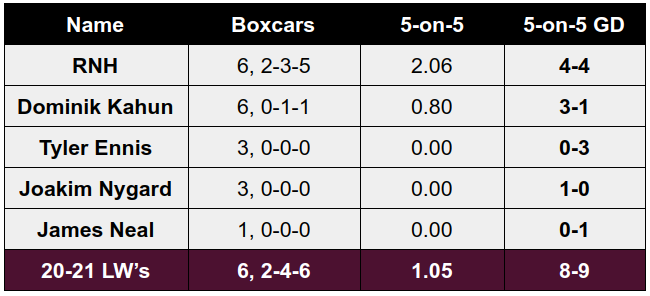 I think Nygard has a real chance this year, and that Ennis will be able to post some crooked numbers at five on five. Neal hasn't been over 1.00 point-per-60 since Vegas in 2017-18. Dave Tippett has three choices for two bottom-six jobs on left wing, Neal is going to get a push.
OILERS RIGHT WINGERS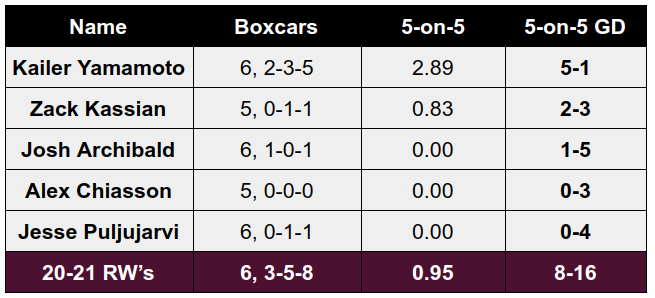 Here we see the reasons for Zack Kassian being replaced Friday night and perhaps longer. The other members of the No. 1 line are posting stronger numbers at five on five and overall. If Puljujarvi isn't the choice, Ennis might step in.
OILERS DEFENSEMEN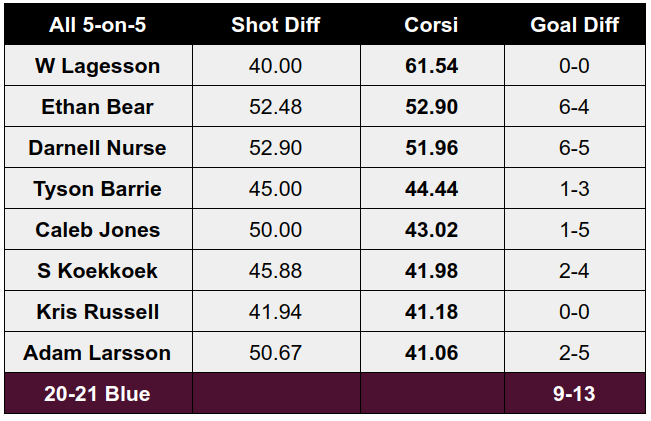 This is early to make any sweeping statements, but the trends are there. Nurse-Bear is a consistent pairing for coach Dave Tippett, but after that things go sideways in a quick hurry. I value Corsi Rel, and it suggests Caleb Jones and Tyson Barrie would be the next advisable pairing.
There was talk yesterday about dressing Evan Bouchard and running with seven defensemen. I think this is a poor deployment idea.
Evan Bouchard is a young defenseman, he's going to make mistakes. This is the time to play him in all situations (save PK) so that he'll be turning a corner midway through the season. I find the idea of running him as 7D both confusing and unsettling. It tells me the Oilers aren't convinced of Bouchard, which tells me they don't know what they have in this player.
As you know, I'm a fan of Tippett's work, specifically in regard to young players. I think this is a misstep that could be costly, and is at the very least wasting time.
GEORGE ARMSTRONG
I remember Armstrong as a player, but only the end of his career. I have similar memories of Jean Beliveau. Armstrong was an important part of the Toronto Maple Leafs teams that won four Stanley Cups in six seasons during the 1960's. He played a long time, was known as a great leader and had early coaching success in junior hockey that did not have sustain. All of the people who told me stories about Armstrong are in heaven today, so I can't give you much on him. I can tell you that the people who taught me the game, who passed along the lore of the NHL, spoke of him in the highest terms. As a leader, competitor and a difference maker in the important aspects of the game. I think modern analytics may have been very kind to George Armstrong if they had existed during his playing time. Rest in peace to a legend in the game.