I've been talking about balance ever since this blog began. People sometimes ask me about what a balanced Oilers roster might look like and I point to the 2005-06 team. That club lacked a true No. 4 center, needed one more defenseman so MacT didn't have to overplay M-A Bergeron or Matt Greene, and a slightly better backup although Jussi Markkanen played damned well, God love him. However, the 2005-06 club, after the trade deadline, was in fact balanced.
How close is the current team to that balance photo?
THE ATHLETIC!
I'm proud to be writing for The Athletic, and pleased to be part of a great team with Daniel Nugent-Bowman and Jonathan Willis. Here is our recent work.
CURRENT OILERS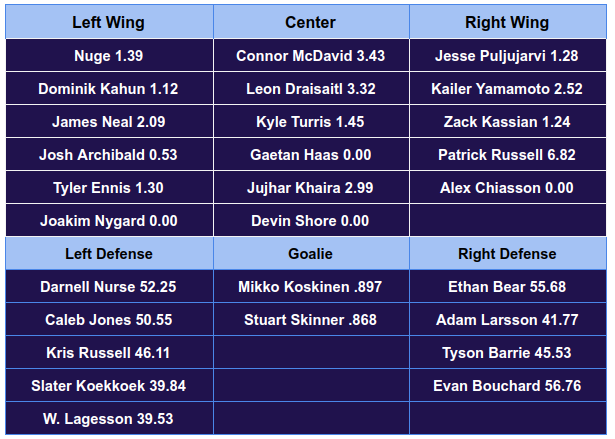 This is five on five points-per-60 (forwards), Corsi five on five (defense) and save percentage (goaltenders). I think "balanced" would be the top two lines over 2.00 per 60 (six forwards), third line center 1.75 and two other wingers at 1.50 or more among the bottom six. Defense? Four of six over 50 percent Corsi. Goalie? Starter at .920+. What would that look like?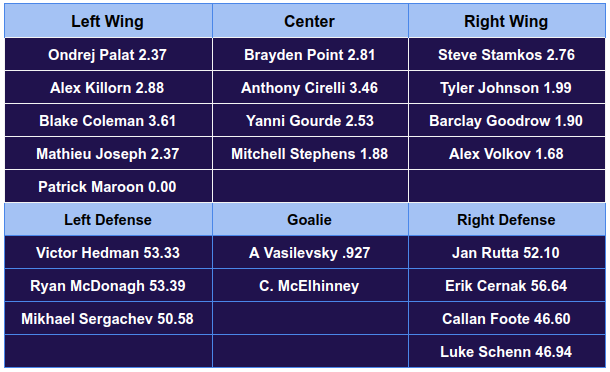 This is a ridiculous roster, there's extreme balance backed up by fantastic backup balance. If you stare at these names and numbers a long time, you could quibble with the backup goalie and third pair RH blue. In the cap era, this is an outstanding roster. Something for the Oilers to shoot for in the future.
BAKERSFIELD CONDORS
The Condors play tonight and tomorrow night, you can watch the games for free on AHLTV, two of them involving Edmonton's top farm team. Here are some names to watch for this weekend and what this season, short as it is, means to them:
Tyler Benson will go as far as his legs take him. He's great in the corners, is physical, can pass well enough to play on a skill line and has great offensive instincts. This is the kind of player (Tyler Pitlick, etc) Edmonton flushes too soon, so I hope (and believe) Holland will make sure before moving on.
Cooper Marody is at a crossroads, where injury meets opportunity. This is a pressure point for franchise and team, Marody might want to get a second opinion. I will tell you his first AHL season was fantastic but there's no way to know if he can come all the way back.
Theodor Lennstrom is an intriguing player and a Holland acquisition. I expect he'll get every opportunity to show he can play and that means a feature role in Bakersfield and a full shot at next year's training camp. It's easy to forget about Lennstrom, but he'll get a full shot at making the NHL while under contract.
Ryan McLeod is the one player in Bakersfield who we can use "when" instead of "if" he makes it to Edmonton. If you sift through quotes from Holland or Woodcroft or any executive on the team, McLeod's foolscap is all positives and no negatives. They love his speed, his two-way acumen and have worked hard (including time on the wing) to get him going offensively. I expect he is playing his final AHL games this season.
Joe Gambardella has reached the Last Chance Texaco. He looked solid in a 15-game audition at the end of the 2018-19 season, earned after scoring 29 goals for Bakersfield the same season. Since then new management and coaching have moved on from him (Joakim Nygard ate his lunch) and he saw his goal-scoring totals fall to 14 in 2019-20 with the Condors. He looked good in Edmonton, solid on the forecheck and good speed.
Markus Niemelainen gets his chance with the Condors this spring. I'll be honest with you the range of reports I've received on him runs the gamut, from "poor skater" to "impressive shutdown abilities." So, we'll see, that's what the AHL is for, auditioning hopefuls.
Olivier Rodrigue is a fascinating prospect who could emerge from this large group of prospect goalies as the best available. I spoke to Ryan Holt (Condors play-by-play broadcaster) yesterday and he will get to play this weekend. I'm interested to see how well he plays this year.
LOWDOWN WITH LOWETIDE
At 10 this morning, TSN1260, we kickstart the weekend with lots of news and great guests. Steve Lansky from Inside the Truck will discuss the Super Bowl and Oilers-Flames Saturday night HNIC at 10:20. Matt Iwanyk from TSN1260 will chat about the Covid-19 impact on the NHL schedule and what the league might do about it, plus tell us who will win the Super Bowl. Reid Fowler from Draft Kings will do a complete preview of Chiefs-Bucs at 11:25. 10-1260 text, @Lowetide on twitter. See you on the radio!