It seems like yesterday the Oilers won the 2015 lottery and the other Canadian fanbases melted with rage. These years later the McDavid Advantage is still there but the Oilers have had a tough time using that edge to further the cause. This year, the McDavid line and the Draisaitl line are perhaps a different look for opponents and maybe there will be better days ahead. One thing the club could do to help themselves enormously: Beat Calgary. Like a drum. Especially on Saturday nights.
THE ATHLETIC!
I'm proud to be writing for The Athletic, and pleased to be part of a great team with Daniel Nugent-Bowman and Jonathan Willis. Here is our recent work.
OILERS AFTER 13 GAMES
Oilers in 2015-16: 5-8-0, 10 points; goal differential -5

Oilers in 2016-17: 9-3-1, 19 points; goal differential +8

Oilers in 2017-18: 4-8-1, nine points; goal differential -13

Oilers in 2018-19: 8-4-1, 17 points; goal differential +3

Oilers in 2019-20: 8-4-1, 17 points, goal differential +4

Oilers in 2020-21: 6-6-0, 12 points, goal differential 0
A win tonight puts the team on a four-game winning streak and sets up the week beautifully. This time last week the team was 3-6-0 and looked wasted on the way. How the turn tables.
WHAT TO EXPECT FROM FEBRUARY
At home to: Ottawa (Expected: 1-0-0)

(Actual 1-0-0)

On the road to: Calgary, Ottawa, Ottawa, Montreal (Expected: 2-1-1)

(Actual 0-0-0)

At home to: Winnipeg, Winnipeg (Expected 1-1-0) (Actual 0-0-0)
On the road to: Calgary (Expected 0-1-0) (Actual 0-0-0)
At home to: Calgary (Expected 1-0-0) (Actual 0-0-0)
On the road to: Vancouver, Vancouver (Expected 1-1-0) (Actual 0-0-0)
At home to: Toronto (Expected 1-0-0) (Actual 0-0-0)
Overall expected result: 7-4-1, 15 points in 12 games

Current results: 1-0-0, 2 points in 1 game
My projection is fairly aggressive based on what we've seen from this team so far, but then again the two top scorers in the league are on the Edmonton roster. I thought the club would have more answers by now, that's the truth. Badly need Kahun, Barrie, Turris and the goaltending to snap into place like 1960's Lego.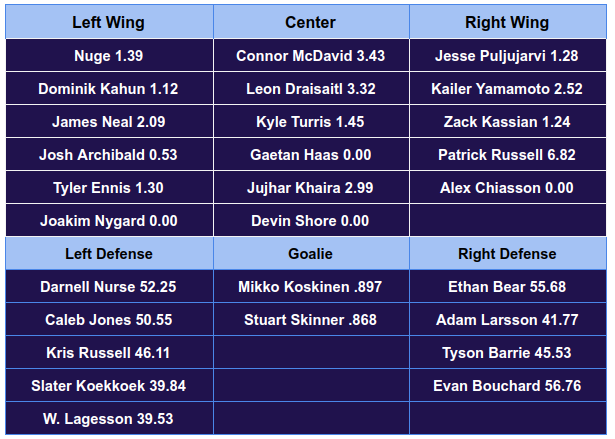 BEATING CALGARY
On October 3, 2001 the Calgary Flames defeated the Edmonton Oilers 1-0. Marc Savard scored the goal early third, Roman Turek winning over Tommy Salo. Boxscore is here. I remember that game because it seems to me Edmonton has been the underdog since. Even in seasons when the Oilers have a good team, it's difficult to find rhymes against Mohkínstsis. Here are the game scores and summaries for the 2005-06 season, a year Edmonton would go to Game 7 of the Stanley Cup Final:
October 15, 2005: Calgary wins 3-0, Miikka Kiprusoff has a 33-save shutout, Jarome Iginla scores.
October 20, 2005: Calgary wins 3-1, Chuck Kobasew scores 2, Kiprusoff over Markkanen
November 25, 2005: Edmonton wins 2-1, in a shootout Mike Morrison over Kiprusoff
December 19, 2005: Edmonton 5-4, two goals each for Shawn Horcoff and Igor Ulanov
December 31, 2005: Calgary 6-5, Kristian Huselius scores at 18:45 of the third period
January 23, 2006: Calgary 3-1, Jarome Iginla scored twice
March 16, 2006: Edmonton 3-2, Shawn Horcoff scores in overtime
April 1, 2006: Calgary 4-1, Kristian Huselius scores twice.
In those best season of the century for Edmonton, Calgary won the season series 5-1-0-2, grabbing points from all but one game. I don't know how Edmonton wins the season series (last year Edmonton went 1-2-0-1, three of a possible eight points, the Flames getting six of eight points). Terrible.
TALE OF THE TAPE
Five on five shot share: Calgary 49.31; Edmonton 48.70
Five on five goal share: Calgary 50.00; Edmonton 47.17
Five on five expected goal share: Calgary 53.90; Edmonton 50.79
Five on five HD chances for: Edmonton 51.68; Calgary 50.93
Five on five shooting percentage: Edmonton 8.9; Calgary 6.54
Five on five save percentage: Calgary .936; Edmonton .905
Power Play: Edmonton 12-2 goals in 74 minutes; Calgary 10-3 goals in 69 minutes
Penalty Kill: Calgary 0-7 in 59 minutes; Edmonton 2-11 in 75 minutes
BAKERSFIELD CONDORS
I watched last night's game and was impressed by Devin Brosseau, Ryan McLeod, Cooper Marody and Joe Gambardella up front. Markus Niemelainen and Theodor Lennstrom were probably the Condors best players, Niemelainen has good speed, can defend and has a great wingspan. He even joined the rush and got a good shot away. Olivier Rodrigue made his pro debut and looked like a young Gilles Meloche: Spectacular saves, solid positioning and betrayed by his defensemen. Vincent Desharnais had an especially poor evening but he wasn't alone. In fact, the only three defenders I saw good were Niemelainen, Lennstrom and Kevin Gravel. Need to tighten up.
COLLEGE MEN
Dylan Holloway scored a great goal and added an assist last night for Wisconsin and Carter Savoie also went 1-1-2 for Denver. When you draft for skill, each new day brings rewards.