The Oilers have clawed back into contention at the quarter mark, but the wins now have to come against teams Edmonton is chasing. That starts tonight. Ryan Nugent-Hopkins is one of many Oilers wingers who need to start cashing on chances.
THE ATHLETIC!
I'm proud to be writing for The Athletic, and pleased to be part of a great team with Daniel Nugent-Bowman and Jonathan Willis. Here is our recent work.
OILERS AFTER 16 GAMES
Oilers in 2015-16: 6-10-0, 12 points; goal differential -7

Oilers in 2016-17: 9-6-1, 19 points; goal differential +4

Oilers in 2017-18: 6-9-1, 13 points; goal differential -13

Oilers in 2018-19: 8-7-1, 17 points; goal differential -5

Oilers in 2019-20: 10-4-2, 22 points; goal differential +5

Oilers in 2020-21: 8-7-0, 16 points; goal differential 0
A win tonight means this version of the Oilers would rank behind only the two playoff teams (2017-18 and 2019-20). The goal differential is back to zero, a nice run here in the next week could get the Oilers halfway to Neil Young (into the black).
WHAT TO EXPECT IN FEBRUARY
At home to: Ottawa (Expected: 1-0-0)

(Actual 1-0-0)

On the road to: Calgary, Ottawa, Ottawa, Montreal (Expected: 2-1-1)

(Actual 2-1-0)

At home to: Winnipeg, Winnipeg (Expected 1-1-0) (Actual 0-0-0)
On the road to: Calgary (Expected 0-1-0) (Actual 0-0-0)
At home to: Calgary (Expected 1-0-0) (Actual 0-0-0)
On the road to: Vancouver, Vancouver (Expected 1-1-0) (Actual 0-0-0)
At home to: Toronto (Expected 1-0-0) (Actual 0-0-0)
Overall expected result: 7-4-1, 15 points in 12 games

Current results: 3-1-0, 6 points in 4 games
I have tonight as a loss, with a week of up and down results. Edmonton is 5-1-0 in the last six, and in truth there's a lot that isn't humming, so maybe they put it all together for one magical night in Montreal. Habs played last night for what it's worth.
EDMONTON OILERS ROSTER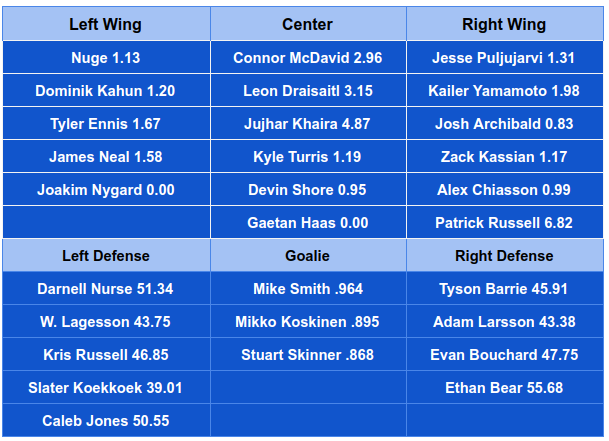 This is points-per-60 (forwards), Corsi five on five (defense) and overall save percentage (goalies). There are now two forwards over 2.00 per 60, although Yamamoto is close enough for jazz. Nuge, Kahun and even Puljujarvi need to post some five on five offense, no matter how exhausting the schedule.
Here's hoping we see Ethan Bear and Caleb Jones soon, not sure who will be coming out of the lineup but Jones hasn't played since the end of January. Nurse-Barrie are holding their own, Bouchard is gaining confidence by the hour.
Who starts? My guess is Mike Smith.
MONTREAL CANADIENS ROSTER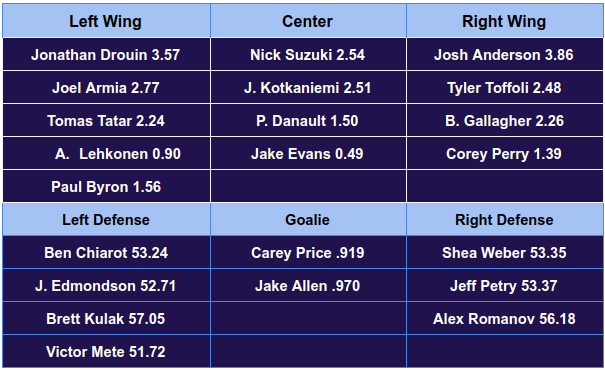 My goodness this is a fantastic set of stats. All areas are quality, including three scoring lines, three sets of defensemen winning the possession battle, and Vezina goaltending. Oilers may get Jake Allen tonight, that's no bargain.
SHOTS PER 60-SCORING CHANCES PER 60
Jesse Puljujarvi 9.85 (6.57)
RNH 9.59 (3.95)
James Neal 9.49 (4.75)
Dominik Kahun 6.9 (2.70)
Patrick Russell 6.82 (0)
Josh Archibald 5.78 (3.71)
Kailer Yamamoto 5.65 (3.95)
Zack Kassian 4.67 (3.12)
Tyler Ennis 4.17 (4.17)
Joakim Nygard 3.65 (0)
All numbers five on five, via Natural Stat Trick. This is five on five shots per 60 and in brackets high danger scoring chances per 60.
This is fascinating, and shows Puljujarvi as the top winger in terms of both shots and high danger chances per 60. Nuge has a handsome shots per 60, but isn't cashing. Yamamoto isn't shooting a lot, but these numbers match his work from a year ago (5.60 and 4.02) so he should get his goals.
2019 DRAFT NHLE'S
Philip Broberg 16.3

Raphael Lavoie 23.0

Matej Blumel 23.2

Maxim Denezhkin 20.2
All of these men are tracking as NHL prospects based on NHLE. The SHL numbers can be deceiving, so I would caution all in regard to suggesting Broberg is a shy contributor offensively. Klefbom rarely posted crooked numbers in that league and blossomed in the NHL. This is a promising draft.
LOWDOWN WITH LOWETIDE
A fun and busy show on the Lowdown today, we start at 10 this morning. Connor McKenna from TSN 690 Montreal joins us at 10:20 to preview the Oilers-Habs game, I promise not to bring up Sam Pollock. At 11, Frank Seravalli from TSN will tell us about the Ron Hextall-Brian Burke management team and what kind of change we might see on the Pittsburgh Penguins roster. 10-1260 text, @Lowetide on twitter. See you on the radio!