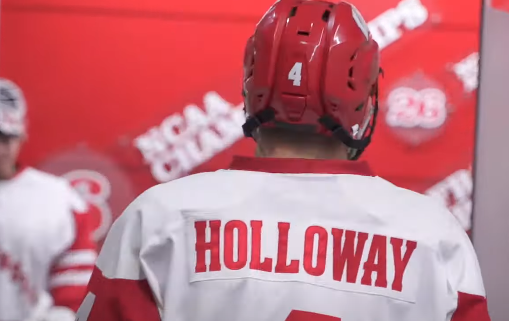 I spent some time yesterday watching Dylan Holloway playing for the Wisconsin Badgers and it's clear he could turn pro now. Edmonton may choose to leave him in college for another year, but the nature of the pro rosters (NHL and AHL) suggests there will be plenty of opportunity for the player to develop in the Bakersfield to Edmonton pipeline. It could be a busy offseason of exits and entries.
THE ATHLETIC!
I'm proud to be writing for The Athletic, and pleased to be part of a great team with Daniel Nugent-Bowman and Jonathan Willis. Here is our recent work.
Signed and outside the system
Philip Broberg added four minutes a night to his SHL workload year over year and his offense (33 games, 3-8-11) also improved. His WJ's was disappointing due to injury but Broberg's SHL time suggests he's ready to play in North America in 2021-22.
Dmitri Samorukov has already had the AHL experience, but the Oilers are absolutely loaded at LH defense in Edmonton and finding room in Edmonton for 2021-22 might be difficult. He's more of a shutdown defender than Broberg, so won't be applying for the same job. Lagesson is currently emerging at the NHL level, so one wonders what next year looks like for the Russian.
Raphael Lavoie should be in the AHL on a skill line now, but it's hard to find fault with getting the rookie pro games in the Allsvenskan. He has played 42 games (18-14-32) and leads his team (Vasby) in goals and points.
Filip Berglund is signed and ready to come over, he is playing in the SHL this season (20 games, 1-4-5) although injury had an impact. He increased his playing time to just shy of 20 minutes and took on a greater role with a new team (LHC). I'm not certain where he'll land on the Bakersfield depth chart in 2021-22, but suspect the Condors could have used him last night.
Phil Kemp is playing with Lavoie in Vasby and getting pro experience. He is delivering more offense than expected (3-4-7 in 22 games) based on his shutdown scouting reports. He's a righty and that has extra value, I'd say that more than any other defender in this category Kemp is a lock to play in Bakersfield next season.
Unsigned and close to NHL-ready
Dylan Holloway looked human against Michigan but the overall quality of his season in the NCAA, combined with his physical tools, tells me he can turn pro at any time. He has scored 7-16-23 in 13 games, most of the goals dynamic and involving high speed and skill. If he does sign, Bakersfield would be the most likely spot but don't discount his winning a job as No. 3 LW or similar.
Ilya Konovalov is not the starting goalie this season for Lokomotiv (KHL) but he's worth a contract and will be a free agent this summer. Edmonton has a pile of goalies in the minors currently (Olivier Rodrigue the most promising but the Oilers like Stuart Skinner a lot and Dylan Wells is part of the group) so it may not happen. I think his abilities have been obscured by lack of usage this season.
Possibly departing
Ryan Nugent-Hopkins is the top name here, and his exit would mean a significant addition would be required via free agency or trade. Taylor Hall would be top of the list, but Tomas Tatar is another solid option.
Alex Chiasson is a veteran who has value but the Oilers have several players who can play NHL on the right wing side. His skills have some overlap with names like Zack Kassian and James Neal, and Chiasson (UFA) will make $2.5 million this season. Those dollars probably land on Kailer Yamamoto's next deal.
Dominik Kahun has played well (16, 2-3-5) on the Draisaitl line and my guess is the Oilers retain him for at least another year. That said, it isn't a slam dunk and he will have arbitration rights.
Adam Larsson is a strong shutdown defender and the coach relies heavily on him. However, he is less consistent now than he was five years ago and aging shutdown blue are not a sound investment.
Tyson Barrie brings offense and chaos to the blue line and the price on his next contract will be dear. The Oilers could walk him and still have solid quality and depth on the right side, and youngster Evan Bouchard duplicates many of his skills. I think Barrie gets signed by Edmonton.
Slater Koekkoek is a solid depth defenseman who should be considered for another contract, but it's mighty crowded on the left side currently. He can play RH side, so maybe that means he's worth a deal. Good player, he would benefit from a consistent role and usage.
Mike Smith is a riddle. If he were a stock, Smith would make and break investors on the regular. He has played brilliantly in two games this season and may return for another year. I can see Ken Holland bringing in an upgrade on Mikko Koskinen and retaining Smith as the backup.
Gaetan Haas has been unable to impact the game much so far this season, so remains an intriguing curio. I think he'll be re-signed, nothing is certain.
Joakim Nygard is in a similar spot to Haas, but there are more left-wingers available so his return is less certain. I love his speed and the idea of Nygard's skills with (say) McDavid, but he needs to play 20 games in a row in the same spot.
Patrick Russell is the new Zack Stortini, so he should be around as long as Dave Tippett is the coach and has control over much of the roster decision-making. He is a solid extra man but it's uncertain how much he'll play this or next season.
Cooper Marody is RFA this summer and if the organization has no plans to bring him up this would be a natural stepping off point. He is very skilled for the AHL, but if the Oilers thought he could play center in the NHL he'd be here now in my opinion.
Tyler Benson is in the same spot as Marody, although NHL teams rarely give up on higher picks right at the end of entry deals. Benson hasn't been much of a factor in his two AHL games so far this season, but he'll have a chance to impress now through the end of the year.
Joe Gambardella had 15 games in the NHL and looked good enough for another recall, but it hasn't come. I expect he'll be looking for a second opinion in the offseason.
Dylan Wells is an RFA and far enough down the prospect depth chart I expect the Oilers will walk him.
Theodor Lennstrom is worth another contract, based on math and very small viewings. I've seen him good.
Stuart Skinner made his NHL debut earlier in the month and played his first game in Bakersfield last night. In both, he showed flashes but he needs to post a strong set of boxcars to earn another contract. I think the Oilers sign him anyway, but his status as the top goalie prospect (I believe the Oilers think of him as part of the future) needs some proof from the player.