Saturday night landed like a dream for the Oilers, with the Jets losing to Ottawa and the Flames bested by the Canucks. In this division true relief will arrive as sweet death for three teams at the end of the regular schedule. For the four surviving teams, Montreal, Toronto, and two prairie teams, getting there will be akin to Navy Seal training. First 16 games a challenge? You ain't seen nothing yet.
THE ATHLETIC!
I'm proud to be writing for The Athletic, and pleased to be part of a great team with Daniel Nugent-Bowman and Jonathan Willis. Here is our recent work.
OILERS AFTER 17 GAMES
Oilers in 2015-16: 6-11-0, 12 points; goal differential -10

Oilers in 2016-17: 9-7-1, 19 points; goal differential +1

Oilers in 2017-18: 6-9-2, 14 points; goal differential -13

Oilers in 2018-19: 8-8-1, 17 points; goal differential -8

Oilers in 2019-20: 10-5-2, 22 points; goal differential +4

Oilers in 2020-21: 9-7-0, 18 points; goal differential +3
A win tonight and this year's model will pass the 2016-17 playoff team and land two points in arrears of the 2019-20 group. The season so far is two movements: the 3-6-0 funeral dirge and the Beach Boys harmonies of the 6-1-0 run we've seen most recently. What will the third stanza bring us?
WHAT TO EXPECT IN FEBRUARY
At home to: Ottawa (Expected: 1-0-0)

(Actual 1-0-0)

On the road to: Calgary, Ottawa, Ottawa, Montreal (Expected: 2-1-1)

(Actual 3-1-0)

At home to: Winnipeg, Winnipeg (Expected 1-1-0)

(Actual 0-0-0)

On the road to: Calgary (Expected 0-1-0) (Actual 0-0-0)
At home to: Calgary (Expected 1-0-0) (Actual 0-0-0)
On the road to: Vancouver, Vancouver (Expected 1-1-0) (Actual 0-0-0)
At home to: Toronto (Expected 1-0-0) (Actual 0-0-0)
Overall expected result: 7-4-1, 15 points in 12 games

Current results: 4-1-0, 8 points in 5 games
I have the week going 2-2-0 but the Oilers can do themselves an enormous favour by sweeping one or both teams. The club is on a winning streak now and should ride that nag till it drops dead. Oilers fans don't hate Winnipeg, but they will by the end of the season.
OILERS ROSTERS AFTER 16, 2019-20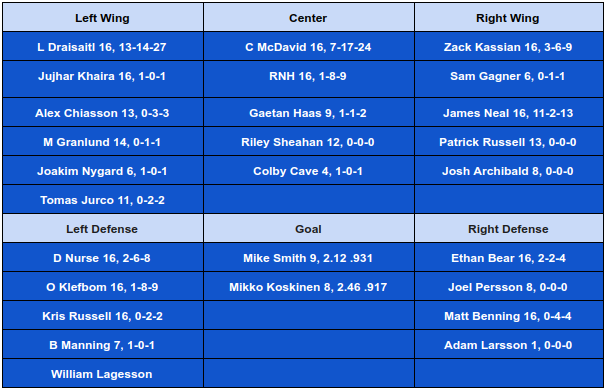 This is one year ago, 16 games in the books. Edmonton's top line (23 goals) dwarfed the second line (2), but the third line contained James Neal the goal total (12) was high. No goals from the No. 4 line, two from the taxi squad, six goals from the defense and 45 goals all-in, 40 against, +5 goal differential.
OILERS ROSTER AFTER 16 GAMES, 2020-21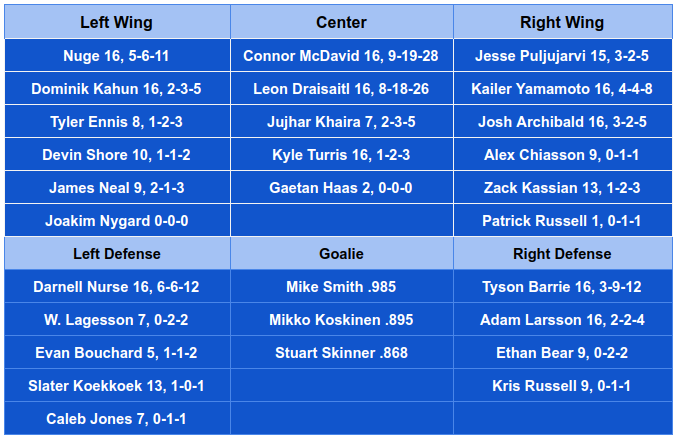 This year's No. 1 line has 17 goals, trailing last year's big line (23) by some margin. The second line (14 goals) hammer's last year's (2) shuffle-matic. The third line this year (6) has just started making things rhyme, last year's (12) club had all those early Neal power-play counters. Fourth line this year (2) and taxi squad (3) beats the two goals from that group last season. Defense this year (13) beat last year's (6) number by some margin. The 2019-20 Oilers: 45 goals after 16 games. This year's team: 55 goals, with 52 goals against and a differential of +3.
The teams are playing different games, 2019-20 club was involved in 3-2 games and this year's model is getting into four goal games for the winning team more often. Individual goals have less value and there's a slight 80's feel to the proceedings. As always, the goalie is central to success.
OUT OF THE BLUE
Lots of upset online this weekend in regard to Caleb Jones being on the outside of the starting lineup for two weeks now. He'll get his chance, but there can be no denying that William Lagesson is eating his lunch at this time. It could be short term, Lagesson's possession numbers aren't close to the Jones January stat set, but in five on five goal differential the Swedish rookie is having a fine run:
William Lagesson 4-1 (80 percent)
Ethan Bear 10-6 (62.5 percent)
Darnell Nurse 20-16 (55.56 percent)
Adam Larsson 10-11 (47.62 percent)
Caleb Jones 5-6 (45.45 percent)
Tyson Barrie 11-15 (42.31 percent)
Evan Bouchard 2-3 (40 percent)
Slater Koekkoek 4-10 (28.57 percent)
Kris Russell 1-5 (16.67 percent)
This is what real depth looks like, a rarity on the blue line for the Oilers. I think Bear will eventually climb to the top of the RH depth chart again, although Tyson Barrie is 10-8 with Darnell Nurse so far this year.
Anyway, Jones will get his chance but good things have been happening at five and five and on the penalty kill with Lagesson. I identified his even strength on ice goal differential as a positive in his rookie AHL season and that continues to be a strong point in his game. You can call it luck, but when it follows a guy over several years it becomes a bullet point on a resume.
LOWDOWN WITH LOWETIDE
At 10 this morning, TSN1260, we'll hit the ground running with a great group of guests who are taking time out of their holiday Monday to join us. At 10:20, our tennis expect John Horn will talk about a tough weekend for Canadians at the Australian Open and Nadal's chances of winning, plus Serena's path to the championship on the women's side. At 10:40, we'll chat with Sean Fleming, former Canadian National Staff Coach, 2 U 17 World Cups, and FC Edmonton coach about his new role as technical director for the EIYSA Stars. At 11, Jason Gregor previews the Oilers-Jets game tonight! 10-1260 text, @Lowetide on twitter. See you on the radio!