This year's Oilers are comfortable playing extended periods tied, the maturation of the roster kicking in and the attention to detail finer. The team did have a stanza of loose play, followed by a quatrain of penalties, but the end rhyme was music and came with a Mike Smith midnight pad stack.
Smith was top drawer (again), the seven defensemen defended, cross-checked, passed and shot their way to success, and the forwards finally figured out Thatcher Demko in the third period (with another power-play goal). It was an entertaining night, and it's possible to enjoy these games without fear of carnage. The Edmonton Oilers are good. Full stop.
THE ATHLETIC!
I'm proud to be writing for The Athletic, and pleased to be part of a great team with Daniel Nugent-Bowman and Jonathan Willis. Here is our recent work.
OILERS AFTER 22
Oilers in 2015-16: 7-14-1, 15 points; goal differential -12
Oilers in 2016-17: 12-8-2, 26 points; goal differential +10
Oilers in 2017-18: 8-12-2, 18 points; goal differential -14
Oilers in 2018-19: 10-10-2, 22 points; goal differential -9
Oilers in 2019-20: 13-6-3, 29 points; goal differential +12

Oilers in 2020-21: 14-8-0, 28 points; goal differential +13
I mentioned this yesterday, but the Holland-Tippett years are good so far. Through the first 22 games in each of the two seasons, Edmonton is 27-14-3, 57 points in 44 games. Not fair to compare this season to others because of the Canadian division, but teams can only play the schedule given.Before the season lots of people were saying Vancouver was just a Brogan Rafferty away from world domination.
WHAT TO EXPECT FROM FEBRUARY
At home to: Ottawa (Expected: 1-0-0)

(Actual 1-0-0)

On the road to: Calgary, Ottawa, Ottawa, Montreal (Expected: 2-1-1)

(Actual 3-1-0)

At home to: Winnipeg, Winnipeg (Expected 1-1-0)

(Actual 1-1-0)

On the road to: Calgary (Expected 0-1-0)

(Actual 1-0-0)

At home to: Calgary (Expected 1-0-0)

(Actual 1-0-0)

On the road to: Vancouver, Vancouver (Expected 1-1-0) (Actual 2-0-0)
At home to: Toronto (Expected 1-0-0) (Actual 0-0-0)
Overall expected result: 7-4-1, 15 points in 12 games

Current results: 9-2-0, 18 points in 11 games
I never saw this coming. No sir. This isn't the entire NHL and travel is different, but the Oilers defeated some good clubs during this run. Holland has constructed a roster that has fast trains and small skill, plus big men and checkers. Many (including me) remain concerned about the goaltending, but old man Holland must be chuckling about all the consternation expressed over the position. If he never gets more successful than this moment in Edmonton, well, it's a pretty good moment.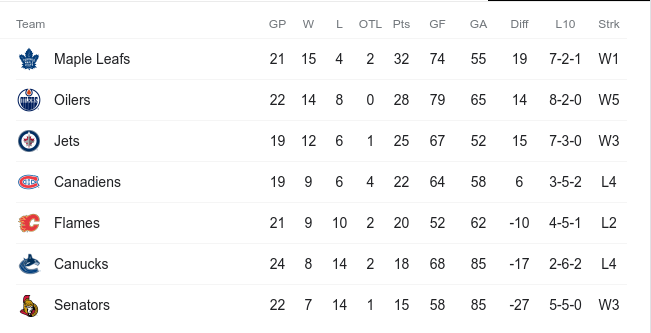 LINES LAST NIGHT
Kahun-Draisaitl-Yamamoto

played 10:37, going 5-7 shots, no goals (the goals were scored on the PP and into an empty net, so no five on five), 3-2 HDSC and 8-13 Corsi five on five. Kahun had one decent look, skated miles, and was at the scene of possible offense but the puck would bounce or his pass would get tipped. It was one of those games for many Oilers. Draisaitl had six shots, an assist, 52 percent on the dot and he worked had on the back check, turning over pucks and turning them into chances the other way. One turnover at the Van blueline when he got double teamed and led to a moment of possible danger, but that's going to happen when you have the puck so often. Yamamoto got a late assist, rang the crossbar on a breakaway early, had two HDSC and two takeaways. Solid night.

Nuge-McDavid-Puljujarvi

played 9:25, going 6-6 shots, 5-5 HDSC and 12-12 Corsi five on five. Nuge had one HDSC, picked up an assist, played 25:44 that included 8 on the power play and 4 on the PK. McDavid had two HDSC, a goal and an assist, drew two penalties. When the Oilers started playing loose, like Spinal Tap at the Air Force Base, it was the high-end guys who were the culprits (LD and CMD) but it didn't cost the team. Puljujarvi scored his first power-play goal of the year, he can battle in there and come out the winner (Tyler Myers also in photo). I didn't like a couple of his distant shots, but that's nitpicking. A fine performance by this trio.

Ennis-Khaira-Archibald

played 7:42, 5-6 shots, 0-3 HDSC and 10-8 Corsi five on five. Ennis skated miles, had a couple of promising chances. Khaira was the most impressive member of the line, his PK work reminded me of Derek Sanderson (that's a compliment) with his individual efforts to keep the puck away from Vancouver. Damn near got a breakaway out of it. He also had some nice five on five chances. Josh Archibald took a penalty for being thrown into the turnbuckle by a giant, passed the puck well and had two takeaways. Terrific third line.

Gaetan Haas

played eight minutes, three on the penalty kill. He is a great forechecker, his speed a concern for the defense.

Alex Chiasson

scored the winning goal. He has four on the season. He isn't wildly popular among fans, because of the cap hit, but he's a winger with utility and has been productive in 15 games. Four goals in 15 games is a 20+ goal pace over 82 games.
PAIRS AND GOALIE
Nurse-Bear:

9:51, 4-7 shots, 1-3 HDSC, 7-11 Corsi

Nurse-Barrie:

7:06, 7-3 shots, 2-2 HDSC, 8-12 Corsi
Barrie had the assist, Nurse blocked shots and patrolled the net front, and Bear battled and showed his considerable passing ability. I thought all three men played well. Nurse played 27 minutes, the other two around 14. Curious deployment by the coach. I looked for a trend in offensive/defensive zone starts but didn't see any. Nurse looked legit injured after blocking a shot on the PK, but returned shortly after. Something to monitor going into Saturday. Barrie 7:28 on the power play.

Russell-Larsson

played 12:45, going 4-8 shots, 3-3 HDSC and 12-15 Corsi. I think Tippett likes these two together, I'd prefer Jones. Russell defended well, got flattened by a rookie, got up and completed his shift like a rodeo cowboy should. Larsson was flat out filthy, but only got caught once. Both men blocked shots, played their style of game and helped the goalie secure a shutout.

Jones-Bouchard

played 7:48, going 3-3 shots, 2-2 HDSC and 8-4 Corsi five on five. Jones impressed me with his speed and aggressive play, plus his decisions and some good passing. Got a regular turn on the PK and prevailed. Bouchard made an effective hit behind the net that caught the attention of Louie DeBrusk on the broadcast, I think the young man is going to be fine. Bouchard also made several astute passes, it's almost expected now.

Mike Smith

is on a searing run, has to be the best of his career. Stopped 32 shots, got the shutout. He is .944 for the season and has had an enormous impact on the Oilers since returning to the roster.
BOB RIDLEY
When you marry a young lady from Medicine Hat, and her family is nine kids deep with a Dad who is obsessed with sports, you find out a few things about Bob Ridley. The legendary voice of the Medicine Hat Tigers will call his 4,000 game tomorrow night.
I've had approximately 4,000 people from the city try to impersonate Ridley calling a Steve Tsujiura goal, all ending with a gravel-filled "and the the little guy scores!" He was the first customer my wife served at a restaurant called The Ming Tree when she was just starting out on her own. My father-in-law would talk to him every fall about the new young players coming up, from Stan Weir to Lanny to Trevor Linden and on down the line.
Bob Ridley reached icon status in a city of 45,000 in southern Alberta. He drove the bus, he called the games and knew everyone by name. Those 4,000 games represent a lifetime of work that is clearly a labor of love. It's an amazing story.
LOWDOWN WITH LOWETIDE
A busy morning on the show, we'll start at 10 on TSN1260 by offering gloves, toques and long underwear on a cold morning. Steve Lansky from Inside the Truck podcast will chat about the Oilers run, the Blue Jays start and junior hockey starting up again. Tom Gazzola from the Don Wheaton Pre and Post will join us at 11 to chat about Edmonton's series upcoming against the Leafs and a possible run to the top of the division.