The first time the Toronto Maple Leafs played in Edmonton against the Oilers, it was Remembrance Day, 1979. The excitement was incredible and the game was over for all intents and purposes after one period. Toronto scored four in the first (two by Ron Ellis, one by Rocky Saganiuk, another by John Anderson), Dan Newman scored his final NHL goal for the Oilers, and Eddie Mio (3 saves on 7 shots) lasted 11 minutes before Dave Dryden replaced him.
The second time Toronto visited was January 26, 1980. Edmonton won 8-3, Blair MacDonald had a hat trick, Ron Chipperfield (on a line with Mark Messier and Cam Connor) had a couple of goals and Wayne Gretzky had just one assist. Jim Corsi played in the game for Edmonton.
These years later, the two teams boast rosters with stunning talents, in fact Toronto's current team may have more elite talent than the 1979-80 club (Sittler, Lanny, Salming all made HHOF). Punch Imlach would trade Lanny McDonald that season.
Tonight may be the most interesting game between the two teams in the history of this (ahem) rivalry. The Canadian Division changed everything.
THE ATHLETIC!
I'm proud to be writing for The Athletic, and pleased to be part of a great team with Daniel Nugent-Bowman and Jonathan Willis. Here is our recent work.
OILERS AFTER 23 GAMES
Oilers in 2015-16: 7-14-2, 16 points; goal differential -13

Oilers in 2016-17: 12-9-2, 26 points; goal differential +9

Oilers in 2017-18: 8-13-2, 18 points; goal differential -16

Oilers in 2018-19: 10-11-2, 22 points; goal differential -12

Oilers in 2019-20: 14-6-3, 31 points; goal differential +15

Oilers in 2020-21: 14-8-0, 28 points; goal differential +13
This team posted a poor January (5-6-0) before taking off in the month of February. A win tonight gives the Oilers 15 wins after 23 games. Exceptional. The three teams with plus goal differentials are clearly the class of the McDavid years, first two were post-season clubs and this year's group is on track for same.
WHAT TO EXPECT FROM FEBRUARY
At home to: Ottawa (Expected: 1-0-0)

(Actual 1-0-0)

On the road to: Calgary, Ottawa, Ottawa, Montreal (Expected: 2-1-1)

(Actual 3-1-0)

At home to: Winnipeg, Winnipeg (Expected 1-1-0)

(Actual 1-1-0)

On the road to: Calgary (Expected 0-1-0)

(Actual 1-0-0)

At home to: Calgary (Expected 1-0-0)

(Actual 1-0-0)

On the road to: Vancouver, Vancouver (Expected 1-1-0)

(Actual 2-0-0)

At home to: Toronto (Expected 1-0-0)

(Actual 0-0-0)

Overall expected result: 7-4-1, 15 points in 12 games

Current results: 9-2-0, 18 points in 11 games
Edmonton could go 10-2-0 in February. That's a helluva run, and includes a 5-1-0 record against the West (Van, Cal, Wpg) in the middle of the month. Mike Smith went 6-0-0 in February, could win No. 7 tonight.
FIVE ON FIVE GOALS-60 OILERS FWDS (FEB)
Jesse Puljujarvi 2.22 (No. 4)
Tyler Ennis 1.08 (No. 51)
Leon Draisaitl 1.06 (No. 55)
Dominik Kahun 0.91 (No. 78)
Ryan Nugent-Hopkins 0.81 (No. 88)
Connor McDavid 0.66 (No. 112)
Josh Archibald 0.51 (No. 141)
Kailer Yamamoto 0.39 (No. 183)
As we careen toward the end of February, it's Jesse Puljujarvi who ranks No. 6 among NHL forwards in goals-per-60 (100+ minutes) at five on five. Damn!
NHL EQUIVALENCES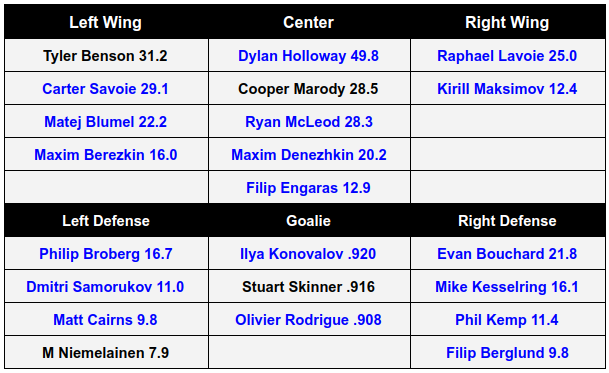 There are no elites on the list, but Holloway and Savoie added to Lavoie, McLeod and the emerging Blumel offers hope for the future. In Holloway's case it could be the immediate future. Defensively, Bouchard will graduate (50 games is my limit) before the end of the season if he plays in all of the games. That leaves Broberg, Samorukov and the emerging Kesselring as the next ones. I like all three goalies, no idea the best one. AHL numbers are in black.
MEMORIES
My Grandma was about the goalies. She loved Johnny Bower, and wanted the goalies to stay in her net. I can still see her face crinkle when the goaltender left the net, she'd yell bloody murder until they got back in the crease.
My Grandpa would make a big deal about getting the chores done before the game, and it was always tense whether he'd make it or not. Canadians his age were used to missing the first period anyway (it's a long story) but I always worried he'd miss the opening faceoff.
Grandpa's primary use during hockey games was adjusting the bunny ears and, if that didn't work, heading up on the roof to adjust the antenna. People talk about Canadians being obsessed with hockey now, it was life and limb for poor old Grandpa on those winter nights when the signal was unruly.
When the Leafs stopped winning Stanley Cups every spring, interest waned a little in the family unit. Dad and Grandpa would go to the table and play cribbage ('turn up the television!') but Grandma would always watch with me.
Her love of Johnny Bower was replaced with genuine worry for Mike Palmateer's safety (TML didn't play defense as well in the 1970's) and she even liked Paul Harrison, who played in that November 1979 game mentioned above.
Tonight at 5, I'll be watching Hockey Night in Canada. If the goalie roams, I'll hear my Grandma. If the feed waivers, I'll remember my Grandpa. I'll remember quilts and cocoa and being warm and content and safe and home.
It's the oldest tradition I own. Best one too. It's hockey night in Canada. Hurry, Grandpa!