The Toronto Maple Leafs played a great game Saturday night and were full value for a 4-0 win over the Edmonton Oilers. I don't expect the home team to get shut out again and momentum this year lasts like a snow flake in a hot place, but that was a convincing victory on the weekend by TML. What changes will Dave Tippett make tonight?
THE ATHLETIC!
I'm proud to be writing for The Athletic, and pleased to be part of a great team with Daniel Nugent-Bowman and Jonathan Willis. Here is our recent work.
OILERS AFTER 24 GAMES
Oilers in 2015-16: 8-14-2, 18 points; goal differential -13
Oilers in 2016-17: 12-10-2, 26 points; goal differential +7
Oilers in 2017-18: 9-13-2, 20 points; goal differential -14
Oilers in 2018-19: 11-11-2, 24 points; goal differential -11
Oilers in 2019-20: 14-7-3, 31 points; goal differential +11

Oilers in 2020-21: 14-9-0, 28 points; goal differential +9
February was a love-in for the Oilers, what will March bring? A bunch of games in a very short space of time. A 3-6-0 start led to a 11-3-0 finish and we are here. If Edmonton can get 20 points from March, they'll make the playoffs. Let's have a look.
WHAT TO EXPECT IN MARCH
At home to: Toronto, Toronto, Calgary (Expected: 1-1-1) (Actual 0-0-0)

At home to: Ottawa, Ottawa, Ottawa (Expected: 2-1-0) (Actual 0-0-0)

On the road to: Vancouver, Calgary, Calgary (Expected: 2-1-0) (Actual 0-0-0)

At home to Winnipeg, Winnipeg (Expected: 1-1-0) (Actual 0-0-0)

On the road to: Montreal, Montreal, Montreal (Expected 2-1-0) (Actual 0-0-0)

On the road to: Toronto, Toronto (Expected 1-1-0) (Actual 0-0-0)

Overall expected result: 9-6-1, 19 points in 16 games

Current results: 0-0-0
My projections are conservative. The roster is back to being uncertain in areas, just like the beginning of the year. Coach Dave Tippett has to figure out his six most effective defensemen and there may be some tweaks on the skill lines. If my projections are correct, Edmonton will land on March 31 in or close to a playoff spot. The record will be 23-15-1, 47 points in 39 games. That projects to 67 points. April and May have a more favorable schedule, Edmonton should be able to secure enough points to win the day even if they're shy of projections. March is a lion, coming and going.
OILERS 2020-21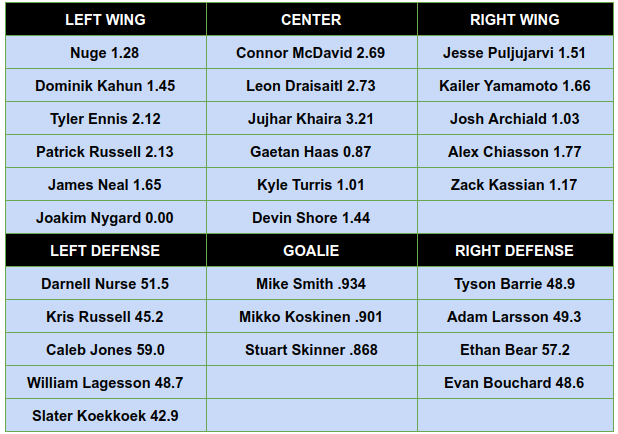 This is five on five points per 60 (forwards); DFF% against all levels of competition (defense); overall save percentage (goalies).
The questions I have at the beginning of March pertain to Jones, Bear and Bouchard on defense. How will the coach use them? In a depth role, or a prominent one? Also a wonder is the timing of the next Mike Smith start and hot streak. Smith had a couple of burners last year and still finished with a .902 save percentage.
Forward questions include the four wingers playing on the skill lines. I think all four are the right choices, but are they in the right spot? Do the Oilers need a scoring winger more than a No. 3 center? March will bring many answers.
OILERS-LEAFS TRADES
Edmonton and Toronto have made several trades over the years, beginning with Reg Thomas for the draft pick used on Steve Smith way back in 1979. What was the biggest deal between the two teams? The best?
August 22, 1979: Dealt F Reg Thomas for a 1981 fifth-round pick.

Thomas would play 39 games in the NHL (he was a good WHA scorer) with Quebec Nordiques. Toronto dealt him in December 1979 for Dave Farrish and Terry Martin. Martin had a good run in Toronto. The fifth round pick was Steve Smith, who played 804 NHL games and is an integral part of Oilers history.

March 8, 1982: Dealt Walt Poddubny for Laurie Boschman

. Poddubny scored 184 goals after being traded, Boschman 190. Edmonton dealt him to Winnipeg for Willy Lindstrom, who hung around for a couple of Stanleys.

September 19, 1991: Dealt Glenn Anderson, Grant Fuhr and Craig Berube to the Toronto Maple Leafs for Vincent Damphousse, Luke Richardson, Scott Thornton, Peter Ing

. Edmonton gave up two key players from the 1980's Stanley team, that's painful. However, Damphousse had a great season in Edmonton, and would have a great career. The Oilers traded him a year after picking him up. Yeesh. Still, that was a nice return if you have to give up two HHOFers mid-career.

March 23, 1999: Oilers trade a 2000 second-round pick and a 1999 fourth-round pick for Jason Smith

. Great trade for Edmonton, Smith was a rock solid blue for years and was a member of the 2006 Stanley Cup Final team.
There are a few others, like the Nolan Vesey transaction, but this is the big stuff. Most substantial deal? Anderson and Fuhr leaving town. BIG trade.
LOWDOWN WITH LOWETIDE
At 10 this morning, TSN1260, we kick out the jams and bring Monday to its knees. Well, maybe not but we're awake and ready to talk Oilers trade ideas! At 10:20 we'll preview tonight's game with some trade talk. At 10:40, Andrew Peard from the Oil Kings broadcasts will talk about the new season and how important it is to draft eligibles. At 11, Jason Gregor from TSN1260 pops in with his thoughts on Saturday's game and a preview of Oilers-TML. 10-1260 text, @Lowetide for your trade ideas and thoughts!