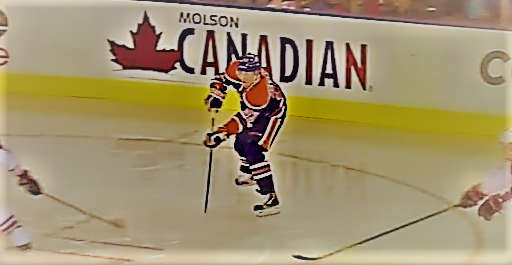 The Toronto Maple Leafs flattened the Edmonton Oilers, stomped their guts out, sliced them up into little bitty pieces and fed them to the pigeons. Outcoached, outplayed, anticipated and executed. A complete domination. Now, what are the Oilers going to do about it?
If you are a child of the 1960's (or before) you'll remember all the magazines sold to men (sports, true crime) had about 20 pages of ads. Some of the ads were disgusting (see-through glasses, as if), and some of them were funny (how I got rich selling aluminum siding!). My all-time favourite ads were the Charles Atlas ones. "It's 11 o'clock, you're on the beach with your best girl. 11 o'clock plus 10 seconds, a big mean bully kicks sand in your face. What are you going to do about it?" Killer ads. Bet they worked, too.
THE ATHLETIC!
I'm proud to be writing for The Athletic, and pleased to be part of a great team with Daniel Nugent-Bowman and Jonathan Willis. Here is our recent work.
OILERS AFTER 25 GAMES
Oilers in 2015-16: 8-15-2, 18 points; goal differential -14
Oilers in 2016-17: 13-10-2, 28 points; goal differential +7
Oilers in 2017-18: 10-13-2, 22 points; goal differential -13
Oilers in 2018-19: 12-11-2, 26 points; goal differential -5
Oilers in 2019-20: 15-7-3, 33 points; goal differential +13

Oilers in 2020-21: 14-11-0, 28 points; goal differential +1
The goal differential is shot to hell and the 11 losses in 25 games bring the 2018-19 team into play. The post-game buzz surrounded a terse reaction by Leon Draisaitl (more in a minute) but I left these three games convinced that the Oilers need to upgrade the goaltending. My article above about the trade deadline recommends a goalie acquisition. Nothing against Mike Smith, or Mikko Koskinen, but the Oilers need an upgrade at the position. This team makes too many mistakes to get by with average goaltending.
WHAT TO EXPECT FROM MARCH
At home to: Toronto, Toronto, Calgary (Expected: 1-1-1)

(Actual 0-2-0)

At home to: Ottawa, Ottawa, Ottawa (Expected: 2-1-0) (Actual 0-0-0)
On the road to: Vancouver, Calgary, Calgary (Expected: 2-1-0) (Actual 0-0-0)
At home to Winnipeg, Winnipeg (Expected: 1-1-0) (Actual 0-0-0)
On the road to: Montreal, Montreal, Montreal (Expected 2-1-0) (Actual 0-0-0)
On the road to: Toronto, Toronto (Expected 1-1-0) (Actual 0-0-0)
Overall expected result: 9-6-1, 19 points in 16 games

Current results: 0-2-0, 0 points in two games
Not a good start to the month, friends. Calgary on the weekend, and then three against and improved Ottawa team. I have Edmonton going 3-1-0 in those games, but the group looked poor this week and today is a day off. So, Friday then.
SOME THOUGHTS
Mike Smith gave up a pile of goals but he also hung in there. He's now down to .923 and his won-loss record (6-2-0) represents almost half the wins and about 20 percent of the losses. That's good. I would run Koskinen Saturday. I would also trade for an upgrade.
Ethan Bear is a personal favourite but he hasn't been right since he came back and struggled before he left. Last night it looked like he was late for the sky on the second Vesey goal, and he wasn't much of a deterrent on the Ilya Mikheyev goal. He was late getting off the bench on the change in the case of the Vesey cash and that's going to get a lot of attention in the coming days. I remain onside and believe in his future, but I wonder if he's completely recovered from his injury.
Leon Draisaitl picked up an assist in the game, and should have had two on the night. I think the story of this series (goalie aside) is contained in the single play that saw Draisaitl unable to get the puck through TJ Brodie and to Kailer Yamamoto. Toronto has always been able to score goals, but the defending is exceptional now. I don't recall a Maple Leafs team with this kind of ability across the spectrum.
Adam Larsson is lethal and I love it.
Connor McDavid was not effective in the series, not through lack of effort but because Toronto made progress with the puck difficult. McDavid is a transporter who feeds on chaos from the opponent, so calm feet and effective coverage work. Fortunately for McDavid and the Oilers, the TML are the only team in the division who can do it, and even then it doesn't always deliver as it did this week. In seven games against Toronto this year, 97 has scored 3-4-7. The most effective team in the division is Montreal, keeping the captain to just two assists in three games so far this year.
Calgary Flames: 3 games, 4-3-7
Winnipeg Jets: 4 games, 1-8-9
Ottawa Senators: 4 games, 1-7-8
Vancouver Canucks: 4 games, 5-2-7
Toronto Maple Leafs: 7 games, 3-4-7
Montreal Canadiens: 3 games, 0-2-2
Ryan Nugent-Hopkins scored and had two HDSC at five on five. I think Tippett would be wise to keep him on the Draisaitl line, and should try to run McDavid and JP with Ennis or Nygard for now. When Kassian gets back, maybe Puljujarvi can move over to the left side. For now, keep Nuge where he scores most.
Jujhar Khaira and Tyler Ennis each had two HDSC and showed well in tough circumstances. Ennis stirs the offensive drink, so moving him to the McDavid line might be counterproductive (and necessary).
Caleb Jones struggled, he and Bear are having a time. I don't have an answer, but expect Lagesson will draw in for him when he's ready. Defense. Who knew?
Kailer Yamamoto is getting closer to going on a run, I think. He is getting to the net and passing brilliantly. I bet he has a good week ahead.
SAIL ON, SCRUMS
I don't know Rob Tychkowski well, but have read him for years and have been in the same room for a time. He's a very smart guy and a quick wit and I imagine most of us would enjoy having a beer and shooting the breeze with him.
Last night, Tych drew some attention due to a question asked of Leon Draisaitl. I'll let Mr. Tychkowski speak for himself, I don't do his job and therefore can't offer insight into what happened.
I want to make two points here: First, the current process for interviewing players and management is difficult, and it has strained both sides. I'd bet a conversation held under the previous format would have been much better for all involved.
Second point: I don't think it's coming back. Any time a professional franchise can control the message more, that's a road taken. That means the job gets more difficult for Tych, and that will no doubt lead to more pointed questions in the time players and management are available.
I don't have the answer, but understand both sides. The team wants to control the message, the reporter wants to find a unique angle or scoop that will own the attention of fans for an entire day. That's his job. I think his will be more difficult in the future and that outside sources, those not connected to the team, will become even more important now than they have been in the past.
STUART SKINNER
No idea if this is real or a mirage, but Skinner's third pro season looks like the charm. The Condors are better this year, those Euro adds on AHL deals are working well. Skinner is a player the Oilers have believed in all down the line. We'll have to see if he can sustain this level of excellence.
LOWDOWN WITH LOWETIDE
At 10 this morning, TSN1260, we'll devote the entire show to the Oilers and what happened this week. Matt Kassian, former NHLer and TSN1260 Analyst will help us drill down on the week and what can be done before Saturday to fix some things. Frank Seravalli from TSN will join us at 11 to talk Oilers-Leafs, what's next and the trade deadline. Might talk about Ovie's spear and small fine, too. 10-1260 text, @Lowetide on twitter. See you on the radio!